As seen on Star Trek: George Alevizos is changing the channel on representation in film and television
By Romi Levine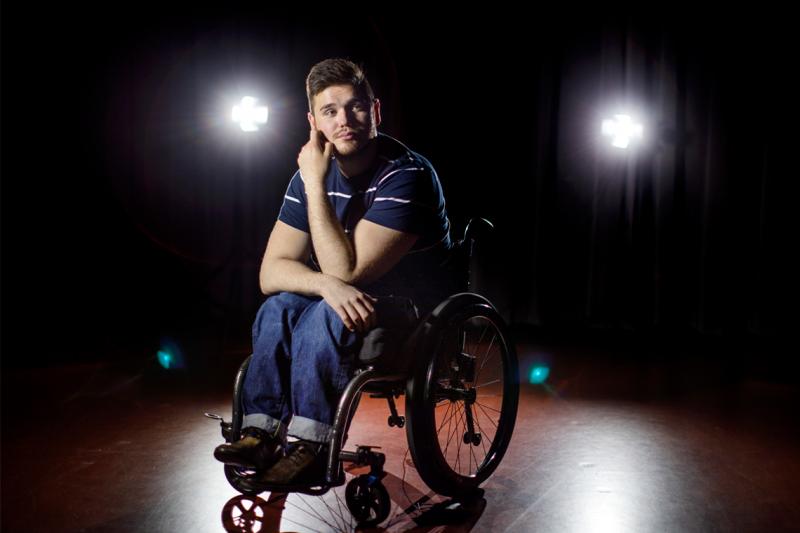 George Alevizos (BA 2019 UTM) has already appeared in Star Trek and TV commercials, and hopes to one day star in an action film like James Bond (photo by Nick Iwanyshyn)
---
A year ago, George Alevizos (BA 2019 UTM) received his first fan letter.
"I never thought it would happen at the age of 21," said Alevizos, who graduates from the University of Toronto in June with a degree in theatre and drama studies – a joint program between U of T Mississauga and Sheridan College.
The fan who wrote the letter had seen Alevizos on Star Trek: Discovery, the latest iteration of the long-running sci-fi television series. Though he doesn't have any speaking parts, Alevizos's appearances as a uniformed Starfleet engineer stood out to him – and to many other viewers.
On the show – and in real life – Alevizos uses a wheelchair.
For those who caught him on camera, Alevizos's Star Trek role was proof that the worlds of television and film are changing. One woman – who identified herself as quadriplegic – tweeted that she hoped Alevizos's role would be expanded, adding: "Representation matters so much to people like me."
"I think it's really important to see yourself being represented properly on screen or in theatre," says Alevizos.
And that's what he is setting out to do, armed with some serious acting chops, a passion for his craft and determination to break down barriers in the entertainment industry.
Alevizos's love of acting began in elementary school. In the sixth grade, he played Oliver Warbucks in the musical Annie – his first-ever theatre performance.
By the time he reached Grade 12, Alevizos had decided to make his pastime a career.
"If I want to do something that makes me happy, I'm going to go for it," he says.
The intense UTM Drama program began with winning an audition
Alevizos auditioned for post-secondary theatre programs, including U of T's and Sheridan's theatre and drama studies. He was drawn to the joint aspect of the program because it combines intellectual study with hands-on training.
"I thought this would be the perfect program for me. The best arts school in the country and best university in the country – it's a really high-powered program," he says.  
Alevizos made an impression at his audition and got accepted along with 19 other students.
Spending four years in a class of 20 is both intense and rewarding, according Alevizos. The key to maintaining those relationships, on and off stage, is trust, he says.
"Especially with acting, you have to be able to trust people because we're doing a lot of very intimate and very vulnerable work."
Alevizos and his classmates learned about every aspect of theatre and drama – from being a part of the production crew to how to file taxes as an actor.
And, of course, central to the program is performance.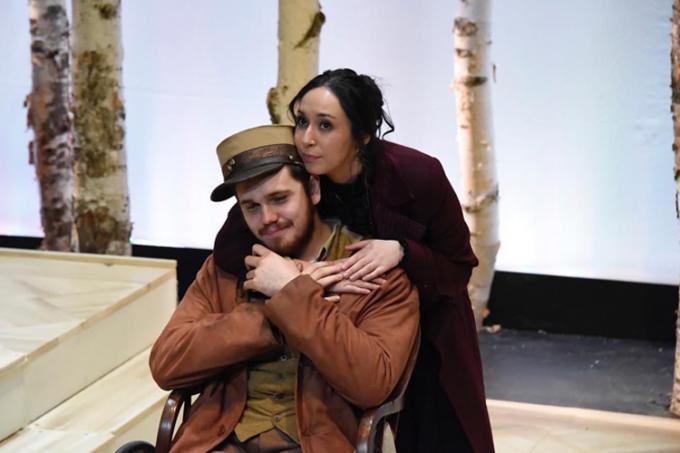 In his final year, Alevizos performed in two Theatre Erindale productions: Mary Zimmerman's Metamorphoses, in which he played Apollo's son Phaeton and Anton Chekhov's Three Sisters, in which he played Chebutykin.
For Metamorphoses, actors performed in a makeshift heated swimming pool on stage.  
"The physicality of the work was tiring for a lot of people, including me because I was pulling myself everywhere. I didn't have a wheelchair or anything," says Alevizos.
Despite the challenges, he says, it was "the coolest production I've ever done."
Empathy makes Alevizos an excellent actor
For Alevizos, acting is an exercise in empathy. 
"Putting yourself into another person's world – that's probably the most exciting thing about acting," he says. "In a world where people, especially men, are scared of being vulnerable, I think it's really interesting when you're not scared of that and you can dive right into it."
At U of T, Alevizos's ability to connect with the characters he plays didn't go unnoticed.
"George is a wonderful example of the kinds of actors we want to graduate," says Jacob Gallagher-Ross, an assistant professor of English and drama at U of T Mississauga "He's tremendously talented and he has great range. But he's also a very curious and intelligent student of theatre and is as interested in the academic side as he is in the artistic side."
Even before his recurring role on Star Trek, Alevizos found success on the small screen, starring in an ad for Hallmark's Care Enough campaign, in which he plays a concert-goer who, with the help of strangers, crowd-surfs in his wheelchair at a show.
The role was the first Alevizos had ever auditioned for.
"That really helped me get more confident in my ability to act on camera."
Now that he's completed his studies, Alevizos is getting used to a change of pace. But with a new commercial airing soon, and other projects on the go, he's keeping up the momentum.
Changing casting practices starts with helping talented actors get into the pipeline
Alevizos is currently partnering with the Alliance of Canadian Cinema, Television and Radio Artists (ACTRA) to improve accessibility in the entertainment industry. He'll soon be participating in an accessibility audit alongside Theresa Tova, ACTRA's Toronto President, and David Sparrow, the union's national president.
"I want to be involved in the initiatives they have with the casting houses in Toronto and on the lack of accessibility there is in Toronto in general for actors," says Alevizos. "It's really important to work together as a team to make sure we can build a more accessible and welcoming environment."
Tova says she is impressed by Alevizos's talent and enthusiasm.
"What an amazing spirit this young man has," she says. "He's intelligent, he's inspiring."
While the entertainment industry has made great strides, "there is always more to do," she says. "I don't want to do this work without his point of view."
Changing casting practices is at the root of making a more equitable and inclusive industry, says Gallagher-Ross.
"The first bad argument that a casting agent will make is to say they can't make a more interesting and more inclusive acting choice because performers aren't available. They'll say, 'We would love to do this, but there's a pipeline problem.'"
Gallagher-Ross says the U of T-Sheridan program can play an important role in addressing the issue.
"The best thing we can do running a training program is to make sure we are ready to receive talented actors like George, and that we can give them the best experience possible," he says. "He's been a path-breaking member of our program in that way."
Representation means "I'm in a wheelchair, but I fall in love or I'm an assassin. I can be anything that I want. That should be the magic of movies"
For Alevizos, representation isn't just casting actors in roles centred on their disability.
"It should be more like, 'Yeah I'm in a wheelchair, but I fall in love or I'm an assassin. I can be anything that I want.' That should be the magic of movies," he says.
"What a lot of people are still having trouble with is understanding that, the more out of the canon you go – building a new canon – the more people are willing to watch it because they're seeing themselves represented."
 Alevizos says he would love to be in an action film one day.
"I've done a lot of stage combat and I'm very strong and can move around quickly," he says.
His dream role?
Bond. James Bond.
"I think it would be pretty cool," he says. "You can make gadgets on the chair. You just have to be creative about it."
As Alevizos prepares for convocation, he shares some advice for young people pursuing an acting career.
"Go out there and make your own opportunities. Be proud and confident in your ability, knock down those doors and go in there and show who you are."