January 30, 2019 | Research
Seeing Toronto through a lens of Indigenous stories: 13,000 years of history come to life
The First Story Toronto app reveals the ancient GTA
By Chris Sasaki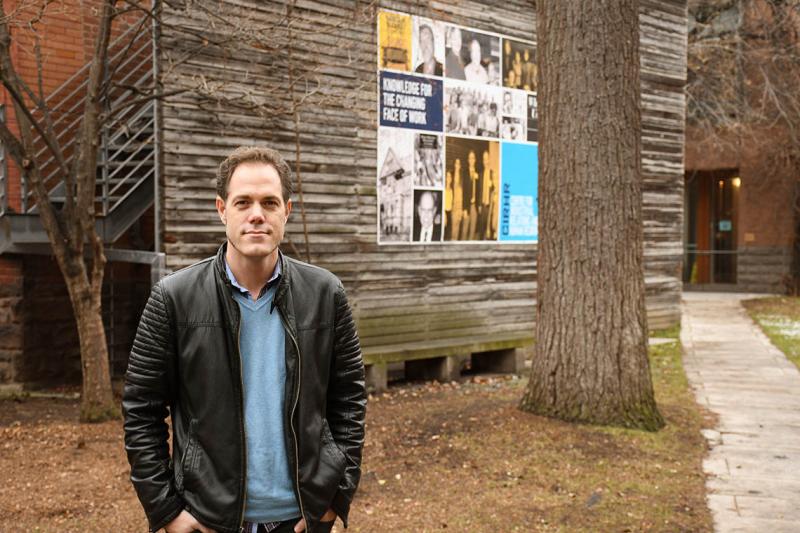 When Jon Johnson walks along Davenport Road in Toronto, he doesn't see a meandering street lined with shops and crowded with traffic. Instead, he sees the trail that 13,000 years ago followed the north shore of Ice Age Lake Ontario and connected the thriving Indigenous villages of the region.
At the intersection of Yonge and Bloor streets, Johnson sees the Sandhill burial site of the Wendat and Mississauga Peoples, which in the early 1800s was buried beneath the rapidly growing city of Toronto. This was in stark contrast to the treatment of the remains of those of European descent buried in nearby Potters Field, Toronto's first public, non-denominational cemetery. As the city encroached on that site, those remains were carefully disinterred and laid to rest in Mount Pleasant Cemetery and the Necropolis.
Johnson, an assistant professor, teaching stream, at Woodsworth College, sees the city through the lens of the Indigenous stories he has spent most of his career collecting, studying and sharing. They are part of his research into urban, land-based Indigenous knowledge – knowledge that includes not only stories, but also the ceremonies and practices of the people who live in the region that is now the GTA.
"It's very common for people to think there isn't much Indigenous history in Toronto," says Johnson, who recently taught a course called Learning from the Land: Indigenous Knowledge and Storytelling in Toronto for undergraduate students in the Faculty of Arts & Science's first-year seminars program. "The official histories were vague or they focused on the coming of Europeans, York as a colony and all the European accomplishments."
"The goal of my work is to correct that imbalance, flesh out 13,000 years of Indigenous history, and show that people were and continue to be organized in these really complex ways that involved co-operation over vast geo-political space while maintaining the autonomy of individual nations. Some people have suggested that the relationships amongst those confederacies is comparable to the United Nations today."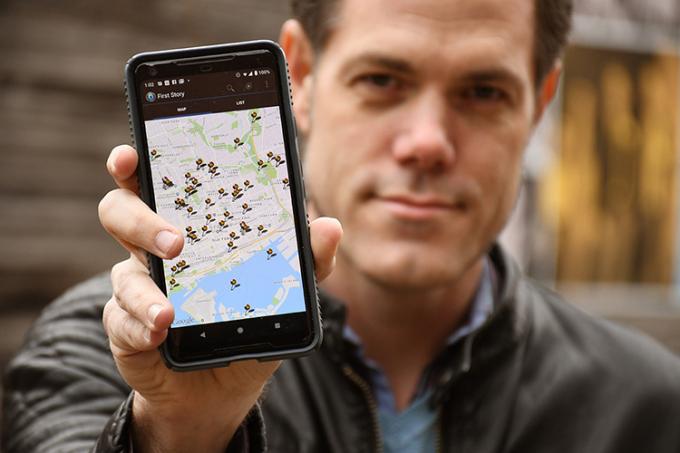 Johnson is mostly of French Canadian descent, although he has a small amount of Haudenosaunee and Kichesipirini ancestry as well. He began learning and sharing these histories as a volunteer with the Great Indian Bus Tour, an initiative started by the late Indigenous scholar and activist, Rodney Bobiwash, a former director of U of T's First Nations House. He also became involved in the Toronto Native Community History Project, a project that researches and preserves the Indigenous history of the city and which, over the years, evolved into First Story Toronto.
"Toronto is a territory of Indigenous presence and design going back 13,000 years"
When asked what drives his work, Johnson quotes Bobiwash: "To get people to see the Toronto landscape and Toronto's history with a different set of eyes. If we can accomplish that, then we can come to some truly good purpose in history: to get people to acknowledge that Toronto is a territory of Indigenous presence and design going back 13,000 years."
He shares the history in a number of ways. He and colleagues from First Story Toronto carry on the legacy of Bobiwash and conduct bus tours in and around the GTA. They provide walking tours of the three University of Toronto campuses, as well as Ryerson and York Universities.
He has even taken MPPs and their staff on walking tours of Queen's Park, where he reminds them that Taddle Creek once flowed on the site of the legislative building and was a vital home, source of food, and transportation route for the Mississauga.
Johnson and his fellow storytellers reach even larger audiences through their First Story app and as content creators for the Driftscape app – both of which paint a powerful picture of millennia-old Toronto.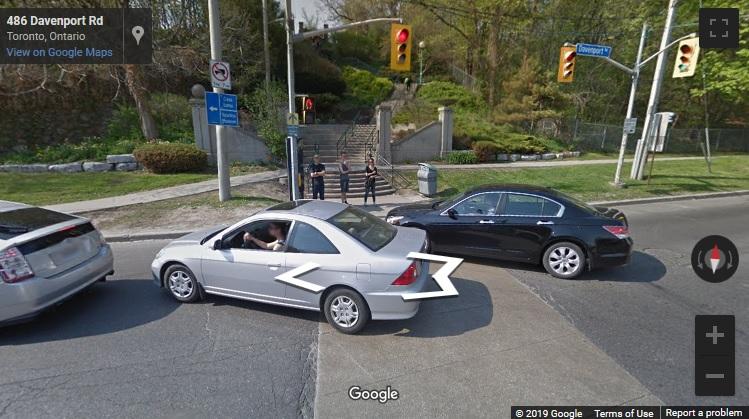 Lost footprints under Toronto harbour
For example, one story reveals that some 11,000 years ago, the shore of what today is Lake Ontario was five kilometres south of its current location and that a post-Ice Age family, perhaps returning home from a hunting camp, left their footprints in soft clay.
Over the millennia, the shore of the lake advanced northward to its present location, drowning evidence of the family's trek under 70 feet of water. Then, in 1908, a work crew drained a section of Toronto Harbour to excavate a tunnel and discovered the lost footprints on the lake bottom.
It was an incredible archaeological find – evidence of the region's first inhabitants. But, as with the Sandhill burial site, the footprints were not preserved and now lie at the bottom of the harbour, entombed in concrete.
"200,000 Indigenous people living in Toronto today are still contributing to the fabric of the city"
The footprints and the Sandhill site are lost, but Johnson explains, "The presence of that history can still be seen and felt in the city today. The stories show that Toronto owes its existence to the fact that Indigenous peoples made this place a good place, a strategically important place before Europeans even got here. That's why Toronto became the city it is today."
"And, there are as many as 200,000 Indigenous people living in Toronto today," he says. "So that presence is ongoing. Indigenous people are still contributing to the fabric of the city, to the culture, to the economy, to the knowledge of the city."