June 13, 2019 | Volunteer & Awards
Scholar and Indigenous rights advocate Ted Chamberlin receives U of T honorary degree: Watch his Convocation address
By Geoffrey Vendeville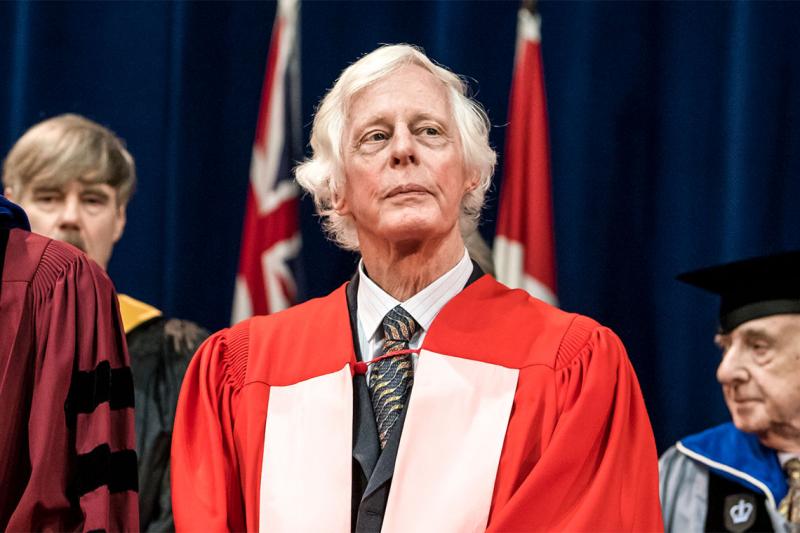 (photo by Steve Frost)
---
For Edward (Ted) Chamberlin (PhD 1969, Hon LLD 2019), the link between his literary and academic career  and his work on Indigenous land claims might not seem obvious. 
But the anecdote behind the title of one his books, If This Is Your Land, Where Are Your Stories?: Finding common ground, helps to illuminate the connection.
Chamberlin, a University Professor Emeritus of English and comparative literature at the University of Toronto, was mediating a land claim negotiation between the federal government and the Gitxsan First Nation in northwestern B.C. when an elder asked government officials, "If this is your land, where are your stories?" 
The question inspired Chamberlin to explore what stories and myths say about identity and belonging. 
"I realized that working on land claims and working with literature were all of a piece," he told the Edmonton Journal in 2004. "National literatures are, in a sense, a version of land claims."
Chamberlin received a Doctor of Laws, honoris causa, from U of T "for excellence in the Academy, through his prolific and impactful scholarship, commitment to academic administration, and mentorship of emerging scholars." A former principal of New College, he attended the New College convocation for science and commerce students. 
His work in the realm of land claims goes back decades. In the 1970s, he worked closely with former B.C. Supreme Court Justice Thomas Berger on the Mackenzie Valley Pipeline Inquiry, investigating the social, economic and environmental impacts of a proposed natural gas pipeline from Alaska and the Yukon to the contiguous United States. Berger's report recommended against building the pipeline and was heralded by some as "Canada's Native Charter of Rights."
Chamberlin has also worked on land claims in the U.S., southern Africa and the outback of Australia. 
A Rhodes Scholar, Chamberlin joined U of T's English department in 1970. He's written half-a-dozen books on subjects as varied as Oscar Wilde, Caribbean poetry, Indigenous oral history and the horse's impact on civilization.
At U of T, he launched new curricular areas in Indigenous and West Indian literature and supervised 37 PhD theses. 
Chamberlin is an Officer of the Order of Canada and fellow of the Royal Society of Canada, and he continues to lecture around the world. 
"We need to understand our stories," he has said, "because our lives depend on it."