Robert Harold (Bob) McNutt, a respected geochemist who "showed a lot of leadership" as principal of U of T Mississauga
By Mary Gooderham
Professor Emeritus Robert McNutt was principal of University of Toronto Mississauga from 1995 to 2002
---
Robert Harold (Bob) McNutt was a geochemist who, as the principal of University of Toronto Mississauga from 1995 to 2002, laid the groundwork for campus's vast expansion.
Under his leadership, the name of the campus was changed from Erindale College to U of T Mississauga. McNutt, who died in June at the age of 80, played a critical role in strengthening U of T Mississauga's relationship with the city and community, and led the development of new buildings and programs as enrolment surged, particularly ahead of the arrival of the so-called double cohort.
"Bob was dedicated to the academic venture," says Ian Orchard, who was vice-provost of students at U of T at that time and recalls McNutt leading the charge to create a new recreation, athletics and wellness centre, financed by a levee that students approved in a referendum.
"He showed a lot of leadership there," says Orchard, a professor emeritus of biology who succeeded McNutt as principal from 2002 to 2010 and oversaw the completion of many of his projects, including a new residence and the Communication, Culture, and Technology Building.
McNutt was born on July 4, 1937, in Gunningsville, N.B., a town across the river from Moncton. His mother Edith was a school teacher and his father Harold worked at Eaton's.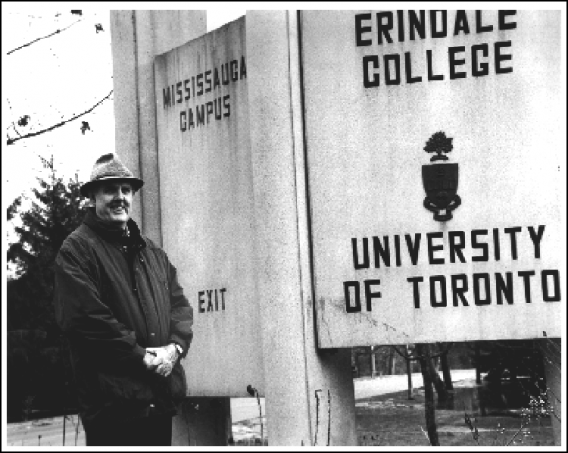 McNutt was curious as a child and academically inclined, says his daughter Szanne McNutt (MBT 2005). He entered the University of New Brunswick as an engineering student but soon found his real passion to pursue pure science, not applied science. He switched his major to science midway through his first year, and ultimately decided to become a geology major. In 1959, he applied on a whim to do a PhD in geochemistry at the Massachusetts Institute of Technology. He was accepted and graduated in 1965.
He married Paula Maslack in 1964 and they moved the next year to Hamilton, Ont., where McNutt spent most of his academic career at McMaster University, as a faculty member and dean of science. His early work focused on geochronology, establishing the age of rocks using radioactive isotopes.
The family's summers were spent going to "field camps" to collect rock samples. During the school year on Wednesday nights, students were invited for rock slideshows. Later, McNutt's research focused on nuclear waste disposal in the Canadian Shield. He published more than 80 scientific articles.
McNutt's son Chris says his father "simply showed us by example how to be respectful, honourable, to treat everyone with kindness and dignity," and displayed enormous patience, influenced by his background as a geologist.
"In geology, things take time – great forces moving over eons. He would say to us around the dinner table, 'None of it really matters because in 20,000 years its all going to be covered in ice.'
"Our dinner table was filled with lively conversation and debate, and often included his grad students or colleagues who joined us at Christmas and Thanksgiving if they weren't able to make it home themselves," Chris recalls.
"Bob's research was respected and he was respected as a teacher," says Barbara Murck, a geologist and an associate professor, teaching stream, in the department of geography and director of environment programs at U of T Mississauga.
In 1995, McNutt was appointed principal of Erindale College, and began to formulate plans for its transformation, beginning with the name change. Murck's favourite memory of McNutt is being among a group of academics at a meeting of Mississauga City Council to introduce the campus's plans for the future. There he was grilled by Mayor Hazel McCallion, "and the lightbulb went on for him," Murck says.
"Hazel said, 'What do you people do over there?' and we were all a little shocked," Murck remembers. "To his credit, after the meeting Bob said, 'We all have some work to do here building a better relationship and better communications with the city.'"
Close relationships between city council and the newly minted U of T Mississauga "were really crucial," notes Murck, who says that McNutt, as principal of U of T Mississauga, "entered a place that was on the threshold of change, and not only embraced but proactively managed a lot of that change in a positive direction for us."
Erindale was considered a suburban "feeder" college of the downtown Toronto campus's Faculty of Arts & Science, Orchard notes. Its renaming reflected the fact that "it was becoming a true campus of the U of T as a whole," which brought a critical mass of students and staff, as well as important research there. "It became the campus of choice, rather than a second choice."
Adam Giles (BA 2002 UTM), who attended U of T Mississauga from 1997 to 2002 and held senior editorial positions on The Medium, the student newspaper, says that McNutt had "astronomical commitments but was generous with his time." He sat for long interviews for an ambitious, seven-part series that Giles wrote about the campus's master plan to accommodate the "double cohort" of 2003-04.
"He was easily the busiest person on campus, but he never said that he didn't have time for me," says Giles, who now works at U of T Mississauga's Office of the Registrar.
Back then, the student newspaper often took positions critical of the fee increases and extra parking charges needed to pay for future campus expansion, he remembers. "Principal McNutt was always reasonable. He understood where we were coming from, but he always wanted to demonstrate the benefits of the changes and the greater good for the campus as a whole."
As editor-in-chief of the paper and about to graduate, Giles wrote a profile of McNutt, who was also leaving his position as principal. When Giles's parents, neither of whom had attended university, came to a graduation party at the principal's home on campus, McNutt sat down with the three of them for a long, congratulatory conversation.
"I can still remember the smile on my dad's face," Giles says.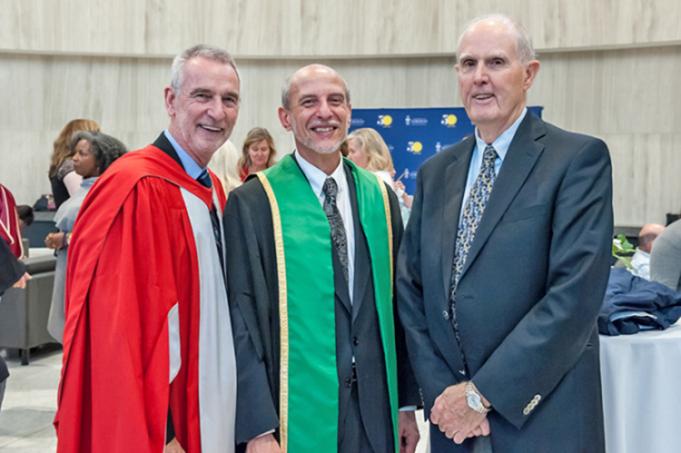 After his retirement from U of T, McNutt returned to McMaster to serve as acting chair of modern languages and linguistics, acting dean of the DeGroote School of Business, acting dean of the Faculty of Humanities and acting provost. He was also an adviser to McMaster's provost, helping to establish the university's Burlington campus.
Orchard says that McNutt maintained a fondness for U of T Mississauga and enjoyed watching the expansion of the campus, which today has a population of more than 14,000 students, compared with just 6,200 when he took over as principal. He returned frequently, and took part in the gala celebrating the campus's 50th anniversary on Oct. 20, as well as attending the ceremony at which Ulrich Krull was installed as U of T's Mississauga's new principal one month later.
 Szanne McNutt says that throughout it all, her father continued his academic work. In his spare time, he loved to curl and was an avid golfer, starting from his early days as a caddy in New Brunswick. Indeed, McNutt once had an opportunity to become a pro golfer but instead devoted himself to graduate work. He continued to golf right through this past spring, just before he died on June 23.
McNutt leaves his wife Paula, daughters Szanne and Amy, son Chris, and four grandchildren.