June 8, 2021 | Volunteer & Awards
Renowned zoologist Anne Innis Dagg, the "woman who loves giraffes," receives honorary degree
By Scott Anderson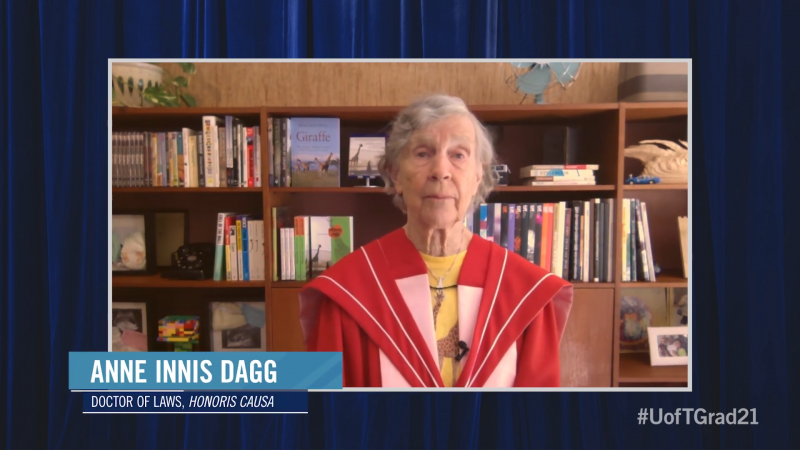 Anne Innis Dagg (BA 1955 UC, MA 1956, Hon LLD 2021) was a toddler when she first saw a giraffe, during a visit to the Brookfield Zoo in Chicago. But the animal left such a strong impression that she made studying the creature a lifelong pursuit.
A pioneering researcher who became one of the world's foremost experts on giraffes, Innis Dagg is believed to be the first scientist to have observed the endangered animal in its natural habitat. As one of the few women in her field, she has also written about gender bias in universities and championed the equal treatment of women.
Today, the University of Toronto recognized Innis Dagg – a prominent zoologist, animal rights defender and feminist – with a Doctor of Laws, honoris causa, for her "outstanding service for the public good as a trailblazing scientist and a passionate advocate for equity in academia."
Born in Toronto in 1933, Innis Dagg recalls drawing pictures and writing stories about giraffes and presenting them to her class at Bishop Strachan School. To study her favourite creatures, she enrolled in biology at U of T – where her father, Harold Innis, was a renowned professor of political economy and her mother, Mary Quayle Innis, was University College's dean of women. As it turned out, the animals were not on the curriculum, but she earned a gold medal – and a $500 prize – for graduating first in her class in 1955.
Innis Dagg stayed at the University for another year to obtain a master's degree in genetics. After finishing her degree, she decided to use her prize money to help finance a trip to Africa to study giraffes in the wild. She wrote to wildlife departments in 13 African countries asking for permission; all 13 declined.
Her first positive response – from a South African rancher with 95 giraffes on a property sprawling over tens of thousands of hectares – came after she began signing her requests "A. Innis" instead of "Anne." (When she showed up, and he saw that she was a woman, she had to convince him to let her stay.)

Apparently, I was the first one in the world to do that, which boggles the mind actually. Why wouldn't everyone think to do that?
For the next year, she spent about 10 hours in the field each day, watching giraffes from her car, taking detailed notes and sometimes recording them on a 16-mm camera. She observed how the animals interacted and what they ate. She was also the first to witness homosexual behaviour in male giraffes. "I just wanted to know everything about them," she told the Toronto Star. "Apparently, I was the first one in the world to do that, which boggles the mind actually. Why wouldn't everyone think to do that?"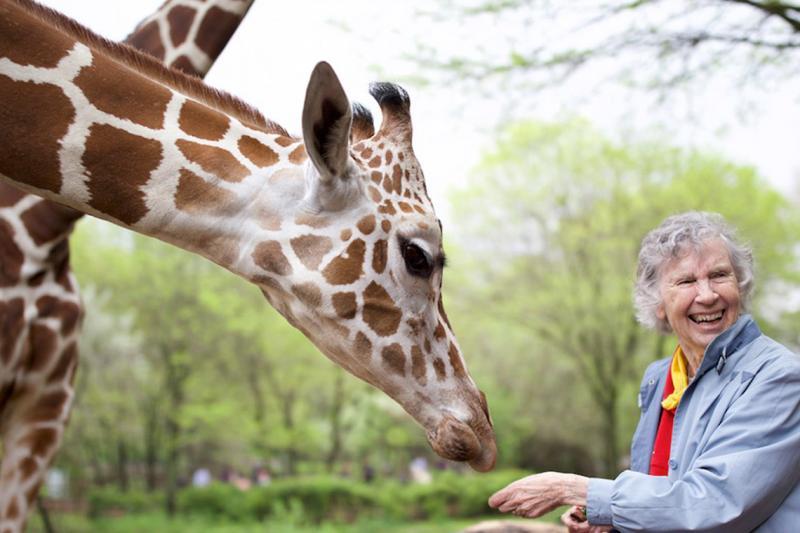 In 1976, she published The Giraffe: Its Biology, Behaviour and Ecology, co-written with naturalist Bristol Foster. Because she observed animals in the wild, Innis Dagg is often described as "the Jane Goodall of giraffe research," in reference to the famed British primatologist. But the Canadian had actually blazed the trail. Her work preceded Goodall's by several years.
Innis had returned to Canada from Africa in 1957. She married Ian Dagg, had children and enrolled in a PhD program in animal behaviour at the University of Waterloo. In 1968, she was hired as an assistant professor in the zoology department at the University of Guelph, where she taught courses on mammals and wildlife management.
I fought back and took my case to the Ontario Supreme Court. Something tells me that if that were to happen today, I would have a lot of you on my side
Innis Dagg did not receive a tenured faculty position and, on reflection, called the tenure process "demoralizing". She told the Star that it was "the end of everything that I'd hoped for." (A member of the promotion committee later admitted that he had found the decision "grossly unfair.") With no choice but to leave the university, Innis Dagg worked as an independent researcher in biology and feminism. She taught in the University of Waterloo's integrated studies program, later called independent studies, and in the late 1980s served as its academic director.
In her speech to graduating students, Innis Dagg described how she stood up against institutional sexism in academia.
"At the time, I fought back and took my case to the Ontario Supreme Court," Innis Dagg said. "Something tells me that if that were to happen today, I would have a lot of you on my side. We would have demanded the change that I'm now starting to see in our society."
Despite the obstacles she faced, Innis Dagg has published more than 60 scientific articles and written more than 20 books on subjects ranging from mammal behaviour to sexism at universities and animal rights (as well as a children's book about giraffes). Her life's work is the subject of a 2011 radio documentary, Wild Journey: the Anne Innis Story and a 2018 documentary film, The Woman Who Loves Giraffes. In 2019, she was named an honorary member of the Canadian Society of Zoologists and a member of the Order of Canada.
Be kind to nature... It is my everlasting hope that people will treat animals and their environment with the same respect as we treat each other
Now 88, Innis Dagg lives in Waterloo, Ont., where she continues to write and advocate for the protection of giraffes. She urged the Class of 2021 to "never stop reading, writing, watching and thinking" and to persevere in the face of challenges.
"Find another way. Reach out to others who will help you. Look for those mentors who will bring out your best – and shine," she said.
"Finally, be kind to nature and the animals with whom we share the world. It is my everlasting hope that people will treat animals and their environment with the same respect as we treat each other."