November 10, 2017 | Campus
For Remembrance Day, U of T honours those who served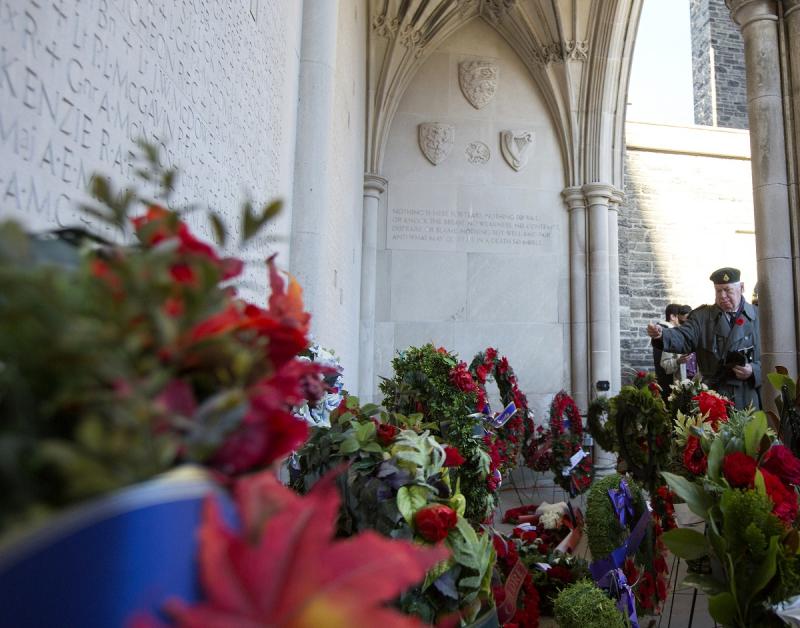 U of T faculty, staff, students and alumni laid wreaths at the memorial wall next to Soldiers' Tower during the Remembrance Day service Friday at the downtown Toronto campus (photo by Laura Pedersen)
---
Bagpipes played at services across the University of Toronto on Friday as students, faculty, staff and alumni gathered with veterans to honour those who served in the First and Second World Wars, as well as other conflicts.
"Among those we remember today are the 1,185 members of the University of Toronto community who gave their lives fighting for our country in both World Wars," said Matthew Jurczak, chair of the Soldiers' Tower Committee, during the service at the downtown Toronto campus.
Each year, U of T hosts ceremonies on, or close to, Nov. 11. On the downtown Toronto campus, people gather at the foot of Soldiers' Tower, which houses a museum to honour fallen soldiers. The service includes the recitation of the poem In Flanders Fields, written by University College alumnus John McCrae, the singing of hymns, readings, the laying of wreaths and the carillon of 51 bells ringing out for fallen soldiers.
Elder Andrew Wesley of First Nations House recalled his own father serving in the First World War, among 40 young Omushkagowuk who enlisted.
"Many of them did not speak English and many did not return; for them, this was a sacred thing to do," he said. 
Flags at U of T were lowered to half-mast across all locations on Friday and remained lowered until Monday. 
Below are moments from the services across the three campuses.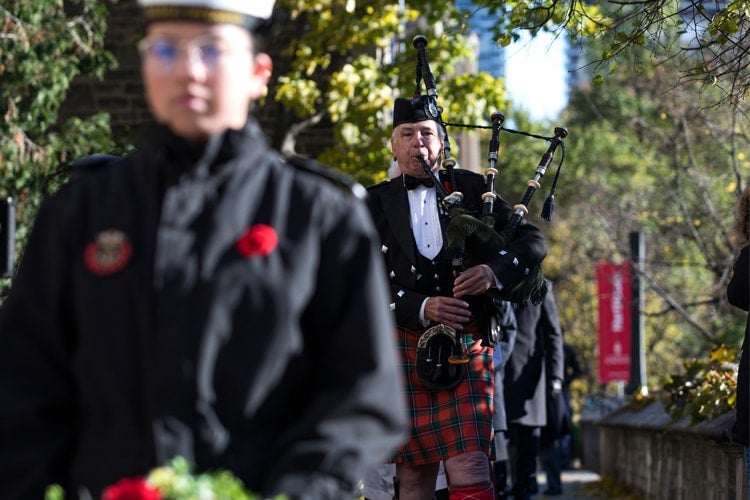 A bagpipe begins services at the downtown Toronto campus (photo by Laura Pedersen)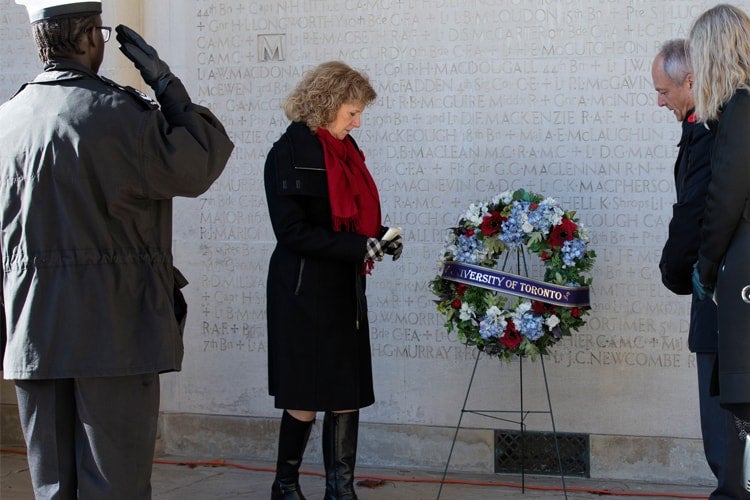 U of T President Meric Gertler and Provost Cheryl Regehr begin the laying of the wreaths at the downtown Toronto campus (photo by Laura Pedersen)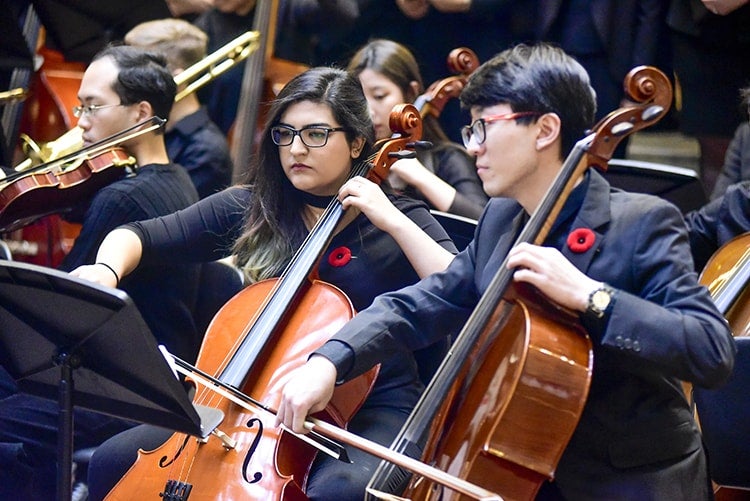 At U of T Scarborough, the community concert band and choir performed for the audience. Services were held indoors at The Meeting Place (photo by Ken Jones)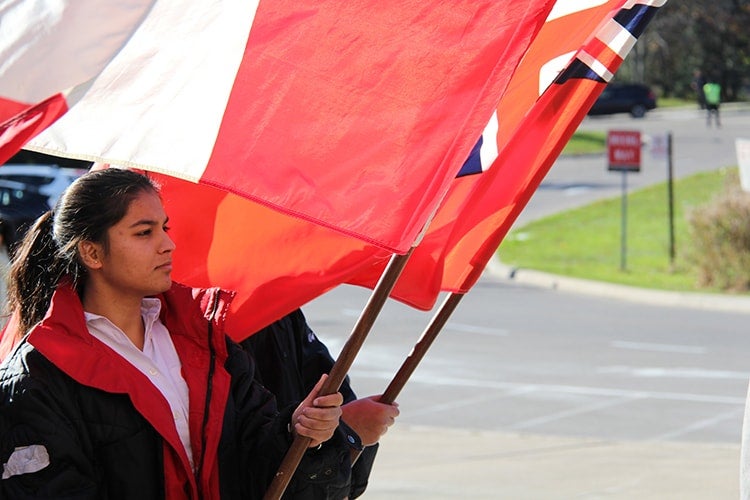 At U of T Mississauga, the ceremony took place at the flagstaff in front of the Davis Building. Flag bearers included student Shireen Gupta of the Erindale College Special Response Team of the St. John Ambulance (photo by Blake Eligh)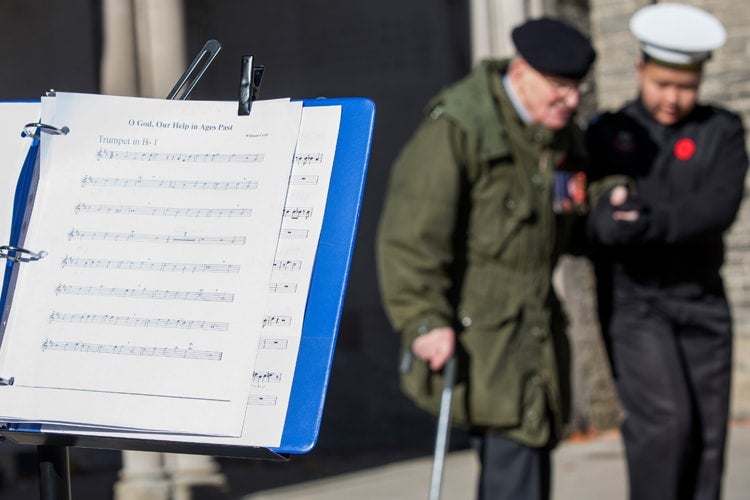 Young cadets help veterans during the laying of the wreaths. Among the hymns sung at U of T's downtown Toronto campus was "O God, Our Help in Ages Past" by Isaac Watts and William Croft (photo by Laura Pedersen)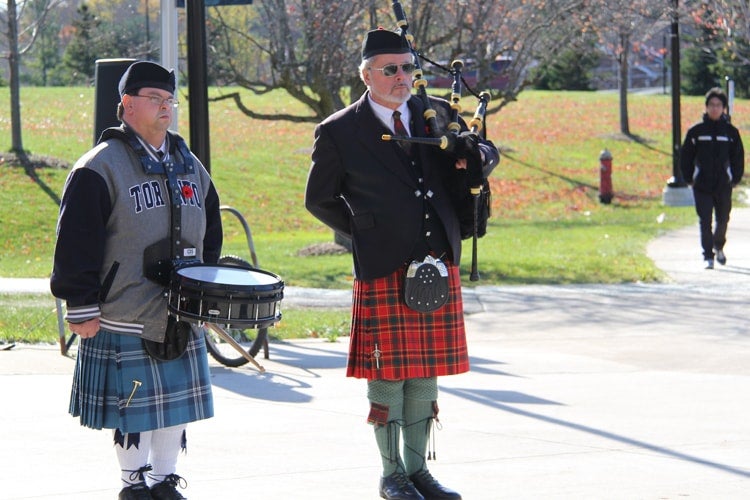 U of T Mississauga piper Scott Munro was accompanied on snare drum by drummer Mitchell Lolli, of Community on Campus. Munro is a member of the Dundas Pipes and Drums and Lolli is a member of Mississauga's St. Andrews Pipe Band (photo by Blake Eligh)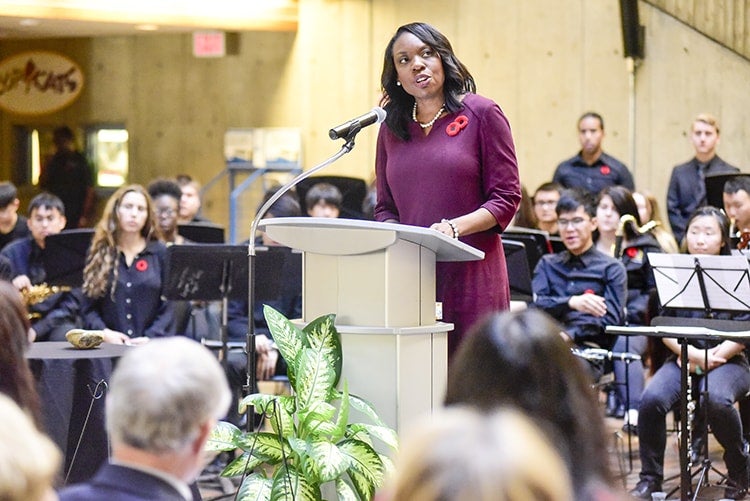 Ontario's Education Minister Mitzie Hunter, a of U of T Scarborough alumna and MPP for Scarborough-Guildwood, spoke at the ceremony at the Scarborough campus (photo by Ken Jones)

At the downtown Toronto campus, U of T's Faculty of Applied Science & Engineering students strung up poppies at the gates of King's College Circle to honour veterans (photo by Laura Pedersen)