November 3, 2022 | Alumni
'A real contribution to Canadian art': AGO retrospective pays tribute to UTM alum Denyse Thomasos
By Chris Hampton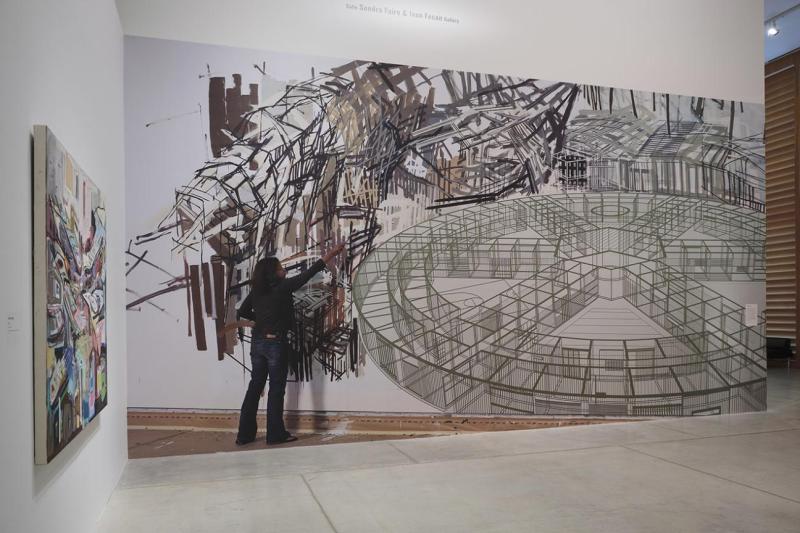 Installation view, Denyse Thomasos: just beyond, Art Gallery of Ontario. Artwork: Hybrid Nations painted August 3–30, 2005, by Denyse Thomasos, Ben Oakley and Matt Janisse; computer-assisted designs by Joy Charbonneaux and Andrzej Wojaczek. The Estate of Denyse Thomasos and Olga Korper Gallery, Photo AGO
---
Billed as the first major retrospective of her work, the exhibition "Denyse Thomasos: Just Beyond" at the Art Gallery of Ontario introduces audiences to a giant of Canadian art, whose spirited painting was sometimes overlooked. 

The exhibit includes more than 70 paintings and works on paper by the late Trinidadian Canadian artist — some as small as the page of a sketchbook, and others, like the 11-by-20-foot canvas Arc, monumental in scale. "Just Beyond" establishes Thomasos' significant contributions, both to the history of Canadian painting as well as to the genre of abstract expressionism, tracing the evolution of her unique visual language, beginning from her years as a student at Erindale College (Art and Art History, 1987), as U of T Mississauga was then known.
For Thomasos, the grid was an important visual motif. Her paintings were often built from a dense structure of stacked cells or chambers, referencing jails, shipping containers, housing projects and boat hulls. The forms are rendered in a striking marriage of rigorous architectural detail and energetic expressionistic gestures (which, in one painting from 1993, she likened to "lashes of a slaver's whip").

She used many of the formal or artistic rubrics of abstract painting but infused them with content that was unmistakably 'political
"She used many of the formal or artistic rubrics of abstract painting but infused them with content that was unmistakably 'political,'" says exhibition co-curator Sally Frater. "She made no bones about the fact that her work was about issues of consequence, such as mass incarceration, the legacy of the trans-Atlantic slave trade and the ways in which the built architecture has historically been used to oppress Black and Brown people in the Americas, but also on a global scale."
Thomasos drew on the grammar of abstraction — long interested in aesthetic systems of representation — to visualize matters of our social, political and economic systems.
Viewers will marvel at the powerful size of many works. "She was an artist who had this keen awareness of bodies in relation to space," Frater says. "I think in some instances, where she's referencing the structure of neighbourhoods, where she's referencing the structure of prisons, those are sprawling, those are all-encompassing." The paintings are meant to dwarf and subsume the viewer.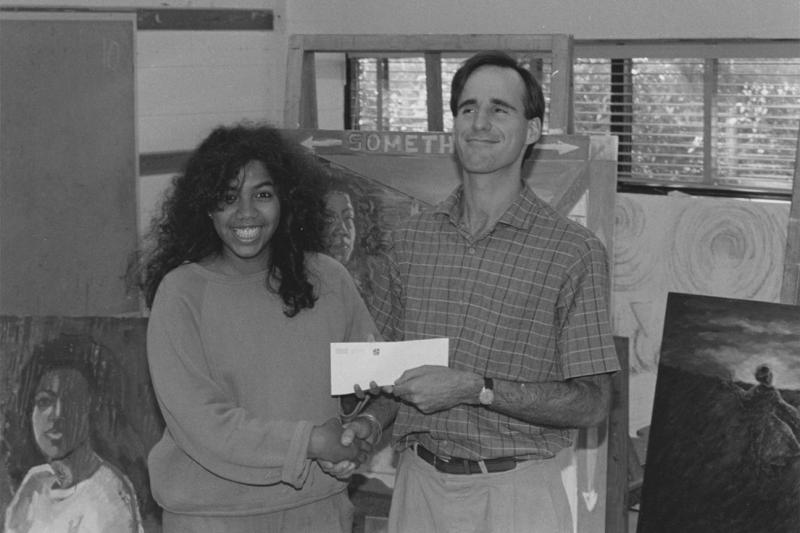 Professor and Art and Art History program co-ordinator John Armstrong taught Thomasos at Erindale. As a student, she was collegial and supportive, Armstrong recalls, "but she loved a rousing debate." If her point wasn't being heard, he remembers, her next tactic was to get up on a stool and try it again. Never afraid to say something bigger, the characteristic is visible in her artworks produced even decades later. The AGO exhibition includes two paintings from her Erindale years — both moody and accomplished figurative works. It was at the Mississauga campus, Armstrong says, that Thomasos completed her first large-scale work with an ambitious mural project on the interior walls of the now-demolished North Building.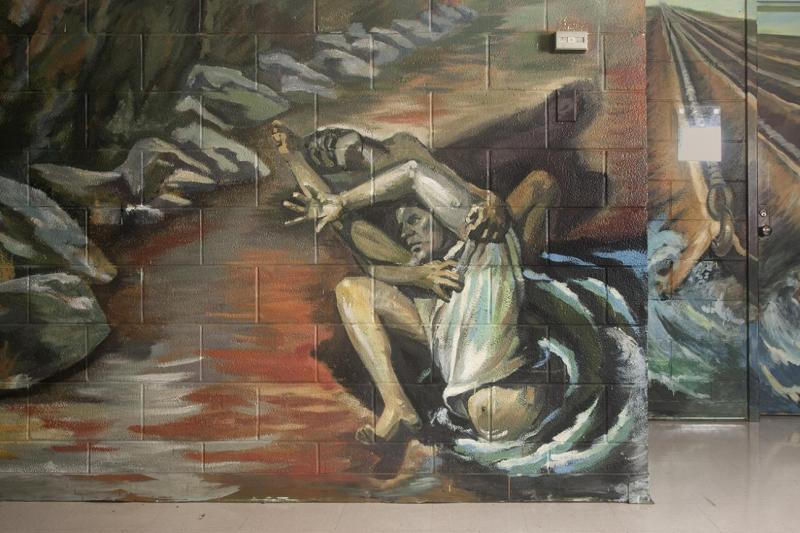 "Denyse Thomasos: Just Beyond" also includes two artworks on loan from the collections of the University of Toronto. Babylon — another 11-by-20-foot panel — is "overwhelming" in scale, Frater says. The painting displays several of the artist's visual signatures, with coffin- or boat-shaped forms as well as her hallmark cross-hatching, which was a double reference to cages and West African textiles; however, the work also includes more fluid marks that appear much like the tags and burners of graffiti art. From the Hart House Collection, Dismantle #1 brings the cross-hatching motif, which she'd explored extensively on larger canvases, such as Urban Jewel and Swamp, into close focus. Coloured in lighter shades than other examples, the structure becomes transparent, Frater points out, and the warp and weft of Thomasos' usually-tight grid loosen. "There's kind of this implied directive to undo these structures and pull them apart."
 While the artist's work addresses serious and sobering subject matter, "there's also something soaring about it, there's something celebratory," Frater notes. "She said it herself: It's sort of this testament to survival." The paintings recognize resistance, too.   
Once the AGO exhibition closes in February, "Denyse Thomasos: Just Beyond" will travel to the Remai Modern in Saskatoon and then to the Vancouver Art Gallery. Armstrong is thrilled art-lovers across the country will get a fulsome look at the artist's career. "You know, it was one of her goals to get a retrospective at the AGO," he says. Thomasos had shared several such ambitions with her friend and former teacher ("She wanted to be in the Whitney Biennial," he recalls, which the artist also accomplished this year, 10 years after her death). "I am at once elated and saddened by the fact that Denyse is not here to travel with the show," Armstrong says.
"She's made a real contribution to Canadian art, and I think it's wonderful that a wide audience is able to see her work and grapple with some of the issues she was grappling with. I think these are issues that have great resonance for Canadians today."