January 27, 2021 | Alumni
Q&A with Colin Asuncion, finalist on The Great Canadian Baking Show
By Sarah MacFarlane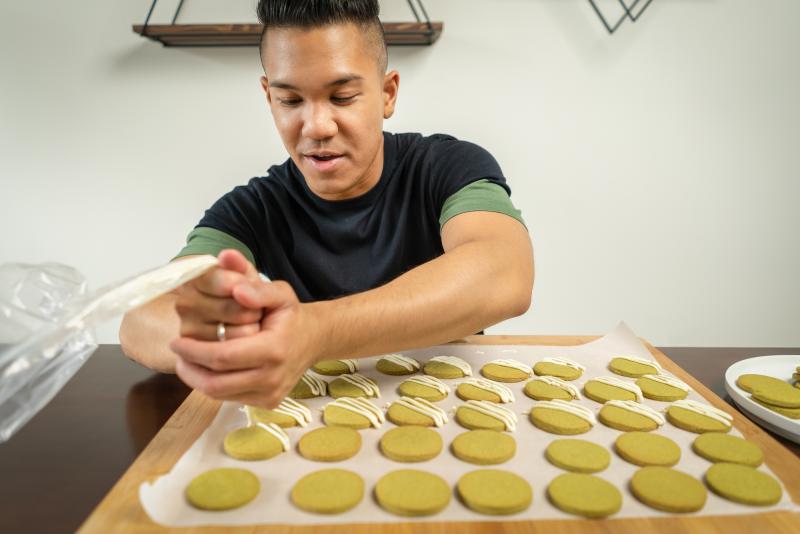 Alumnus Colin Asuncion (BA 2011 SMC) is the owner of a baking business, marketing manager at the Retail Council of Canada and an accomplished singer and stage performer. Photo courtesy of Colin Asuncion
---
Desserts were always in the mix when Colin Asuncion (BA 2011 SMC) was growing up, but he didn't seriously start experimenting in the kitchen until becoming a fan of The Great British Bake Off five years ago. Fast forward to 2019, when he was one of just 10 Canadians selected to compete on Season 3 of The Great Canadian Baking Show — and made the finals.
Asuncion has since launched his own baking business, appeared on Breakfast Television and hosted numerous online baking tutorials for organizations such as Make a Wish and the Canadian Council of Muslim Women. He is also marketing manager at the Retail Council of Canada and an accomplished singer and stage performer.
As an undergraduate student at the Faculty of Arts & Science, Asuncion double majored in English and political science. He earned his honours bachelor of arts in 2011 as a member of St. Michael's College, and a certificate in public relations and publicity from the School of Continuing Studies in 2012.
He recently hosted a live online bake-along for the A&S 2020 Minds Redefined Wellness in Practice Speaker Series, a series of events open to staff, faculty and students to promote positive mental health and wellbeing.
How was your experience as a U of T student?
Is there an experience from your time at U of T that sticks out for you?
I was very involved in both the literary scene and the arts and theatre scene. I performed in many plays and musicals and also wrote for a few campus newspapers. The extracurriculars really enriched my time at U of T and made it feel like home. I made amazing friends through campus theatre, and they are still some of my best friends. The sense of community and being able to do interesting, artistic things was a huge highlight for me.
"U of T's sense of community and being able to do interesting, artistic things was a huge highlight for me"
What drew you to the Minds Redefined Speaker Series?
What I love about this initiative is that it's promoting wellness and mindfulness. I think we all need more of that. We're all under a lot of stress and have new anxieties. Now is the time to be connecting with others — safely, of course — and looking inwards to figure out how to better our lives. I've done quite a few of these live bake sessions during the pandemic because people still want interesting activities to do with each other, even though we can't be physically in the same room. Baking virtually is this amazing way to stay connected, do something with your hands, learn something new and just have fun.
Have you personally found that baking has been helpful for mental wellness, especially during quarantine?
Absolutely. Baking has always been a form of stress relief and a creative outlet for me, but especially now. I find respite in doing something with my hands to nourish my mind and body.
What has the experience of leading virtual bake-alongs been like so far?
It's been a huge learning curve. I never thought I would be engaged in digital demos or classes. At the beginning of the pandemic, I led a weekly baking class with Glad Day Bookshop's online channel, Glad Day TV, to promote their fund for LGBTQ+ tip-based workers and artists who were out of work during the pandemic. I was dipping my toes into the world of live demos, and it eventually grew. Companies have been approaching me to do live bakes for their private events and fundraisers. The work has been incredibly rewarding and I'm constantly learning how to improve as an instructor.
How did it feel going from a fan of The Great British Bake Off to a finalist on The Great Canadian Baking Show?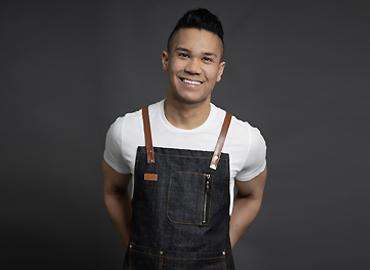 It was a whirlwind. Ever since I turned 30 a couple years ago, I've been more bold about pursuing dreams and passion projects. There's something to be said about manifesting opportunities for yourself. I remember the early days when I was watching The Great British Bake Off, thinking, "It would be such a dream to be on a Canadian version of this show." And then it actually happened. It's wild.
As a baking business owner, marketing manager, singer and stage performer, how do you manage multiple careers?
Well, I never thought I would be so busy. I used to only have my work in retail marketing and stage performance to juggle. Then baking grew into another element of my career. As a result, time management is something I have to be very good at. But I always say, it's better to be busy than bored.
Is there a piece of advice you would give to current U of T students who are navigating their career paths?
It's so important to be flexible. I enrolled in life sciences my first year at U of T and obviously did not go down that road. Pay attention to what you really enjoy doing and what you are truly good at. If you try to force yourself into any specific career path, know that it might not work out. If you stay open and understand that things are always moving and changing, you will be ready and willing to take on exciting, unplanned opportunities that can enrich your career. I never thought my life would be the way it is, but I take opportunities when they're attractive to me, and as a result, I have this composite career where I'm able to do so many different things I love.