July 24, 2023 | Volunteer & Awards
Dedicated volunteer P.J. Patel receives the J. Tuzo Wilson Distinguished Alumni Award
By Sabrina Sy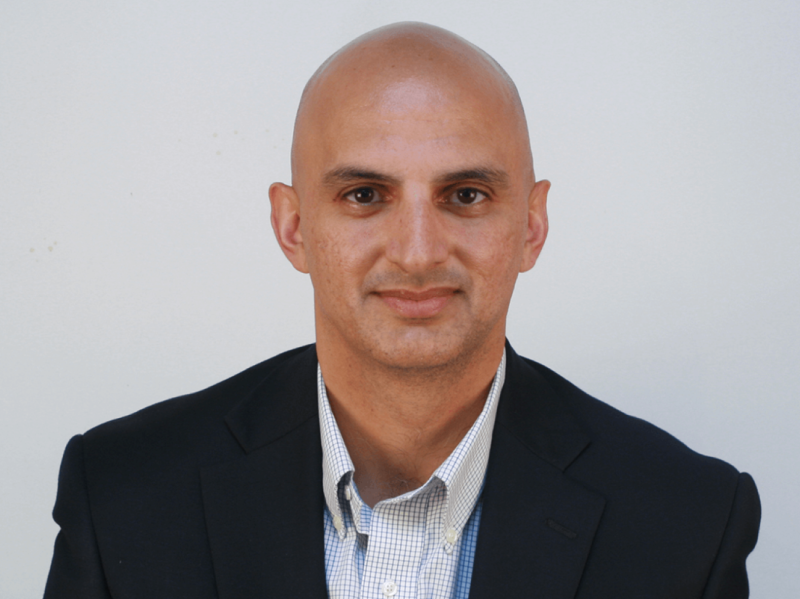 ---
A global leader with a passion for supporting individuals' career growth, U of T Mississauga alumnus P.J. Patel (BSc 1994 UTM) is being recognized with the J. Tuzo Wilson Distinguished Alumni Award both for his achievements in the field of finance and for enriching the lives of others through his commitment to volunteerism.
Named in recognition of the former principal of U of T Mississauga (1967-1974) who achieved worldwide acclaim for his contributions to the theory of plate tectonics, the J. Tuzo Wilson award acknowledges the impact of Wilson's exceptional professional achievements and his service to the University. Recipients are alumni leaders and volunteers who impact and enrich the lives of others through their involvement with community service and demonstrate excellence and high distinction in their chosen profession.
"It is an honour to be recognized, but if I'm honest, it is surprising," says Patel, humbly. "There are many alumni doing far greater things than me, having a bigger impact."
Patel is a proud first-generation Canadian who grew up in Mississauga. When pursuing post-secondary education, he chose his "local school" – the University of Toronto Mississauga. "I learned as much outside the classroom as I did inside," says Patel. He particularly draws on the camaraderie, team building, and life lessons he learned from playing ball hockey as a student.
Initially, Patel entered UTM as a chemistry student taking a series of science and math classes and a few accounting and economics classes. The latter sparked a career-defining change that would trade beakers for balance sheets. After completing his Bachelor of Science degree, Patel went on to Canisius College in Buffalo for his MBA in finance and chartered a new direction.
"Being in finance with an undergrad focused on chemistry and math is a differentiator. Initially, I felt like I was behind, but within five years, it gave me an advantage," explains Patel.
Patel has been in the finance industry for over two decades specializing in valuation services. In December 2013, the Valuation Research Corporation (VRC)'s appointed Patel as its co-CEO.
Nearly a decade later, Patel added the responsibility of leading VRC's international group – Valuation Research Group (VRG), as chair of its Executive Committee. Patel notes that being open, honest, and transparent while employing a people-first approach to empower the individual to do what is right for the firm are key points for global leadership.
Despite his busy schedule, Patel has returned to UTM as a volunteer – mentoring students through the Alumni Mentorship Program, guiding entrepreneurs through ICUBE, and sharing his Park Avenue office for student network opportunities, to name a few. To anyone considering volunteering with UTM but are not sure if they are ready, Patel advises to "just go for it."
"I think many times we wonder if we would make a difference – the answer is simple. Yes! Even what seems like a small amount of effort to you may be viewed as the final nugget that someone needs to get started or to help them achieve their goals."