December 9, 2021 | Alumni
A path toward global health equality: U of T Mississauga alum Habon Ali bound for Beijing
By Kristy Strauss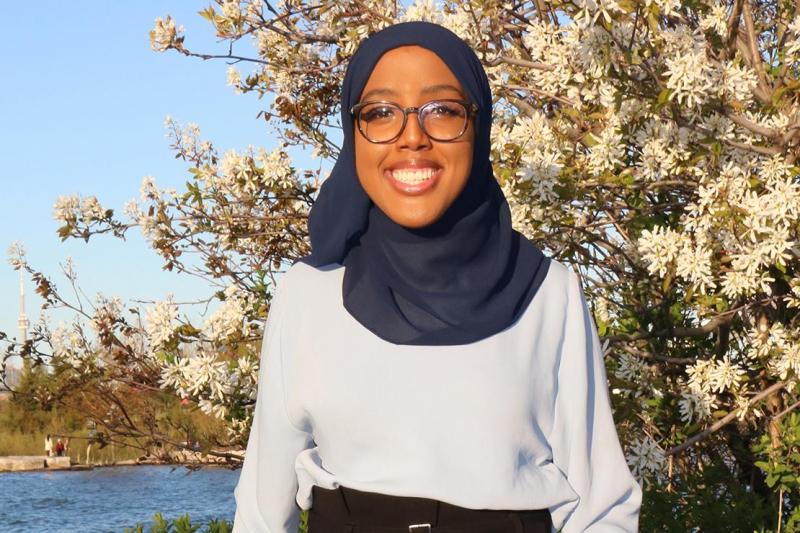 Habon Ali (BSc 2020 UTM) has been named one of 150 scholars accepted into the prestigious and competitive Schwarzman Scholars program, where she will earn a master's degree in global affairs from Tsinghua University in Beijing. Photo by Rukiya Abdulle (BSc 2017 UTM)
---
Habon Ali (BSc 2020 UTM) remembers accompanying her parents to her brother's medical appointments and witnessing their struggles in the health system: cultural barriers, language barriers and dismissive medical staff.
She knew she wanted to make it her mission to help achieve health equity for all. Now, the UTM alumnus has been given a once-in-a-lifetime opportunity to pursue her goal on a global scale.
Ali has been named one of 150 scholars accepted into the prestigious and competitive Schwarzman Scholars program, where she will earn a master's degree in global affairs from Tsinghua University in Beijing. Throughout the 11-month program, she will live in Beijing while networking and learning alongside global leaders. She plans to focus her studies on global health inequality, and hopes to learn about diplomacy, global health governance and further strengthen her leadership skills.
"I'm just really overall shocked, and a little overwhelmed," says Ali, who was selected out of a pool of 3,000 applicants. "I had to make the decision of whether I would go or not, but I think that was a no-brainer for me. I am just excited to be exposed to a different environment of learning."
Ali says her mentor at U of T, Peter Singer (MD 1984), also global health professional, recommended that she apply to the program.
I feel like Canada is a microcosm of the world, and we have a responsibility to our communities, but also on a global stage
"I have a really strong interest in global health, global health equity and reducing health inequities on a national level here in Canada – but also between countries," she says. "I feel like Canada is a microcosm of the world, and we have a responsibility to our communities, but also on a global stage."
Ali says the program will also help her understand China's role in the world, and she is looking forward to the opportunity to learn alongside Asian and African scholars.
"It's a chance to learn with scholars around the world, which I think is so valuable in and of itself," she says, adding that the program is a perfect fit because she has a strong interest in collaborating with others, and researching how socioeconomic factors impact health.
UTM's valedictorian upon her graduation, Ali also was recently named one of Canada's Most Powerful Women, awarded the RBC Future Launch Future Leaders award for innovation, advocacy and impacting community service.
Ali completed her master's degree in Global Health at McMaster University this year and is completing an internship at Queen's Park as part of the Ontario Legislature Internship Program.
"We support government and opposition MPPs, but also get a really intimate view of Queen's Park," she says, noting she's gained a better understanding of how politics impacts our lives. "It's been a really eye-opening experience."
Ali adds that she is also currently a council member of the Future of Canada Project, which is based out of McMaster and provides seed funding to research projects on campus that focus on Canada's challenges and opportunities in the next 10 years.
Seeing how racism and poverty impacts kids really infuriates me, and it fuels me to create change because no child deserves to experience hardships in life
Ali also continues to be passionate about removing systemic barriers for youth, especially from marginalized communities.
"(My passion comes from) growing up in a low-income neighbourhood, seeing the impacts of poverty first-hand, and seeing how poverty limits life choices," she explains. "Seeing how racism and poverty impacts kids really infuriates me, and it fuels me to create change because no child deserves to experience hardships in life. It doesn't make sense to me, it will never make sense to me how in this country some kids are suffering and don't have the chance to live fulfilling lives."
Ali says her family, particularly her parents who came to Canada as refugees from Somalia, are her biggest supporters. She refers to them as her "moral compass."
"They sacrificed so much to give us a healthy life here in Canada, and I think they're proud of me," she says. "They're my biggest cheerleaders, and I wouldn't be able to do any of this without them or my six siblings."