February 22, 2021 | Alumni
Music industry entrepreneur Ian Andre Espinet on advocating for equity with Breaking Down Racial Barriers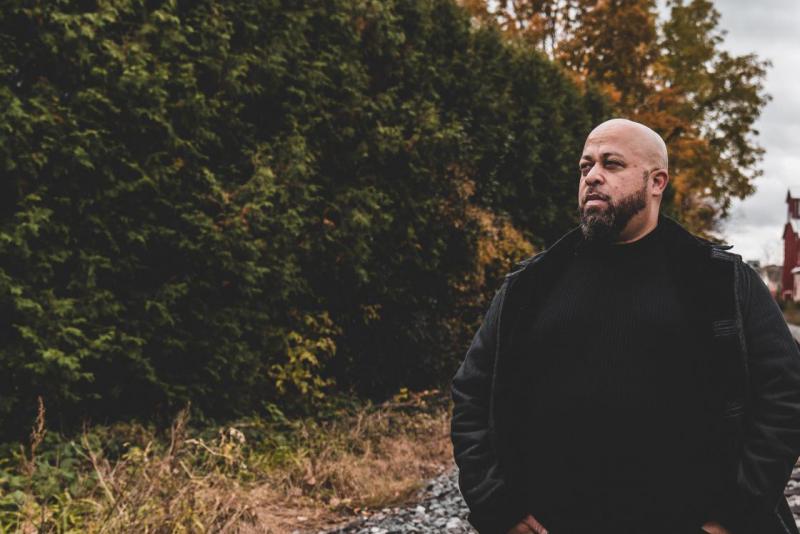 Ian Andre Espinet, who attended U of T Scarborough in the 1990s, is changing the music industry by forefronting voices that have not been heard. Photo by Paul Jones
---
Describing himself as a "serial entrepreneur," a creative and a community advocate, Ian Andre Espinet's work ranges from graphic design to event production to grass roots organization. An event producer with over 1,000 events under his belt, including 150 live shows in the Greater Toronto Area, Espinet has kept his roots in Scarborough strong and his business model diverse.
In 2020, motivated by police brutality against Black people and simultaneously inspired by the music industry-led #BlackOutTuesday viral social media campaign, Espinet was moved to action. Alongside industry associate David "Click" Cox, he launched a 10-week panel discussion on anti-Black racism in the Canadian Music Industry that featured over 60 Black music industry professionals. Breaking Down Racial Barriers explored the systemic barriers and anti-Black racism present at all levels of the music industry.
Here, Espinet opens up about his love for Scarborough, his entrepreneurial spirit – and his vision for change.
"Toronto is like the world in a city, but Scarborough is as multicultural as it gets"
A first-generation Canadian of Trinidadian and Jamaican descent, Espinet is a "proud 'Scarberian," and for him, the multiculturalism found in Scarborough feels unique. "Toronto is like the world in a city, but Scarborough is as multicultural as it gets," says Espinet.
In 1992, at the age of 18, Espinet started at the University of Toronto Scarborough to work on an International Development Studies degree before moving into Political Science and Sociology.
The UTSC environment was a promising one for budding entrepreneurs like Espinet, and he started his first businesses there: 'Emancipation' was a clothing line with afro-centric themes, featuring quotes from prominent Black leaders intended to raise awareness of the community's contributions to society.
He began producing shirts for the African Caribbean Students' Association, and his work began to circulate. In response to rising demand, Espinet started up a graphics company, Black Star Graphic Design, which he owns to this day.
"I jumped straight into entrepreneurship after leaving UTSC. A lot of people that I was doing work for at the time were in the music industry," says Espinet, who started designing flyers, promotional materials and album covers.
He soon moved into another area of entertainment, producing his first serious event, "Amnesia," around 1999, which quickly outgrew its first venue (and culminated with an album deal with Universal Music). By 2005, Espinet's events were occupying large-scale venues. His signature club events, in Toronto's largest venue, saw over 5,000 patrons a week. That same year, Espinet began producing independent live shows across musical genres: R & B, Hip Hop, Reggae, and Soca.
"[The events] are for everyone who loves Black music and the culture," says Espinet, who oversees every aspect of the shows he produces, from booking artists and venues to hiring the staff and security.
"A lot of the time, as Black people, our voices are muted. Very, very seldom do we control the narrative"
Throughout his career, Espinet has been an advocate for equity. "Sometimes just being in a space you're unwelcome in is revolution," says Espinet. "Where we go, doors are often opened for other groups and communities that are marginalized – in this case for other promoters to come into spaces," he adds.
But it was this past year that brought Espinet to a new level or organized action. Hit with the "perfect storm" of the COVID-19 pandemic, as well as the killing of Freddie Gray, Breonna Taylor, Eric Gardner and George Floyd, compelled Espinet to a new level of action.
"It just hit a boiling point," recalls Espinet.
He reached out to David Cox, an industry associate who had worked at a record label and produced award shows, with the idea for a panel discussion. Cox suggested a partnership with the Canadian Independent Music Association (CIMA).
From celebrity panelists such as Master T, Kardinal Offishall and Jully Black, to managers and label executives, the resulting Breaking Down Racial Barriers conversations created safe spaces for often-marginalized voices and experiences of the Black community.
"These are not conversations that would normally be heard," explains Espinet. "A lot of the time, as Black people, our voices are muted. Very, very seldom do we control the narrative," he adds.
"There's a lot of work that needs to be done. Work, not just talk"
While making space to discuss their experiences was vital, another important outcome was the recognition of just how entrenched racial barriers were.
"We discovered that there are very few Black people in many of the positions across the industry," says Espinet, "not only as executives, but throughout the entire pipeline of the industry, including management, C-Suites, and boards."
The initial discussions were important, but for Espinet and others, they were just the beginning. Espinet is currently drafting a summary report of the discussions, delivering concrete, actionable solutions for industry organizations and companies across the country and at all levels to implement in their structures.
The recommendations will include the collection of race-based statistics; diversity and inclusion training for HR departments; succession and retention planning for elevating Black professionals; and re-envisioning entire organizational structures through a lens of equity and diversity.
The report will be presented by CIMA and supported by ADVANCE, Canada's Black Music Business Collective. It will be shared with ADVANCE for member feedback before moving on to CIMA's peer and partner organizations across the country to be ratified.
"There's a lot of work that needs to be done," says Espinet, "work, not just talk."
And while he recognizes that many of Canada's music organizations are "genuinely trying" to counter anti-Black racism, Espinet hopes that the report will become a useful tool towards creating a more equitable music industry.
"The goal is for the music industry — and the world — to be better for my grandchildren. For all our grandchildren," he says.