November 9, 2018 | Volunteer & Awards
More than ever, the world needs leaders and problem-solvers, says alumnus George Myhal in his convocation address
By Ginny Galt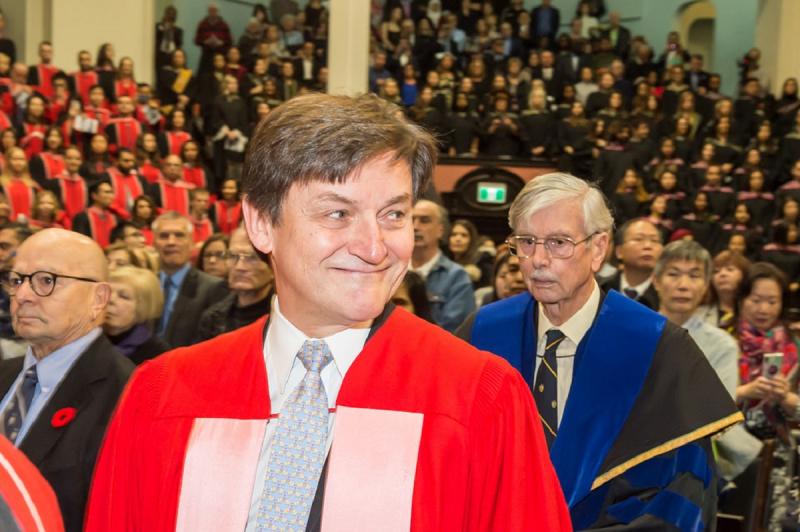 George Myhal was awarded Thursday a Doctor of Laws, honoris causa, for his service to the University as a mentor, donor and volunteer (photo by Steve Frost)
---
As U of T graduating students embark on their careers in a rapidly shifting job market, they should draw on the traits that propelled their success in university: "You have proven that you have the discipline, stamina and work ethic to succeed,"  businessman and philanthropist George Myhal (BASc 1978) said in his convocation address Thursday.
Many are understandably anxious about their futures, said Myhal, who was awarded a Doctor of Laws, honoris causa, for his service to the university as a mentor, donor and volunteer. "Taxis are being replaced with autonomous vehicles, crops are being harvested with robotic machines, stores are disappearing in favour of e-commerce sites, and fast-food restaurants are experimenting with home delivery and automated service," he said.
"Some of you may even question the value of your education. … By next year, pundits predict that one-half of the world's population will have access to the internet, where information is just a click away." Some might wonder, "who needs textbooks when Alexa, Siri and Cortana have all the answers?"
But more than ever, the world needs thinkers, leaders, innovators and problem-solvers, said Myhal, a U of T industrial engineering alumnus, a chartered accountant and a driving force behind the creation of the university's new Myhal Centre for Engineering Innovation & Entrepreneurship.
"Technology is changing so rapidly today that it's easy to lose focus on what really matters," Myhal said in his address. "How do we deal with the social challenges of climate change, income inequality, nuclear proliferation, genetic engineering and threats of global pandemic… and who will solve these enormous problems?
"It is you in this room that must rise to these challenges. You are now equipped with a university degree, you are prepared to tackle the challenges of today. You may not realize it, but I, for one, believe you are prepared."
During his more than 30 years with Brookfield Asset Management Inc. and its predecessor companies, Myhal hired many of the people who made Brookfield  "a truly amazing Canadian success story" – as it grew from 12 people to 30,000 worldwide.  Myhal, who retired from Brookfield as senior managing partner in 2015 and now heads Windermere Investment Corp., said he came to realize that  "there were three very important character traits that all successful candidates possessed,"
"Don't work alone, surround yourself with as many talented people as you can and you will be amazed at what you can accomplish"
"First, I recognize that successful people have this incredible thirst for knowledge and learning. They are not afraid to ask questions, and they know where to get answers. Before coming to the first interview, they took the initiative to inform themselves of what Brookfield did as a company. They were inquisitive by nature, were very interested in today's news. They possessed humility because they understood they had a lot to learn, but were confident in what they knew and were open to new ideas.
"Secondly, I believe that successful people have the confidence to make decisions even with imperfect information. They rely on what they have learned and hopefully make a good decision and realize they can always correct a bad decision. … If you don't make decisions, you won't make mistakes, but you also won't learn anything. …
"Lastly, I learned that successful individuals are not necessarily the smartest people in the room. They are those who can work collectively, collegially with others," he said. "Many of today's complex problems can be solved by people who work well together and check their egos at the door. Conversely, there is nothing more destructive than politics within an organization. So don't work alone, surround yourself with as many talented people as you can and you will be amazed at what you can accomplish."
What sets Myhal apart, besides his extraordinary career success, is his lifelong commitment to community service, said Cristina Amon, dean of the Faculty of Applied Science & Engineering, in describing the reasons he was chosen to receive an honorary doctorate. Myhal served on the U of T's Governing Council for a decade, she said, as well as leading fundraising campaigns and providing invaluable advice on the future of engineering education, research leadership and entrepreneurship.
"George has given back to his alma mater and to Canada throughout his career," Amon said.