June 28, 2019 | Volunteer & Awards
Meet the U of T faculty, alumni and supporters named to the Order of Canada
By Perry King, Rahul Kalvapalle and Romi Levine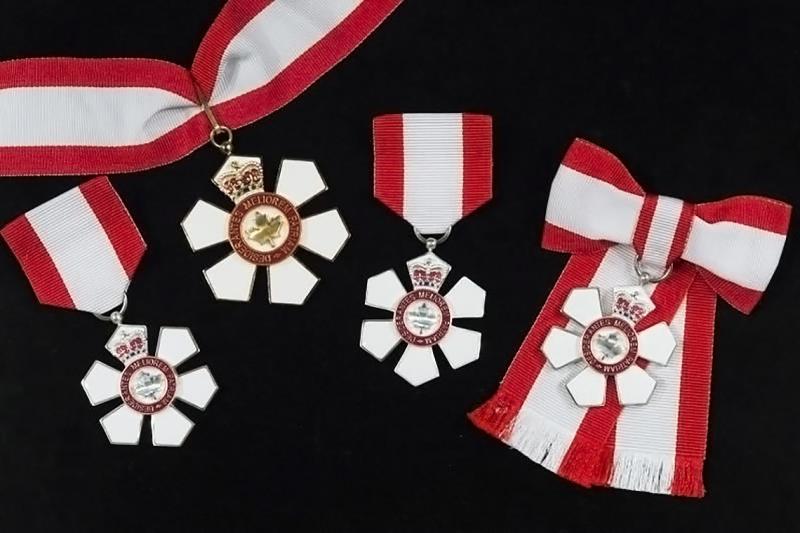 From a critically acclaimed actor to a respected immunologist, the latest appointments to the Order of Canada include several members of the University of Toronto community, reflecting the range of expertise and the diversity that make U of T one of the top universities in the world.  
The latest appointees to one of Canada's highest civilian honours were named on Thursday by Governor General Julie Payette (MASc 1990, Hon DSc 2001), a U of T alumna and former astronaut with the Canadian Space Agency.
Of the 83 Order of Canada honourees, at least 11 have close ties to U of T, from faculty members to alumni and donors.
The list includes Emmy and Golden Globe-winning actor Donald Sutherland, who graduated from Victoria College in 1958, and U of T Professor and acclaimed immunologist at the Hospital for Sick Children Chaim Roifman, whose research led to the discovery of a rare congenital disorder and its genetic roots.
The recent Order of Canada honourees with connections to U of T include:
---
Joseph Raymond Buncic is a U of T professor of ophthalmology and a staff ophthalmologist at the Hospital for Sick Children. A 1965 graduate of McGill medical school, Buncic completed his ophthalmology residency at U of T in 1970. He has maintained an interest in clinical research related to pediatric and central nervous system disorders during his career. "For his pioneering contributions to the field of pediatric neuro-ophthalmology, notably through his mentorship of multiple generations of pediatric eye specialists," Buncic has been named a Member of the Order.
Chaim Roifman (PGMT 1987) is a professor of pediatrics in the Faculty of Medicine at U of T and head of the division of immunology and allergy at the Hospital for Sick Children. He is best known for discovering a rare congenital disorder that bears his name – Roifman Syndrome – as well as uncovering its genetic cause. He was made a Member for his contributions to the field of immunology, "notably in the diagnosis and management of pediatric primary immunodeficiency."
Dorothy E. Smith is a celebrated sociologist who is credited with helping to bring feminist principles and perspectives to the field. Recognized as the founder of the sub-discipline of feminist standpoint theory, Smith wrote several highly-cited books including The Everyday World as Problematic: A Feminist Sociology and Conceptual Practices of Power: A Feminist Sociology of Knowledge. She taught sociology at the Ontario Institute for Studies in Education at U of T for nearly 25 years until 2005. She was made a Member for "extending the boundaries of traditional sociology to incorporate a feminist perspective, and for developing institutional ethnography."
Donald Sutherland (BA 1958 VIC, Hon LLD 1998) is a critically acclaimed actor whose career spans over 50 years and 100 film credits, from The Dirty Dozen (1967) and M*A*S*H (1970) to Ordinary People (1980) and Citizen X (1995). The Saint John, N.B.-born Sutherland had never seen a theatre play prior to enrolling in Victoria College at U of T, but went on take part in several productions at Hart House Theatre before graduating in 1958 and going on to establish himself as a Hollywood heavyweight. Named an Officer of the Order of Canada in 1978, Sutherland has now been promoted to a Companion "for his sustained contributions to the motion picture industry before a global audience and for his championing of social issues."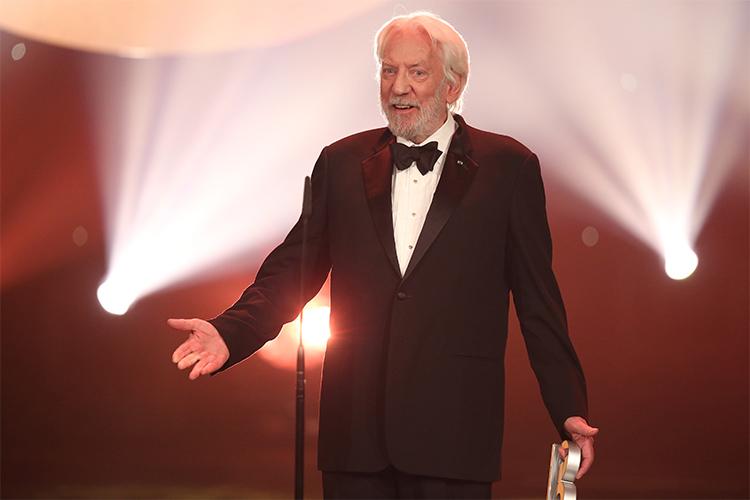 Graham Fraser (BA 1968 UC, MA 1973), who received both his Bachelor of Arts degree and his Master of Arts degree in history from U of T, served as Canada's Commissioner of Official Languages from 2006 to 2016. Fraser, who has been named an Officer of the Order of Canada, is known as a champion of bilingualism and a defender of the rights of linguistic minority communities. As a journalist, he wrote in both English and French for many of Canada's leading news publications. He also authored five books, including the highly influential Sorry, I Don't Speak French.
Alumnus H. Roger Garland (BA 1962 VIC) is being recognized as a Member of the Order of Canada "for his influential leadership in business, and for his significant contributions to numerous art and health care institutions." The certified chartered accountant is a former chief financial officer of Four Seasons Hotels and Resorts. Prior to Four Seasons, Garland was vice-president of corporate banking with Citibank in Canada and Switzerland. Garland is the founding chair of the board of Soulpepper Theatre Company, a past director of the board for the Young Centre for the Performing Arts and was a chair of the 2015 Pan Am/Parapan Am Games in Toronto.
Lotfollah Shafai (MASc 1966, PhD 1969) is a leading expert in the field of applied electromagnetic systems and telecommunications, and is a distinguished professor emeritus of electrical and computer engineering at the University of Manitoba. Shafai, who earned his master's and doctoral degrees in electrical engineering from U of T, is credited with an array of pioneering contributions to the telecommunications field. Shafai was named an Officer for his "fundamental contributions to the fields of electromagnetics and antenna and satellite development, which have led to renowned advancements in the telecommunications industry."
Donald Schmitt (BArch 1977) earned a Bachelor of Architecture from U of T while co-founding Diamond Schmitt Architects in 1975. Some of Schmitt's recent designs include the Peter Gilgan Centre for Research and Learning at the Hospital for Sick Children and the rejuvenation of the Senate of Canada and National Arts Centre buildings in Ottawa. The firm also worked on U of T's Gerstein Science Information Centre and Earth Sciences Centre and is involved with the expansion of Robarts Library and the contruction of a new residence building on the downtown Toronto campus. Schmitt was named a Member "for his rehabilitation of iconic heritage buildings and for his sustainable architecture designs."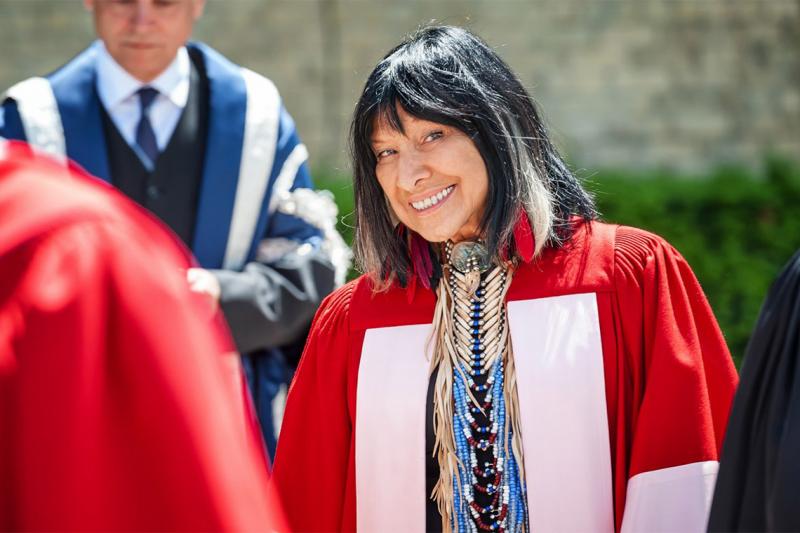 Buffy Sainte-Marie (Hon LLD 2019) has won an Oscar, appeared on Sesame Street and her songs have been covered by everyone from Elvis Presley to Janis Joplin. Her incredible career spans five decades – and she shows no indication of slowing down. Just a few days ago, she was recognized by the University of Toronto with a Doctor of Laws, honoris causa. An Officer of the Order since 1997, Sainte-Marie has been promoted to Companion for "her multi-dimensional contributions to music, visual arts and education, and for her continued support for Indigenous rights and environmental activism."
Nicholas Saul (BA 1990 VIC) was made a Member for his "innovative vision and leadership as president and CEO of Community Food Centres Canada," a national anti-poverty organization that supports access to food in low-income neighbourhoods. Saul graduated with a Bachelor of Arts in history from U of T in 1990, and was also captain of the varsity basketball team.
John David Spence (MBA 1991) is a world-renowned expert in stroke prevention research, with hundreds of research publications to his name. A professor of neurology and clinical pharmacology at Western University and director of the university's affiliated Stroke Prevention & Atherosclerosis Research Centre in London, Ont., Spence graduated from the executive MBA program at U of T's Rotman School of Management. He was named a Member for his "contributions to our understanding of atherosclerosis and to the prevention of stroke."
Mathematician Robert Phelan Langlands (Hon DSc 1993) is a professor emeritus at Princeton University, and a highly respected contributor to representation theory and number theory. U of T recognized his groundbreaking work with a honorary degree in 1993. An advocate of mathematical collaboration, he has been appointed a Companion for "revolutionary contributions to the field of mathematics, notably as the founder of the Langlands Program, which has pushed boundaries and inspired mathematicians worldwide."
Aubrey Dan is a Canadian businessman, philanthropist and award-winning producer. The son of Leslie Dan (BScPh 1954, MBA 1959, Hon DSc 1997), fellow Member of the Order of Canada and the namesake of U of T's Leslie Dan Faculty of Pharmacy, and brother of Michael Dan (MD 1984, Hon LLD 2018), also a Member of the Order and namesake of U of T's Waakebiness-Bryce Institute for Indigenous Health, Aubrey is the founder and president of Dancap Private Equity and the co-founder and executive chairman of EmpowerPharm, a speciality pharmaceutical company. As a philanthropist, Dan has donated millions to various charitable organizations – including to the Leslie Dan Faculty of Pharmacy, the Sunnybrook Foundation and the Baycrest Centre Foundation. As a producer and founder of commercial theatre company Dancap Productions, he has been dedicated to bringing Broadway-style theatre to the city of Toronto, including performances of The Addams Family, West Side Story, and Jersey Boys. Dan is being recognized for "his achievements in finance, and for his philanthropic contributions to health care, education and the arts."
Did we miss anybody? If you know of an Order of Canada honouree with ties to U of T who was announced in this round but who isn't mentioned above, please let us know at uoftnews@utoronto.ca.