September 27, 2021 | Alumni
Letters to Amelia: Lindsay Zier-Vogel's debut novel features an aviation pioneer – and U of T
By Michael McKinnon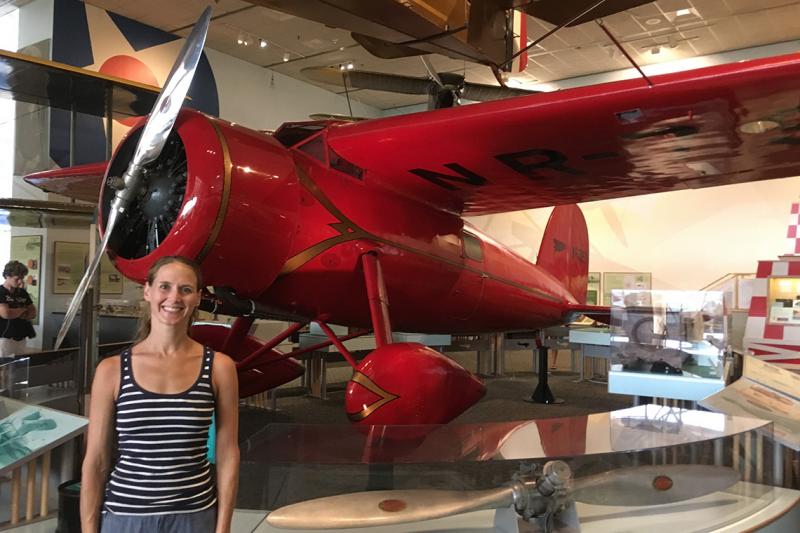 U of T alumna and author Lindsay Zier-Vogel (BA 2005 VIC, MA 2007) poses with Amelia Earhart's Lockheed Vega 5B at the Smithsonian National Air and Space Museum in Washington, D.C. (photo courtesy of Lindsay Zier-Vogel)
---
University of Toronto alumna Lindsay Zier-Vogel (BA 2005 VIC, MA 2007) began writing letters to Amelia Earhart long before her novel took flight. 
After reading a biography of the missing pilot in 2001, Zier-Vogel found herself enamoured with Earhart's flying, feminism and humanitarian work. Alone and lonely in Spain in the summer of 2005, she comforted herself by writing letters to Earhart, who had disappeared 68 years earlier.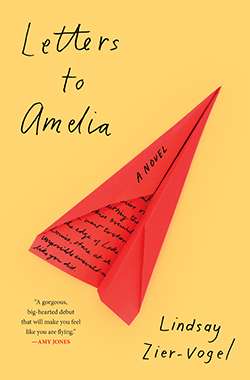 "I missed Amelia. I felt connected to her, like I knew her," says Zier-Vogel, who earned an honours bachelor of arts degree in English from U of T's Faculty of Arts & Science in 2005 as a member of Victoria College and a master's degree in creative writing – also from U of T – in 2007.
"I wrote to Amelia about the orange I'd eaten or about the guy who sold me coffee in the morning who looked like George Clooney – just these little snippets of my day. There was something about writing to somebody else that gave me this bigger creative space to play with than if I had just been keeping a journal."
It was a pastime Zier-Vogel returned to sporadically over the years. Letters were published in the Filling Station, Taddle Creek and other literary publications that helped her get accepted into U of T's master's program.
"Every few years, I would end up in this weird space and write another letter to Amelia," she says. "The letters weren't entirely autobiographical, but they weren't entirely fictional either. They weren't poems; they lived in a space I didn't really understand for a long time."
The letters eventually evolved into Letters to Amelia, published in September by Book*hug Press. The novel follows protagonist Grace as she writes her own letters to Earhart while struggling through challenging times. The novel takes Grace to Trepassey, N.L., where Earhart once stayed for three weeks in June 1928, and to Washington, D.C.'s Smithsonian National Air and Space Museum, where Earhart's Lockheed Vega 5B airplane is still displayed.
Amelia spent a lot of time here. I'd walk through the field where they'd had airplanes and felt like she was literally still there
But most of the story takes place in and around U of T's St. George campus. In fact, Grace is a library technician at U of T's Thomas Fisher Rare Book Library.
"I just love the Fisher building. There is something about sitting at those desks with a tower of books above you that is as close to a religious experience as I've ever had," she says.
"Amelia spent a lot of time here," Zier-Vogel says, excitedly describing how Earhart had a stint as a nurse in a military hospital that is now the John H. Daniels Faculty of Architecture, Landscape, and Design building; how the field at University College was once peppered with airplanes; and how the library Earhart frequented is now the Koffler Student Services Centre.
"I felt like she was literally still there," Zier-Vogel says of her own time at U of T. "I'd walk through the field where they'd had airplanes and where the pilots had been, and she was very much still there, so this story had to be there, too."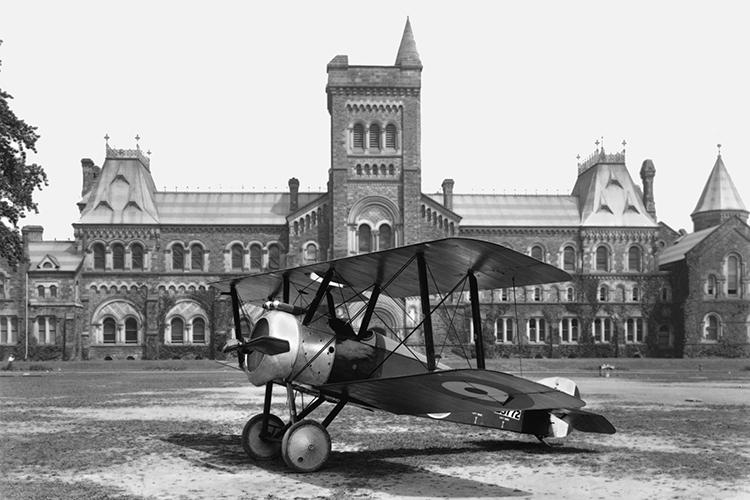 Zier-Vogel was a poet – not a pilot – when she arrived at U of T for her undergrad. Having already studied at the School of Toronto Dance Theatre, she immersed herself in Canadian fiction and poetry courses. Thanks to several scholarships and bursaries, including the David St. John Bare Award in 2003, the Woodsworth College Scholarship Fund in 2003, the Victoria College In-Course Scholarship in 2004 and a Victoria College bursary in 2005, she was able to focus entirely on her education.
 
"Having those scholarships and bursaries was huge because I had no other financial support," she recalls. "I had initially been working full time and going to school full time, and it was really hard to do both."
Zier-Vogel's writing developed through a creative writing workshop led by Lynn Crosbie (PhD 1996), an adjunct professor with the department of English, who expanded Zier-Vogel's ability to find inspiration, taught her to play with meter and ultimately encouraged her to apply to the master's program in creative writing. There, she took her first fiction courses and worked with Anne Michaels (BA 1980 UC), an adjunct professor of English and author of Fugitive Pieces.
She understands – and wants her readers to understand – that tenderness is strength
Michaels remembers Zier-Vogel as an attentive and engaged student.
"She was warm, gracious and beginning to envision the kind of literature she wanted to make," says Michaels, whose praise for Letters to Amelia is included on the back cover.
"She was keenly receptive to all she was learning and began to clarify what was important to her as a writer. She began to define a purpose – to encourage compassion and hope in a reader. There is a gentleness to Lindsay's work that is not naive. In these times, such a gentle voice is rare in fiction. She understands – and wants her readers to understand – that tenderness is strength."
While Zier-Vogel is now finishing the draft on her second novel – featuring a protagonist who was a U of T student – she's still marveling on the magic of finishing her first.
"It's really exciting – sometimes I can't believe it," Zier-Vogel says of seeing Letters to Amelia published. "Working with an editor was so exciting. I have a writing group and we work together all the time, but there's something about working with an editor and talking about my totally imagined world that is surreal. It feels like I'm talking about real things, except it's all in my head. It is really exciting to multiply that by many more people reading it."