June 10, 2021 | Volunteer & Awards
Learn to give back: Business leader, mentor and volunteer Donald Guloien receives honorary degree
By Scott Anderson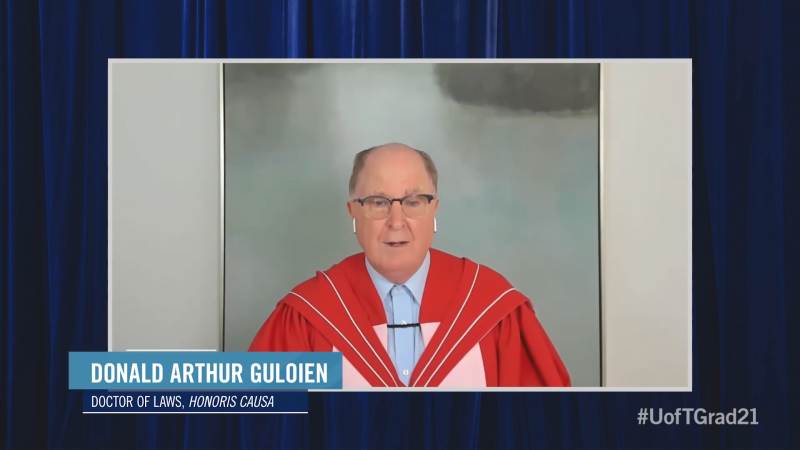 As an executive with financial services giant Manulife Financial, Donald Guloien (BCom 1980 UC, Hon LLD 2021) successfully guided the company through challenge after challenge. In the 1990s, he navigated its entry into the Japanese market and oversaw an initial public stock offering. For several years, he ran its global investment operation, managing almost $200 billion in assets. Then he served as president and CEO, steering Canada's largest insurance company through the worst of the financial crisis.
But, as he said in a speech today to the University of Toronto's Class of 2021, the ability to give back to society – by volunteering and donating to causes one believes in – is the most rewarding capstone to any career.
"Making money, learning new things, and achieving are wonderful. But you won't have the full rich experience of your opportunity until you have learned to give back," he said.
Today, for being an exceptional "leader and contributor to the investment and insurance industries, and for his outstanding service to the university as a dedicated volunteer and mentor," Guloien received a Doctor of Laws, honoris causa, from U of T – his alma mater.
Born in Parry Sound, Ont., in 1957, Guloien attended high school in Toronto before enrolling at U of T. At U of T, he served as a student governor on the Governing Council, the beginning of Guloien's long record of volunteer service to the University. In 1981, a year after graduating with a bachelor's degree in commerce, he joined Manulife as a research analyst and spent more than three-and-a-half decades with the company, including several years as CEO.
Guloien was named chief executive in September 2008, just one week before Lehman Brothers filed for bankruptcy protection, precipitating the worst global financial crisis since the Great Depression. That year, Manulife recorded its first quarterly loss since going public in 1999. Under Guloien's guidance, though, the company made a steady recovery. In 2012, the Canadian Chamber of Commerce named Guloien the International Business Executive of the Year. By 2014, the company was strong enough to make a successful bid for the Canadian operations of Scotland's Standard Life Insurance Company, giving Manulife a much stronger presence in Quebec.
On the eve of Guloien's retirement, in 2017, the company's chair, Richard DeWolfe, issued a statement praising Guloien's record and thanking him for his service. "Donald's eight-year tenure as CEO began in the aftermath of the most serious financial crisis in modern history, and at a moment when Manulife faced a number of difficult internal and external challenges." In spite of this, DeWolfe noted that Guloien had left the company well positioned for growth, "with more than $1 trillion in assets under management and administration and $4 billion in core earnings."
As committed as he was to Manulife's success, Guloien still found time to volunteer at U of T in several capacities, including as a member of the Boundless campaign cabinet. In 1998, he received an Arbor Award for his contributions to the University. He and his wife, New College alumna Irene Boychuk (BA 1979 NEW), donate to U of T and frequently support health, education and community organizations in Toronto.
My experience has been the more you give back, the more satisfaction you find, the more opportunities you are presented with, and the more interesting and inspirational people you'll meet
"We've been very fortunate in our business careers, both Irene's and mine. And, I guess part of our family ethic has always been, if you're doing well, you should give back," Guloien told the Toronto Star in 2015. He explained that both his parents had supported charities and volunteered. "They were people of modest means … but they contributed where they could."
In his speech today, Guloien encouraged graduating students to find their own ways to give back to society.
"You are really smart young people. You have a lot to offer. Start early by sharing that capability with others who desperately need your help," he said.
"My experience has been the more you give back, the more satisfaction you find, the more opportunities you are presented with, and the more interesting and inspirational people you'll meet."