Joanna Decc: from Hart House Theatre's home-grown talent to directing her first film
By Megan Mueller
U of T alumna Joanna Decc began to hone her craft at Hart House Theatre, earning the prestigious Donald Sutherland Award for Best Performance, among many other accolades. But that was just the beginning for this actor and theatre artist who's now writing and directing her first film.
---
Canadian actor and University of Toronto graduate Joanna Decc (BA 2018 INNIS) has extraordinary talent. That became clear almost immediately after she took to the stage in her undergrad years.
In 2016, Hart House bestowed the Donald Sutherland Award for Best Performance on her, for her unforgettable portrayal of Calamine in UC Follies' Saltwater Forests. This honour is awarded to the student who achieves the highest quality of delivery, character development and interaction in the annual Hart House U of T Drama Festival.
Since graduating, Decc has secured quite a few roles in film and television: Athena of Chaos in the film The Border of Utopia (2020); Woman in White in the television show Paranormal Nightshift (2020); and Laney in Squad Souls (2020), where she was a guest star on the web series. She also acted in a short film called Laura in Scenes to Watch When You're Sad, and played the part of Patricia in Verona, a Telefilm feature. Today, she has written and is now directing a film with profound impact.
Blossoming as an actor at Hart House
Decc had always wanted to be an actor but was too shy to consider it in high school. One of her first roles at U of T was in Christine Evans' Trojan Barbie, produced by the Victoria College Drama Society and directed by Decc's now close friend Veronika Gribanova. This experience was a catalyst for her love of the theatre.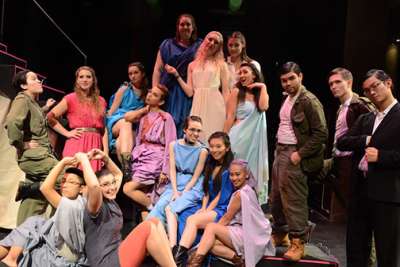 "It was very exciting. It made me feel like this is where I belong. It was a bigger role, that of Cassandra, a bit juicier than the roles I'd played before. I had a lot of fun with it."
That 'fun' translated into something that genuinely resonated with audiences. Decc received a Dougie Award – the U of T Drama Coalition Award for Best Performance in a Play – for her portrayal of Cassandra.
Winning the Dougie that year was very special. "Of course, it's not just about awards, but at that time, when I was still unsure of myself as an actor, it made me think, okay maybe I'm alright!" This experience fortified her acting aspirations.
Everyone says, you meet the people you're going to work with in school...
Decc also won the Trinity College Drama Society (TCDS) Drama Award for Best Performer in 2017 for her rendering of Martha in Edward Albee's Who's Afraid of Virginia Woolf? directed by Lauren Ishak.
The playwright for that production, Nawi Moreno-Valverde, also influenced Decc in terms of "how much of a voice I could bring to a piece as an actor, especially in a play that hasn't been performed before."
Decc is currently working on another play with Nawi – their fourth collaboration. "Everyone says, you meet the people you're going to work with [in the future] in school … and there is some truth to that!"
Hart House U of T Drama Festival is a wholly unique opportunity
Decc describes Hart House Theatre as a kind of incubator of ideas with like-minded people, discovering and developing their talents concurrently. "We were all emerging, working together and collaborating. It was very inspirational."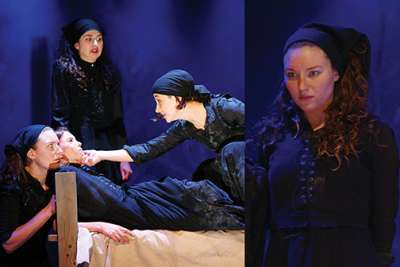 Decc believes the Hart House U of T Drama Festival is a wholly unique opportunity for students to write, produce, direct and act in plays – to create a theatrical production from the ground up, for students, by students.
She sees tremendous value in finding new voices this way. "It's a place for emerging artists to come together and create a collaborative piece of theatre."
 
We were all emerging, working together and collaborating. It was very inspirational.
She describes the excitement of doing a play that's never before been performed. "It's so cool to be the first person bringing life to words that, perhaps, a friend or another artist you admire wrote."
The fact that this Festival is adjudicated by professionals was a real bonus. "Maev Beaty adjudicated that year. She's at Stratford and she's incredible. The fact that I was able to talk to her, and she gave advice after every performance, was amazing. I was quite self conscious at that time, unsure if I were a good actor. That helped with my insecurity because I thought if she thinks I'm okay, then maybe I am!"
Joanna Decc's directorial debut explores the toll of caregiving
Today, Decc has written and is now directing her own, semi-autobiographical film, Bleak as the Setting Sun. She describes this highly personal work as "an exploration of caregiving and the emotional and physical toll that it takes on an individual. Set during the pandemic, it's essentially about a young woman taking care of her mother, who's in palliative care.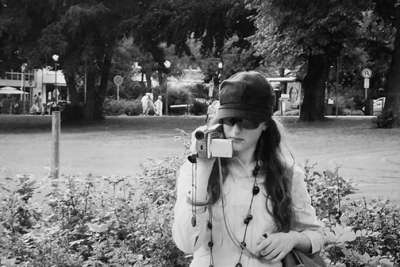 "It came from a place of deep pain. It was a catharsis that was tremendously needed for me at that time," she explains.
In the process of this venture, she acquired a lot of practical skills as well, including learning how to apply for grants and shoot on film for the first time. In fact, she devoted one year to learning about shooting on analog film in preparation for the grant applications. "You have to have experience to be approved as a filmmaker," she says. "I took one workshop and continued to learn from then on."
She found out in early 2022 that she won the grants, so the project is a-go. It was particularly meaningful to her to be, now, considered a filmmaker.
It's so cool to be the first person bringing life to words
Decc has some sage counsel for students who are considering acting: First, audition. "It's terrifying, but it's one of those things. You get better at it, the more you do it."
She adds, "Nothing happens overnight. It's a long process. Try not to let the rejection affect you too much, although that's easier said than done."
She encourages budding actors to "focus on your love of the craft, work on your skills and keep learning, whether that's taking acting classes or reading or absorbing other art forms. I think it's important to always strive to become more full as an artist or actor."