The Honourable Jean Augustine celebrates 50 years since graduating from U of T
By Carolyn Peralta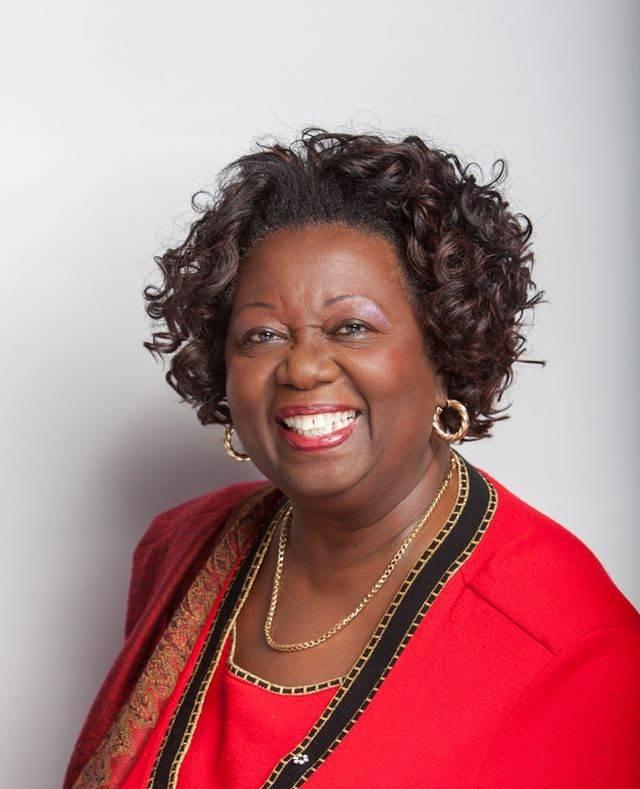 The Honourable Jean Augustine, P.C., C.M., O.Ont, C.B.E.
---
This year, The Honourable Jean Augustine (BA 1973 WDW, MEd 1980, Hon LLD 1994) celebrates her 50th Anniversary since graduating with her Bachelor of Arts from the University of Toronto.
When Augustine came to U of T, it was a logical decision that would contribute to her career development as an educator. She had already attended the Toronto Teachers' College and was working as a teacher. Through the Division of Extension, which later became Woodsworth College, Augustine was able to complete her degree part-time. During this time, she found a community of colleagues turned friends, who would meet to share and discuss their courses. Some of whom, she is still friends with today.
After completing her Bachelor's degree, she obtained her Master of Education degree at U of T. She remembers having terrific instructors who were very experienced and committed to education and methodologies: "They were very caring about the students and encouraged us to share our own experiences too."
Augustine recalls that her education at U of T provided her with all the possibilities that studying at that level provides you with – an expanded horizon.
A community champion
By nature, Augustine had an affinity for fairness and justice and, growing up in Happy Hill, Saint George,  Grenada, she learned the important qualities of belonging, service, sharing and giving back. Her focus on community engagement and social causes led her to a long and successful career working in education, government, and more. As an activist, she devoted herself to making improvements in society and sought out others in the community who she could work with to push for causes together.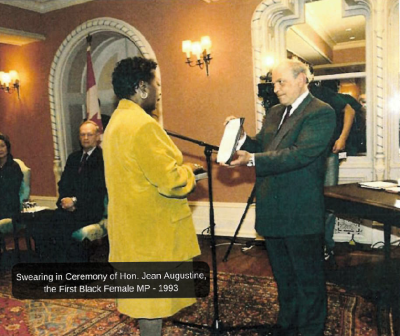 In an interview she gave for the magazine, Fifty-Five Plus, she says, "Everyone knows what Toronto was like in 1960. There was no Charter of Rights and Freedom: no Section 15 or Human Rights Code. There was no Landlord and Tenant Act, no police-community relations, no school board trustees talking to parents. It was a different social setting with prejudice ingrained in the system. There were things that needed to be fixed." 
Augustine contributed to many monumental and critical developments in Canadian history, such as the founding of the Toronto Caribbean Carnival (1967), developing and launching Canada's official multiculturalism policy (1971), serving as the National President of the Congress for Black Women of Canada (1987) and being appointed the Chair of the Metro Toronto Housing Authority (1988) and Ontario's first Fairness Commissioner (2007).
Augustine, herself, made history in 1993 as the first black woman to be elected to Canada's House of Commons. She approached her work in politics with inquisition, doing a lot of fact finding, research and collaboration. It was important for her to both reveal and truly understand what the dissonances in society were.
During her first term, her motion to recognize Black History Month in Canada was passed, with the first Black History Month in Canada being celebrated in February 1996. Among other accomplishments, Augustine's motion was instrumental in the placement of the Famous Five Monument, the first monument featuring women on Parliament Hill (near the Senate building now), which honours the memory of Emily Murphy, Nellie McClung, Irene Parlby, Louise McKinney, Henrietta Muir Edwards.
A catalyst of positive change
Augustine has been the recipient of several Honorary Degrees and hundreds of awards, including the Queen's Diamond Jubilee Medal, and being appointed to the Order of Canada and Order of Ontario. Augustine's life story and career were featured in the documentary, Steadfast: The Messenger and the Message (2022), which was most recently shown at the Cannes Film Festival.  Her legacy continues at the school in her name, The Jean Augustine Secondary School, which operates with SAIL principals – Service, Activism, Innovation, and Leadership, and at the Jean Augustine Centre for Young Women's Empowerment (established in 2014), which offers community programming for girls aged 7 – 17 years old in the Etobicoke-Lakeshore community. The Centre has a variety of free courses from culinary classes to financial literacy to leadership and to STEM. There is a focus on helping girls succeed by way of community, mentorship, and self-development and provides an opportunity for them to learn, build relationships and gain confidence together.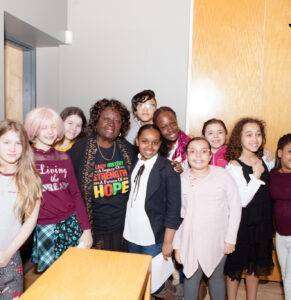 Augustine has stayed involved with the University over the years as a volunteer with different divisions, such as Woodsworth College, Ontario Institute for Studies in Education (OISE), New College, the Transitional Year Programme (TYP), the Black Students Union and more. She has also been a speaker at Convocation and volunteered on an advisory board with former U of T president, Robert Prichard.
Throughout her involvement at U of T, she has been a champion of Diversity, Equity, and Inclusion in Higher Education and a catalyst of positive change in these areas. We are grateful for her participation in the U of T Community and are happy to celebrate this anniversary with her.  
We recognize her important nationwide contributions and dedication to creating a more equitable society. Augustine's advice to others who wish to also make an impact: "Have a passion and know what it is. Take a risk. Look for, and find, mentors and role models. Don't accept mediocrity. Have confidence that you can change the world."