November 8, 2022 | Alumni
Being a communicator is about understanding people: Ivana Di Millo is UTM's Distinguished Alum
By Tara Clemens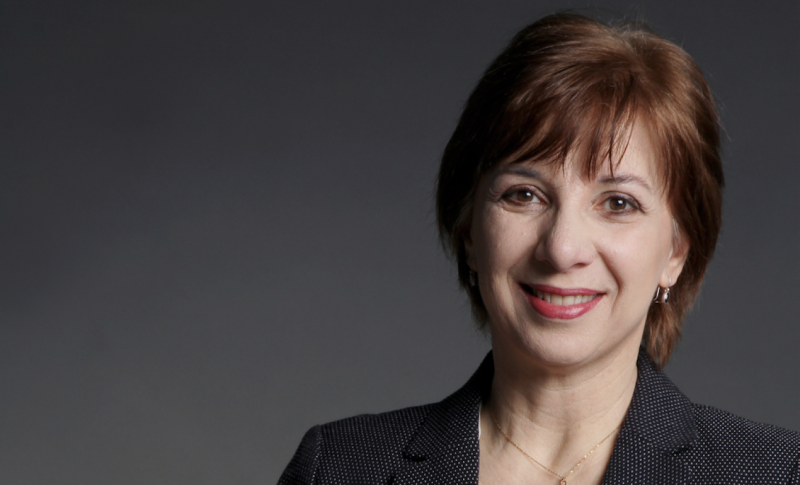 ---
Ivana Di Millo (BA 1988 UTM) has built a successful career in leadership, communications and public relations, recently launching her own company as the principal and managing director of Blue Opal Communications.
A long-time UTM volunteer, she has generously donated her time, boundless energy and passion to improving the student experience. In our conversation with the very deserved J. Tuzo Wilson Distinguished Alumni Award winner, Ivana shares with us her fond memories of UTM as a first-generation student, her exciting and rewarding journey into entrepreneurship, and the beauty of giving back.
---
Congratulations! Can you share why this recognition is meaningful to you?
I'm extremely humbled to receive this award because of the personal relationship that I have with UTM and my community in Mississauga. It's an incredible honour and it really means so much to me.
Can you tell us more about your personal background and your path to UTM?
I moved to Mississauga in 1977, and I like to joke that I have been here almost as long as UTM! But I do feel like I've grown up with UTM, and my path to "Erindale College" began when I was young. At that time, it was small, personable and close to my home.
Six members of my extended family went to U of T – which is pretty incredible for a first-generation family.
I was the first one in my family to go to university, but in fact six members of my extended family, including my brother and sister, all went to U of T – which is pretty incredible for a first-generation family. It really was a family affair.
What are your best memories from your time as a student?
I loved being part of UTM, and in particular the amazing community we built in the North Building. I loved getting to know all of the people in my literature and languages programs. I stayed very involved, I was part of student clubs, attending the Italian drama productions, working at the radio station and hanging out at the Blind Duck. The community of people and friends made it such a wonderful experience.
I also did a summer exchange program in Siena through the Italian program which was just incredible. UTM really opened up a whole new world of arts, culture and literature for me, but, ultimately, it was the friendships and the community life there that impacted me the most.
You worked for 18 years in strategic communications at the City of Mississauga. What did you enjoy most about that role?
I loved being a part of the community and working with partners, because I worked in government as the Director, Strategic Communications. I was still able to work with UTM, but from the other side. I got to be a part of so many different initiatives, and I really enjoyed showing people that the government was working for them, what we did, and how they could access it. Not everyone pays attention to that, and part of my job was to get to really highlight and showcase the exciting things we were doing.
What do you love most about PR and communications and why do you think you're so good at it?
I love helping people solve problems and, believe it or not, that's what communications roles do. Being a communicator is about understanding people and their behaviours, knowing how to connect with them. Each audience is so different and has such different needs. Going back to my psychology days, we're all social beings, and it's such a good way to connect with people – a common ground. I love that.
You started your own consulting company, Blue Opal Communications, in 2021. What has been the transition been like?
It's been exciting! Very similar to my career, it's about offering my services to help people better communicate and collaborate. I've loved the whole aspect of trying to figure out how to run a company and all of the logistics that go along with that. It definitely has its ups and downs. As a new entrepreneur you have to get used to the pace, but I really like it. I also have to get used to managing my capacity, how much I'm able to take on and how to keep my work-life balance. That's maybe been a bit more difficult for me, but I'm still learning.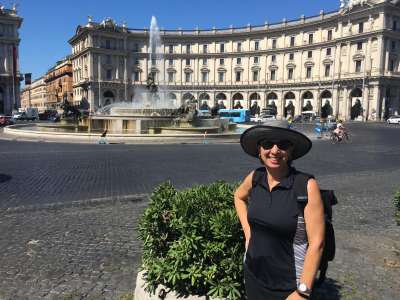 Have you had any Mentors who have impacted you in your career journey?
Honestly, there are so many people, right back to my grade 6 teacher, to high school teachers, to professors, and even now there are so many people I'm getting to know through my work who I would consider to be impactful mentors for me.
Mentors don't always just appear in your life, sometimes you have to seek them out and make the effort
Mentors don't always just appear in your life, sometimes you have to seek them out and make the effort. I've always tried to find people who lift me up and create opportunities to push me to learn and extend myself. I've been so lucky to have had such an amazing series of mentors throughout my life, and they have all meant so much to me.
Can you talk about the impact that family has had on you?
Without family supporting me, it just wouldn't be possible. They are the ones who give you the time to work, to volunteer. It's just so important that family supports you. I am so fortunate to have a wonderful life partner in my husband Russ. He has been my greatest cheerleader.
Growing up, my parents always supported others and were so generous with everything - their time, their food, their love. I just really want to pay tribute to them in how I live my life. My dad is no longer with us, but I know how proud my parents have always been of us going off to university and all of our accomplishments.
What made you decide to give back to UTM?
You have been a consistent and incredibly involved volunteer over the years, so generously donating your time as a student mentor, on Campus Council and as a UTM Alumni Association board member. In 2012, you were the recipient of an Arbor Award which recognizes exceptional volunteers at the University of Toronto.
I think it goes back to Professor Michael Lettieri, my Italian professor, who had a very profound impact on my life back at UTM. He was engaging, fun and enthusiastic. A few times he said, "Don't forget about this campus. Don't forget about giving back to the school." When I had some time finally in my family life, this opportunity came up to be on the Alumni Association and it felt like the right time to get involved.
Remember the great experience you had here. The right moment will appear when it's time to come back.
In fact, that would be my message to all alumni. Remember the great experience you had here at UTM. The right moment will appear when it's time to come back. Life will get busy with family and work, but hold your experiences in your heart and minds, and come back and volunteer when you can. The university has so much more to give you.