April 19, 2022 | Volunteer & Awards
Ivan Chorney's bequest launches a baritone who breaks barriers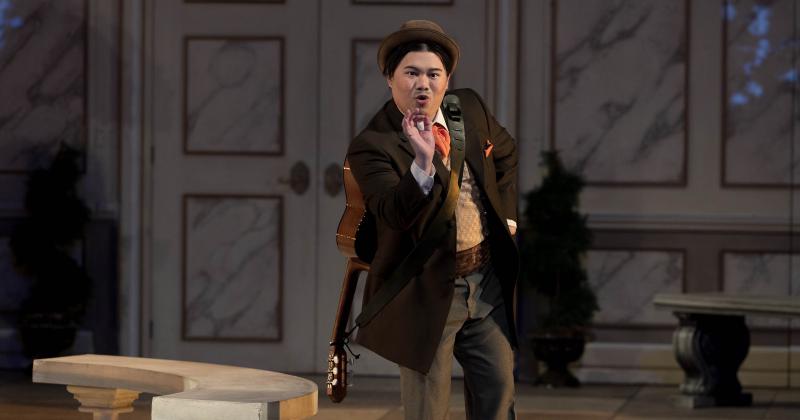 Danlie Rae Acebuque performs as Figaro in The Barber of Seville. Photo by Richard Lu.
---
Danlie Rae Acebuque (BMusPerf 2020, MMus 2022) saw a dream come true when he stepped on stage as Figaro, becoming the first Filipino-Canadian to star in a University of Toronto opera. Talent and determination got him that far, and now the Ivan Alexandor Chorney Opera Scholarship is taking him even further. The award is the legacy of a music lover who wanted to ease the financial burden for opera students—and now thanks to the late Ivan Chorney, Acebuque can give his art the time and energy it deserves.
Last fall, Acebuque didn't even know he was in line for a scholarship. He was worried—his job wasn't covering his expenses and his father had just been laid off because of a serious health condition. "Then they called me on a Saturday morning and said I would receive a scholarship," he remembers.
"I just sat down and started crying my eyes out. It really made a difference just to know someone believed in me. I felt like all of my hard work had paid off."
It really made a difference just to know someone believed in me. I felt like all of my hard work had paid off.
The Chorney Opera Scholarship was endowed in 2020, thanks to a generous bequest by the late Ivan Alexandor Chorney. One of the largest awards at the Faculty of Music, it is awarded annually, based on merit, to an outstanding opera student completing a master's degree in performance.
Born into a musical family, Ivan Chorney developed a love for music at a very young age. He later became an amateur violinist, but his interest in opera grew when he attended Columbia University in New York City and enjoyed opera performances there. His close friend Ron Cohen joked that no one could ever reach Chorney on Saturdays from 1 to 5 p.m., as he was a devoted listener of Saturday Afternoon at the Opera on CBC Radio. Cohen also described Chorney as full of life, humour, and thoughtfulness—qualities that continue to find expression in the award that is part of his legacy.
Danlie Rae Acebuque is the inaugural scholarship recipient
Acebuque earned his bachelor's of music in performance at U of T in 2020 and will graduate this spring with a master's in opera performance. The Chorney Opera Scholarship covered his final year of studies, making it possible for him to finish his degree.
"I honestly felt U of T is one of the most welcoming and most diverse schools I've ever been to," says Acebuque, who came to Canada from the Philippines at age 15 with his family. "As soon as I came here for my performance audition, I knew in my heart that I really wanted to go to this school."
Acebuque's time at U of T culminated in singing the lead role in Gioachino Rossini's The Barber of Seville at the Faculty of Music this school year. "It was my dream role," he says. "Ever since I did a small role in that same opera and heard one of my colleagues singing the title role, I knew I wanted to be this character one day. I didn't expect it to happen within four years!"
"When I graduate, I want to continue focusing on singing and performing in the operatic field," he says. "I'm also singing around Toronto with Voicebox Opera, am one of the Sidgwick scholars for the Orpheus Choir of Toronto, and am thinking of doing a Doctor of Musical Arts for Filipino music."
The Ivan Chorney Opera Scholarship helps students throw themselves fully into their art
"I don't know how to describe winning a scholarship, besides the word amazing," says Acebuque. "I never expected to get that kind of award, let alone that amount.
"It helped me pay my tuition. I sent some of the remainder to my parents to help them with their preparation to move back to the Philippines, and the rest helped me with my piano coaching, audition fees and recording fees."
This kind of support is really heartwarming, and it lights up the fire in me.
"It's sad I couldn't meet Mr. Chorney, but because of this generous offer that he made, I think he was a very kind-hearted man who believed in young artists. This kind of support is really heartwarming, and it lights up the fire in me."
Include U of T in your will and help student potential soar.
Contact michelle.osborne@utoronto.ca or 416-978-3811.