From mentorship to machine learning, Irene Fang is a leader wherever she goes
By David Goldberg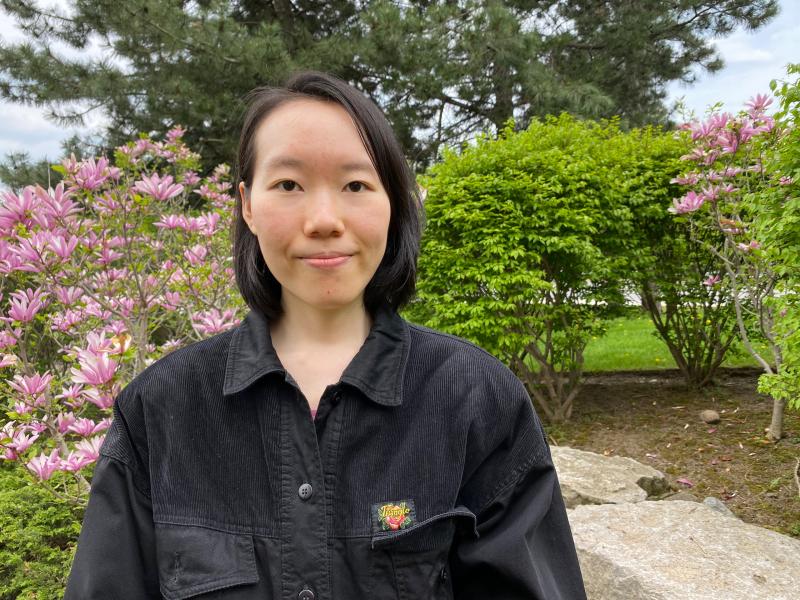 Irene Fang earned her honours bachelor of science as a member of Trinity College.
---
Majoring in human biology and immunology, Irene Fang (BSc 2023 TRIN) capitalized on opportunities inside and outside the classroom to research innovative methods in ultrasound detection. She's also working on research into cells and proteins in humans that could lead to new treatments and therapies for immunocompromised patients.
As she earned her degree, Fang always wanted to help others succeed. As a senior academic peer advisor with Trinity College, she's admired throughout the community for her brilliance, kindness and dedication to U of T.
"I want to keep giving back because I am so appreciative of the upper-year mentors I connected with, starting in first year," says Fang. "They continue to serve as an inspiration, motivating me to further develop professional and personal skills."
Why was U of T the right place for you to earn your undergraduate degree?
U of T provided a plethora of academic, research and experiential learning opportunities alongside a world-class faculty to help cultivate my curiosity and consolidate my knowledge. In conjunction with an unparalleled classroom experience, I gained a real-world perspective with international considerations through the Research Opportunities Program.
I would be remiss if I didn't also mention how extracurricular activities enhanced and enriched my university experience. The many clubs at U of T helped me focus on my passions and make meaningful connections with like-minded peers who became my support network, enabling me to reach my full potential.
How is your area of study going to improve the life of the average person?
It is absolutely fascinating that AI has already revolutionized the medical field. Specifically, AI possesses the potential to aid in the classification of ultrasound images, enhancing early detection and diagnosis of internal bleeding because of injuries or hemophilia. Overall, AI may lead to more efficient care for patients, thereby improving health outcomes.
In terms of my immunology research, since the memory B cells expressing the specific receptor are dysregulated in people suffering from some autoimmune disorders and infectious diseases, a better understanding of how memory B cells are regulated could provide valuable insight into the underlying mechanisms of such diseases so we can enable scientists to develop new therapies that alleviate patients' symptoms.
You spent time at U of T as an academic peer advisor. Why was this work so important to you and what made it so fulfilling?
I remember feeling overwhelmed as a first-year student until I reached out to my academic peer advisors. Had I not chatted with them, I would not have known about, let alone applied for, my first research program. Looking back, it opened the door to many more new, incredible possibilities and opportunities. This experience made me realize the significance and power of mentorship, inspiring me to become an academic peer advisor. Seeing my mentees thrive and achieve their goals has made this role so rewarding — so much so that I am determined to engage in mentorship throughout my career after graduation.
What advice do you have for current and incoming students to get the most out of their U of T experience?
Ask all questions because there are no silly questions. Get involved, whether it be volunteering, partaking in work-study programs, sports or joining a club. Meeting new people and talking to strangers can be daunting, but the undergraduate career is a journey of exploration, learning and growth.
Be open-minded and don't be afraid to try something new. Immersing yourself in distinct fields enables you to discover your interests and passions, which can lead you to an unexpected but meaningful path.
Also, be kind to yourself because failures are a normal part of the learning process; what's important is that you take it as an opportunity to learn, grow and bolster your resilience. And finally, although academia and work can keep you busy, remember to allocate time for self-care. Exercise, sleep and pursue hobbies because mental health is integral for success in life.