Influencer Joanna Luo is creator of Chinese website that looks at having fun in Toronto and beyond
By Elaine Smith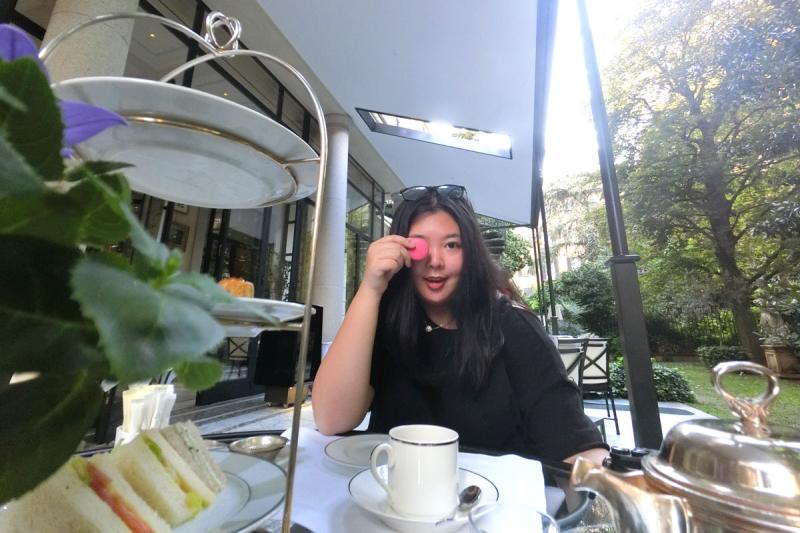 "People tell me how lucky I am that my hobby is also my job," says Joanna Luo (BA 2016 UTM), the creator of Toronto Diary
---
University students know that if they want to taste the best barbecued pork buns in the Greater Toronto Area, the WeChat blog and Instagram page of Joanna Luo (BA 2016 UTM) are the places to turn for advice – if you can read Mandarin.
Luo, 29, a University of Toronto Mississauga alumna, is the creator of Toronto Diary on WeChat, a lifestyle blog that has a related Instagram page and Twitter feed, all targeted toward international students from China and Chinese-Canadians between the ages of 15 and 24. In total, the sites have more than 500,000 followers and keeping them current has become Luo's full-time job.
"I really love it," says Luo. "I love food and I love new things."
How Luo started a blog for fun, and now oversees a business with staff
Luo first started the blog on WeChat, a Chinese website similar to Facebook, just for fun.
"I came to Canada from China for Grade 12 to improve my English before attending university," Luo says. "The first year, I found it a bit boring, so I started to tour Toronto and find places to eat and set up a blog to tell my friends where they could go to eat and play."
Soon, her following extended far beyond her friends, and two years ago, she and two partners turned the enterprise into a business, Toronto Chihewanle Ltd. While the others are silent partners, Luo is the editor-in-chief for the sites, overseeing a part-time staff of 12 freelancers who help her meet the ongoing need for relevant, interesting content.
The WeChat blog offers readers six or seven new stories each Monday, Wednesday and Friday, complete with photos. The Friday edition of the blog always suggests an idea for a weekend activity, such as visiting the cherry blossoms in High Park, along with new foods and restaurants to try. Sometimes, there is a walking tour of restaurants in a specific area, complete with a map, or there may be results from a team taste-testing session for potato chip brands or ice cream. Asian restaurants or dishes are often a focal point, but Toronto Diary encourages its readership to branch out and try other treats that Toronto has to offer.
"At first, I just recorded what I liked," Luo says. "I didn't think about becoming a food blogger for a living."
These days, however, she has so much on her plate, literally and figuratively, that she might visit two or three restaurants in one evening and taste only a few bites of each dish she orders.
"There are a lot of take-out bags with leftovers," she says with a smile. Not a bad outcome, since Luo doesn't have much time to cook.
Lessons learned at U of T Mississauga help Luo in her bridge-building work
Lifestyle blogging is a far cry from the history and economics she studied at U of T Mississauga, but Luo carries some of their lessons with her as she works.
"I learned about the economy and the need to analyze data, which I use in determining why a certain post works and another doesn't," she says. "I also learned how to manage my time during university."
Luo says she sees the blog as a way to create a bridge between cultures, and she has begun encouraging her readers to explore the joys of places outside Canada, too. During the past year, she has travelled to New York City for Fashion Week, to Las Vegas to interview chefs and to Venice for its well-regarded film festival, sharing her food and fun finds with Toronto Diary followers. Soon, she'll be winging her way to South Korea for a visit sponsored by Korean Tourism.
"People tell me how lucky I am that my hobby is also my job," Luo says.