December 23, 2018 | Alumni
From India to the Rouge: U of T alumna Devanshi Kukadia protects biodiversity
By Don Campbell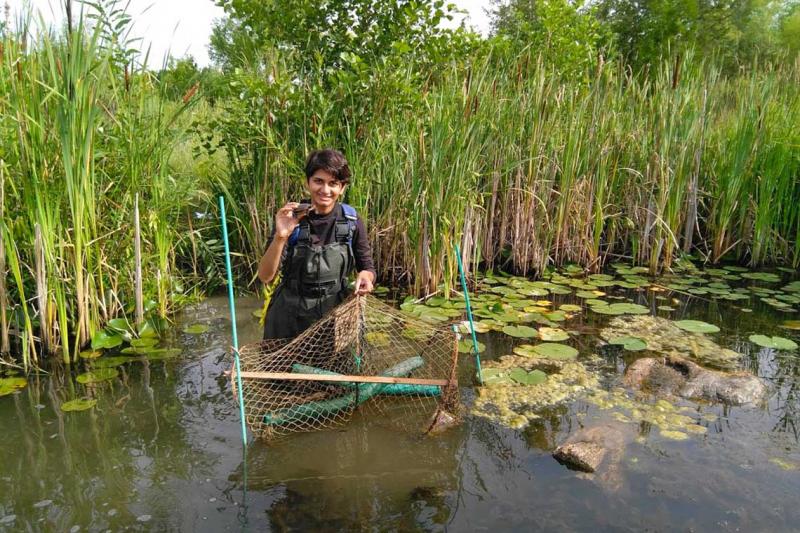 Devanshi Kukadia (MESc 2018) got first-hand experience in conservation practices as part of her Master of Environmental Science program at U of T Scarborough (photo courtesy of Devanshi Kukadia)
---
Devanshi Kukadia (MESc 2018)'s passion for nature and wildlife started as a young child growing up in India. Her parents were avid birdwatchers and she went with them on long nature walks to watch birds in different parts of the country.
"They initially pulled me in but I became fascinated by watching animals in their natural habitat," says Kukadia, who earned her undergraduate degree at St. Xavier's College in Ahmedabad, India. 
"From there I kept reading about urbanization and the loss of biodiversity, and I wanted to do something about it. That's why I took up conservation management as a career."
Kukadia is a recent graduate of the Master of Environmental Science program at University of Toronto Scarborough. She completed the internship option of the program in the conservation and biodiversity stream, where she did her work term as part of the Toronto Zoo's Adopt-a-Pond Wetland Conservation Program.
During her work-term with the Adopt-a-Pond program, she worked on a range of conservation-focused projects aimed at research, restoration and outreach, most of it in the Rouge National Urban Park. She tracked Blanding's turtles (part of the zoo's Headstarting Project), tagged and tracked turtle species native to the Rouge, conducted road and snake surveys, logged frog calls and participated in public outreach. 
Gathering information like length, weight and height of turtles is important to get a better sense of how populations of each species are doing in the area, not to mention where they go to eat, mate and hibernate in the park.
Road surveys involved checking areas near natural and human-modified habitats like swamps, ponds, forests and farms that house a variety of wildlife species that often cross roads.
"I didn't really appreciate to what extent biodiversity is being lost due to roads until I started doing these surveys," she says, adding that she often came across dead turtles and other roadkill.
"This work is important because it helps identify ecologically significant areas for wildlife crossing areas that would benefit from fences, culverts, signs or even speed bumps."
A 28-pound snapping turtle
It was while tracking turtles that Kukadia had her most memorable experience in the program.
"Every so often we would come across snapping turtles, and one day we came across a huge one – it was 28 pounds," she says. "Initially it was a bit scary because their bite is strong enough to take off a finger, but after a month or so I gained experience and courage to handle them myself. It's something I won't forget." 
Before coming to Canada to study, Kukadia worked on a marine mammal protection project in India, but she found many of the official policies were not being communicated effectively to the public. Illegal fishing and capturing of wild animals continued in protected natural areas.  
"There was a big gap in people's understanding of policies versus that of policy-makers," she says. "The policies just weren't being translated that well and I wanted to learn ways to bridge the gap."
Kukadia says she was drawn to the the master's program because of its reputation, and the chance to learn about conservation management by working alongside professionals in the field.
She plans to work with environmental consulting companies on the conservation side of the business and says what she learned from the program is invaluable.
"There's so much selection in terms of courses, you can pretty much choose whatever you want depending on what you're interested in and where you see yourself in the future," she says.  
"The faculty are also so supportive. They're really there for you and want to see you succeed. I can't say enough good things about how encouraging they are."