How a U of T alumni startup pivoted to helping health service providers find critical medical supplies
By Don Campbell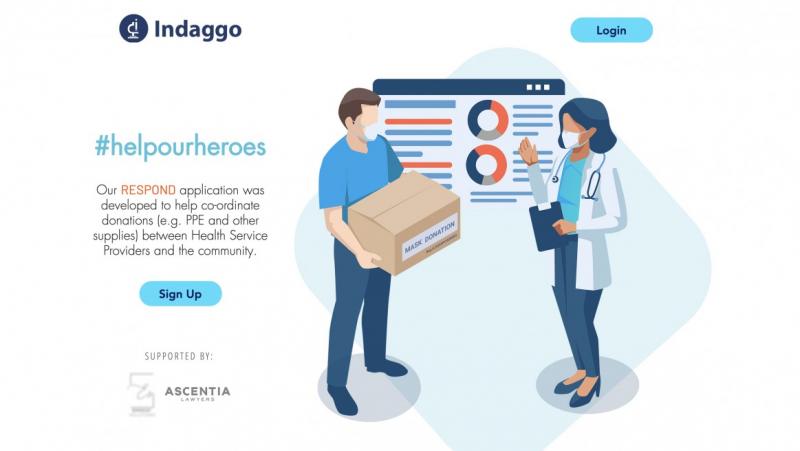 When her startup launch was derailed by the pandemic, U of T Scarborough alumna Melanie Ratnam (BSc 2009 UTSC, PhD 2018) used her company's tech to help front-line medical workers.
---
A U of T Scarborough start-up that was forced to put their launch on hold due to COVID-19 has pivoted to help hospitals and health service providers find critical supplies.
Called RESPOND, the web application was developed by the INDAGGO team to help connect organizations in need of critical health and medical supplies to donations in the local community.
"We wanted to pitch in and find a way that can help support our front-line medical workers," says Melanie Ratnam (BSc 2009 UTSC, PhD 2018), founder of INDAGGO, a software platform that helps labs save time and money in finding research supplies. 
INDAGGO was originally planned to launch in March during U of T's Entrepreneurship Expo, but with the expo being cancelled and most labs locking down due to COVID-19, they had to put things on hold.
When the challenge of finding critical supplies quickly became apparent – everything from personal protective equipment to common items like hand sanitizer – Ratnam and her team started thinking of ways they could apply their software development expertise to help with the supply challenge. The result was RESPOND.
"If an organization is in need of something, say 500 bottles of hand sanitizer, they can log into the app and put out a call. Volunteers can then respond by donating toward the goal," she says.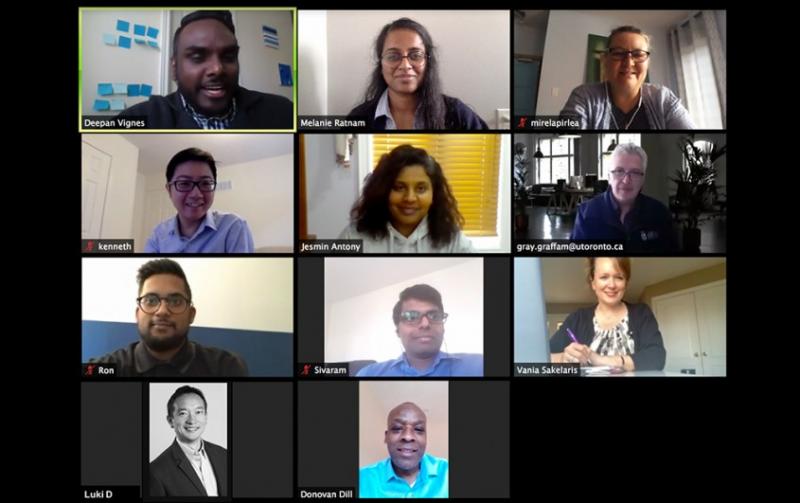 Service and Housing in the Province (SHIP), a large organization that provides housing and supports to vulnerable populations in Peel, Dufferin and West Toronto, has started using the application to find face masks and tablets to assist with personal counselling sessions.
Community members who saw the organization's need have already used the app to streamline a coordinated response for masks.
"During these uncertain times, many doors have been closed to those most in need. Individuals who are homeless, precariously housed or living with a mental health issue may face increased challenges in practicing measures essential to keeping them safe," says Laurie Ridler, CEO of SHIP.
"Indaggo has supported SHIP in working toward these efforts through a generous donation of 500 hand sewn masks. We are thankful of the support for our community, especially at a time like this."
The RESPOND application has drop-off and delivery information, and one of the main benefits is that organizations with an urgent need can post almost right away so the needs can be met in a timely way.
"I feel so privileged to be on such a creative, hard-working team"
Ratnam came up with the idea for INDAGGO during her time as a PhD candidate in a research lab at U of T Scarborough. She says lab budgets can be tight and every dollar needs to go a long way, but it's also equally important to source quality materials so that experiments won't be compromised. 
"It's not uncommon for some researchers to spend anywhere from 10 to 20 hours per week searching numerous websites, sending emails or making phone calls, all to find the best products and prices," says Ratnam, who completed her PhD in neuroscience in 2018.
"I thought to myself that some of this work can be handled by software, and that way researchers can spend more time on their research."
While the pandemic has put in a temporary hold on officially launching INDAGGO, Ratnam says her team is just happy to offer a little bit of help for frontline medical staff. 
"I feel so privileged to be on such a creative, hard-working team," says Ratnam of her start-up that came out of The Hub, U of T Scarborough's entrepreneurial incubator.
"We have a team of nine and there's no way we could have pulled it off without everyone coming together."