February 1, 2022 | Alumni
How Rosemary Sadlier convinced Canada to recognize Black History Month
By Janet Rowe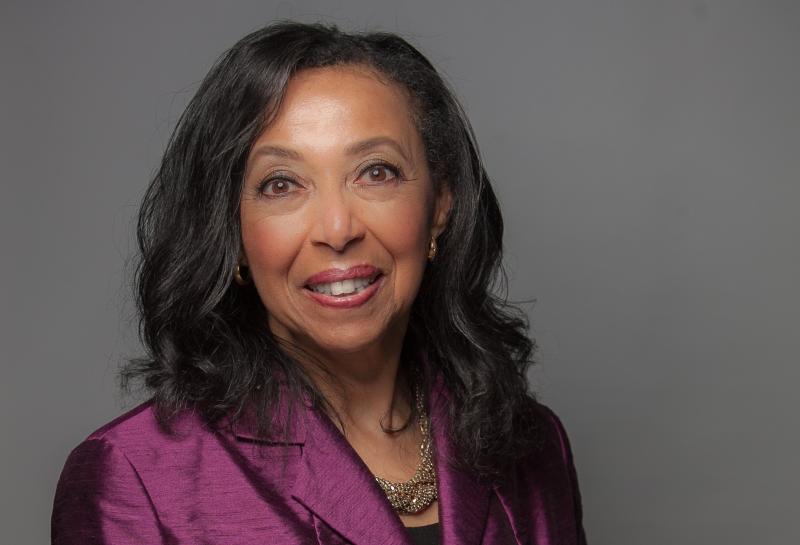 Photo by Lawrence Kerr Photography.
---
In 1995, University of Toronto alumna Rosemary Sadlier (MSW 1982, BEd 1992) led the drive to have Black History Month recognized across Canada. As volunteer president of the Ontario Black History Society, she worked tirelessly to expand awareness and win official acknowledgement. Now both Black History Month in February and Emancipation Day on August 1 have been declared national events thanks to Sadlier, who was honoured with the Order of Ontario for her work.
Here, the author, advocate and consultant talks about what it took to create a national declaration, writing books in the wee hours of the night, and the ongoing work needed to better recognize Canada's Black history.
---
You've studied for three degrees here at U of T—what are your memories of those years?
I got a master's degree in social work, and then I got a bachelor's degree in education. I also have completed all of my coursework towards my doctorate. A range of factors prevented me from finishing, including that I was unemployed and couldn't afford to, but that doesn't mean that I won't.
Working my way through school was challenging. For example, there were only five Black students in the faculty of social work, and of the five I was the only one who was generationally Canadian. And one challenge was I couldn't take the placement that was offered, because I had to factor in travel time because I was also working. I took a placement with the Y instead.
But I remember with great fondness some incredible profs, and it really was an opportunity to be able to explore and consider so much about the significance of social work. Later, at OISE, people were also lovely. I had David Booth—what a fantastic prof! Nobody missed his classes—can you imagine, Friday at 3:30 and everybody shows up.
My social work degree reinforced some of my abilities in terms of what I did with community, my teaching degree helped underscore some of what I did in terms of writing, and my doctoral coursework helped to bring about a greater understanding of some overarching issues. I think all of those things are valuable.
Your opportunity to become president of the Ontario Black History Society was linked with the discrimination you experienced in the job market. Can you tell us about that?
When I got my social work degree I was highly motivated to work for the Children's Aid Society, because I was going to build change from within. But I could never get past the gatekeeper.
I wanted to believe that if I have the qualifications of course I will be hired, but I couldn't even get interviews. That was really hard. And I think people don't understand. People think it's you and people don't understand that you do apply, and you do your best, and you just don't get in.
I think people don't understand that you do apply, and you do your best, and you just don't get in
So I was thrust into unpaid work. Not because I'm a saint, but because I needed something that was meaningful to me to do. I got married and had three lovely children, and I also volunteered with the Ontario Black History Society (OBHS). And then I got to a meeting on time, quite by chance, and found myself president. It wasn't like I was looking for a critical responsibility, but I looked the situation over and decided that I absolutely needed to do this. I looked upon it as an opportunity to make change in a different way.
What was the status of Black History Month at the time you began volunteering for the OBHS?
I didn't create Black History Month as a commemoration. It had started in the United States in 1926 and came to Canada in the 1950s with the porters—Black men, mainly Canadian, who worked on the railways running between Canada and the U.S. So it was a celebration in the Black community in the 1950s, and the very first commemoration was done by the Canadian Negro Women's Association. It was brought into the mainstream through the efforts of the OBHS at its beginnings in 1978-79.
When I became president in late 1992, I found out that we had apparently missed a deadline to request that the City of Toronto issue a proclamation for February as Black History Month. We were able to make sure that that proclamation wasn't overlooked. But we also realized that it was so precarious. It just seemed like the clear thing to do was to try to secure this as a more permanent, annual thing.
How did you get the federal government to give Black History Month national recognition?
I pushed for Black History Month to be permanently recognized by the City of Toronto. And then I did the same with the province of Ontario, then with every province in the country. Then I went to people in the federal government—all while building up a community of interest by going out and doing hundreds of Black History Month presentations.
Ultimately, Jean Augustine (BA 1973 WDW, MEd 1980, Hon LLD 1994), [the first Black woman elected to parliament in Canada], agreed to take it to the House. That was in 1995, and I remember I had to drop everything and provide historical information that she could use in support. It passed unanimously in December, and the first celebration took place in February 1996.
It was quite phenomenal, and I was really, really proud
I was there on stage with Prime Minister Jean Chrétien, Deputy PM Sheila Copps, and Jean Augustine, Ovid Jackson and the Black Caucus. I gave a presentation and provided the Prime Minister with a framed art print which became the OBHS's official Black History Month poster for that year. It was quite phenomenal, and I was really, really proud.
And you also succeeded having the federal government recognize Emancipation Day on August 1st—but that one took more than 25 years!
Yes, around the same time I started a process of having August 1st commemorated as Emancipation Day, which marks the abolition of the transatlantic slave trade on August 1, 1834. But then our funding was cut 90 per cent, and all of our efforts went to just trying to keep the OBHS alive. I agreed to do every Black History occasion anyone asked me to do, so that the payment for those presentations would go to the OBHS; that's how we kept the doors open.
But I was successful having August 1st commemorated as Emancipation Day with the City of Toronto and the City of Ottawa, and ultimately it became the first unanimously passed bill in the Ontario parliament. Federally, it went to second reading twice in the House and twice in the Senate and it didn't go through until March of 2021!
Your books are also an invaluable (and bestselling) resource about Black History. How did you find time to write?
I was approached by a publisher and asked to write a book and I agreed; I felt it was important. I had three small children—my son was almost born at a Black History Month brunch, by the way!—and they did not nap at the same time. So I would go to sleep early as soon as the kids were tucked in and the kitchen cleaned up, and I would wake up at 2 o'clock in the morning, and I would write until 6. I did that until the manuscript was completed.
I would wake up at 2 o'clock in the morning, and I would write until 6
The book was called Leading the Way: Black Women in Canada (Umbrella Press, 1994). There wasn't a sufficient market for it at the time, but it led to several more until the publisher closed. Then I ended up, again by chance, with another publisher and wrote the Kids Book of Black Canadian History (Kids Can Press, 2003). It was a Canadian bestseller and is still in print.
What is the value of Black History Month? Of learning Black history in school?
Black History Month is a time and an opportunity to bring a focus to the contributions and experiences of people of African descent. But this question needs to be reframed. Black history is not learned in school. We don't have a required Black History curriculum anywhere. That should have happened years ago, and it still needs to happen.
Black history is not learned in school. We don't have a required Black History curriculum anywhere. That should have happened years ago, and it still needs to happen
Because Black History Month was not ever conceived of by anyone as being the only time that we talk about Black people. One month is, I think, sometimes incredibly inadequate.
I can't know how much things have changed, but when I was doing my bachelor's of education in 1992, there was no Black history in the curriculum for the future teachers. I had the opportunity to make a presentation, but my one hour was cut to 10 minutes. So the graduating class of my section were going to go out and face their incredibly diverse classes with nothing but 10 minutes of Black history from a fellow student. The reality is, those were challenging times.
But it wasn't all hard. I've got the Order of Ontario. And I have three lovely children, that's important. And I've been able to see things happen that define and frame and ensure mention of important people, places and things in Black history. That's important.
Explore and join us for U of T's 2022 Black History Month events, from film screenings to thought-provoking discussions.