September 29, 2017 | Volunteer & Awards
Honouring U of T's African scholars and alumni
By Noreen Ahmed-Ullah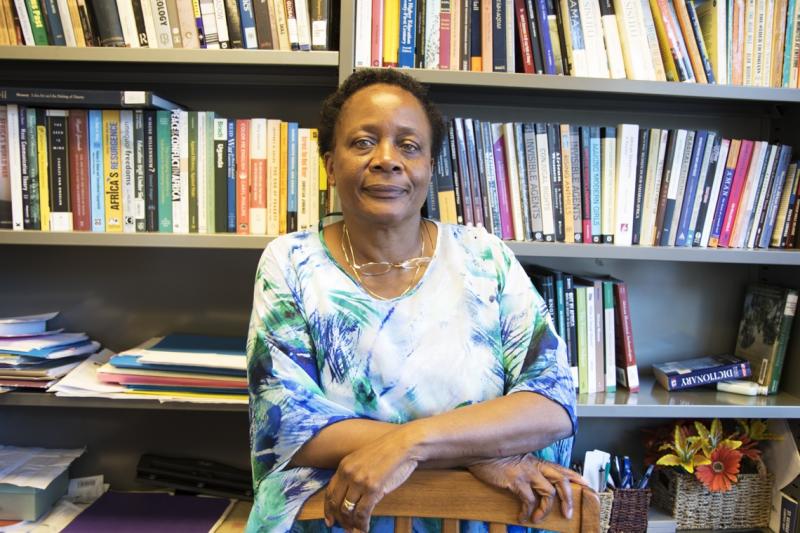 Associate Professor Nakanyike Musisi is one of two U of T faculty members being honoured by the African Alumni Association (photo by Noreen Ahmed-Ullah)
---
When she started at the University of Toronto in the 1980s, Nakanyike B. Musisi says she was the first African woman to be a PhD candidate in the history department.
Today, the associate professor of African history serves as a mentor to other students from the continent, many of them women who have gone on to competitive graduate programs around the world.
Her office in the Faculty of Arts & Science's history department, with a comfy futon and an inviting oak table with coffee stains, has become a familiar basecamp for international students from Africa. People stop by when they're feeling a little homesick, need encouragement or just seeking academic advice.
Musisi has kept her connection to Africa. She's taken undergraduate students to Uganda and Kenya for summer abroad and course-based trips. Twice a year, she returns to Uganda – her husband, also a U of T alum, is a psychiatrist there. She also took a 10-year leave to go back home and help reinvigorate her alma mater, Makerere University in Kampala, raising $19.5 million from international foundations for community-based research and becoming the university's first African woman to lead an institute. 
"I decided to go back to Uganda because I was feeling bad," she recalls. "I felt like my country had invested in me. Then I graduated, and I didn't do any service. So I decided to take a leave and go back to my country." 
For her contributions to Africa and the community here, Musisi is one of two U of T faculty members and several alumni being honoured by the African Alumni Association on Friday.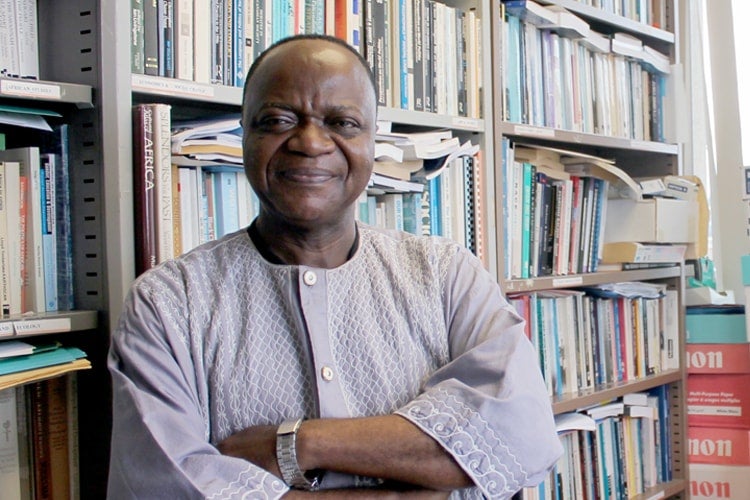 George J. Sefa Dei (above), a professor of social justice education at the Ontario Institute for Studies in Education, whose expertise lies in anti-racism education, anti-colonial thought and advocacy for an African-focused school in Toronto, is also being recognized as an influencer. 
Dei, who is from Ghana, was installed in 2007 as the chief (Adumakwaahene) of the town of Asokore in his native country. In Toronto, he has mentored young scholars at OISE and worked tirelessly to ensure a sense of inclusion and empowerment in schools. He has also advocated strongly for Afrocentric schools.
"These works are so important," he says. "Our student body is increasingly diverse. Issues of race, anti-racism, equity and social difference continue to implicate schooling and education. As educators, we must confront these questions and address them to ensure that learning happens for all, to ensure equitable educational outcomes for all."
Henry Ssali, executive director of U of T's African Alumni Association, started the organization in 2014. He says alumni from the continent wanted to start a group where U of T alumni and African community members could share their career trajectories with young alumni and undergraduate students.
"The concept of organizing African Scholars Awards arose out of the desire by our members to start a new culture of appreciating and rewarding African excellence," says Ssali. "Our goal is to encourage a culture of African excellence in our communities by recognizing those who have innovatively contributed to the community by giving exemplary service."
Other award winners include 
Saron Gebresellassi, the de facto lawyer to Black Lives Matter-Toronto;
Mazin Osman, who has been empowering young Sudanese Canadians in the GTA;
Bernard Laryea, co-founder of an organization that helps youth in the city develop better entrepreneurial skills;
U of T student Henry Luyombya, who is engaging Black congregations across Ontario in HIV-stigma reduction activities;
Amran Abdi Mohamed, who works on mobilizing, mentoring and motivating East African youth throughout the GTA
Vanessa Jev, who has written and produced African-based plays that encompass majority black casts and African themes
Solomon Negash, founder of SuprAcademy, a Toronto based math, science and technology academic support program for middle- and high-school students
Safia Aidid, a PhD candidate in history at Harvard University who started the African Studies Course Union while at U of T
Kwesi Parry Apponsah, who is a PhD candidate at the Faculty of Applied Science & Engineering's University of Toronto Institute for Aerospace Studies, focusing on developing applications for unmanned aerial vehicle design