June 6, 2019 | Volunteer & Awards
Honorary degree recipient Justice Michael Moldaver urges grads to "go forward with confidence." Watch his Convocation address
By Rahul Kalvapalle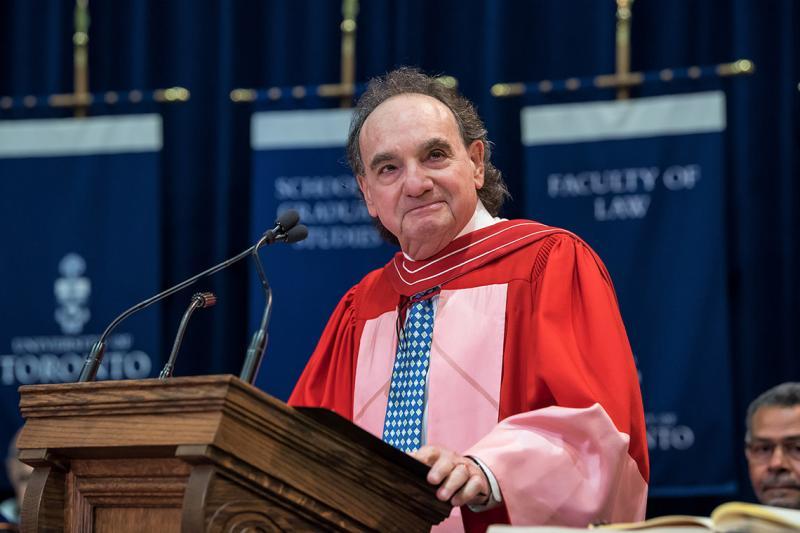 (photo by Steve Frost)
---
Each year, the University of Toronto's Faculty of Law recognizes outstanding academic achievement by law students – and it's no coincidence two of those awards are named after Justice Michael Moldaver (BA 1968 UC, LLB 1971, Hon LLD 2019).
A Supreme Court of Canada justice, tireless teacher and mentor in the legal community, Moldaver is one of Canada's most distinguished jurists. He's also a proud alumnus of the U of T Faculty of Law and University College.
In a 2015 interview with Ultra Vires, an independent newspaper run by U of T law students, Moldaver described being a Supreme Court judge as "being in a position – one of nine – to try and figure out what's best for Canadians, what's best for Canada."
He later added: "Here, you feel the weight of the country on your shoulders."
For his "exemplary work as a lawyer and jurist," Moldaver received a Doctor of Laws, honoris causa, from U of T on June 7.
Moldaver enrolled in U of T's Faculty of Law in 1968 – but it wasn't all smooth sailing. He failed his Christmas exams at the end of his first semester according to a Toronto Star profile. Nevertheless, he rebounded spectacularly, going on to graduate with his law degree in 1971 and picking up a gold medal for the top cumulative mark in his graduating class.
After being called to the Ontario Bar in 1973, Moldaver began practising criminal law with the firm Pomerant, Pomerant and Greenspan, becoming a partner a few years later. 
He later worked for the law firm Goodman and Goodman from 1988 until his appointment to the Supreme Court of Ontario – later the Ontario Court of Justice – in 1990. He was then promoted to the Court of Appeal for Ontario in late 1995 before being elevated to the Supreme Court of Canada by Prime Minister Stephen Harper in 2011.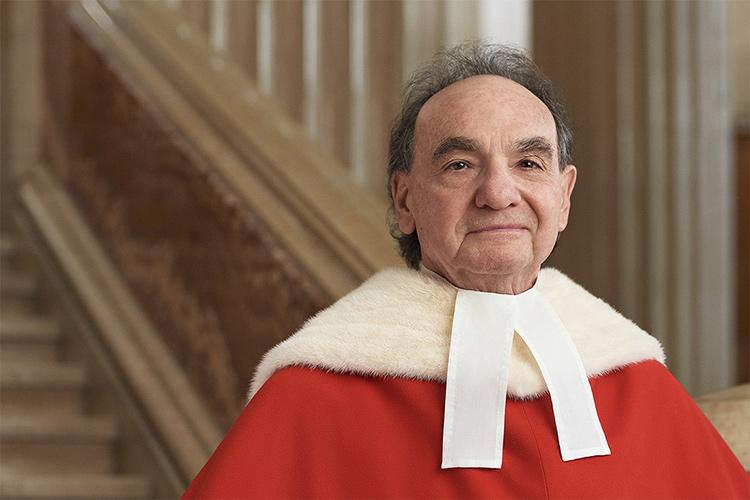 Among Moldaver's significant judgments were his co-written decision in R. v. Tse (2012), which restricted emergency wiretapping powers and his judgment in Henry v. British Columbia (2015), which permitted a lawsuit against the Crown for intentionally failing to disclose evidence.
Over the course of his career, Moldaver also established himself as a prolific educator, co-teaching criminal law courses at the U of T Faculty of Law and Osgoode Hall Law School at York University from 1978 to 1995. He has also taught criminal law to newly appointed judges across Canada, and has instructed numerous continuing education programs operated by legal associations.
Justice Michael Moldaver's message to the Class of 2019:
"Be bold. Be courageous. Go forward with confidence. Never lose sight of your hopes and dreams and aspirations. Be creative. Be willing to think out of the box. Be prepared to take calculated risks for the betterment of humanity and the betterment of society."