September 25, 2023 | Volunteer & Awards
U of T alumni receive the Governor General's Gold Medal for Academic Excellence
By Gayatri Kumar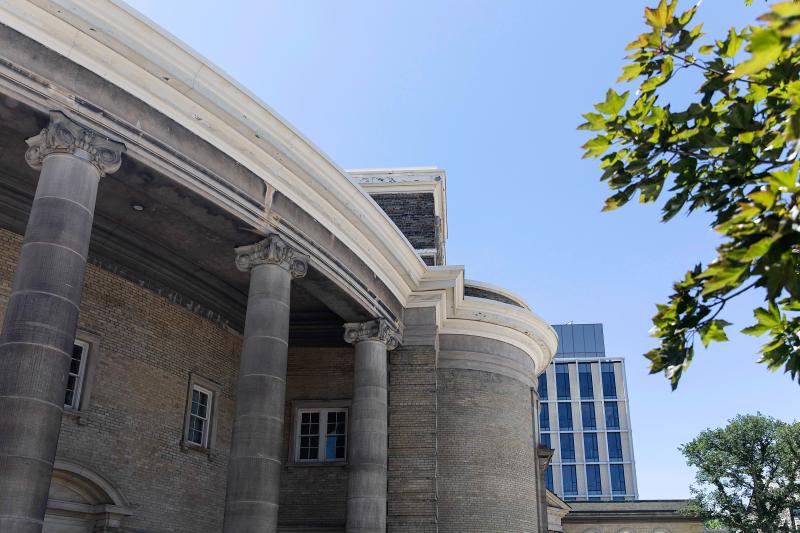 ---
Three former U of T graduate students have received the prestigious Governor General's Gold Medal for Academic Excellence, the highest academic honour available to graduate students in Canada.
Dr. Samuel Cardwell (PhD 2023), Dr. James Santangelo (PhD 2022), and Dr. Meaghan Williams (PhD 2023) are the recipients of the 2022-23 award, given each year to three students determined to have the highest academic standing. Candidates are evaluated based on their performance in degree courses, the merit of their thesis and its defense, and the originality and importance of their research.
We caught up with this year's winners to ask them about their success at U of T and their plans for the future. 
---
Dr. Samuel Cardwell (Centre for Medieval Studies)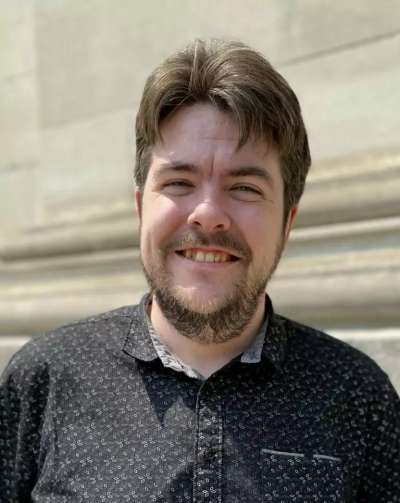 Samuel Cardwell graduated with a PhD in Medieval Studies in June 2023. Cardwell's award-winning dissertation examined the fragmented emergence of the evangelizing impulse in early medieval Christianity. Before coming to U of T, he earned a BA (Hons.) in History from Monash University and an MA from the Department of Anglo-Saxon, Norse and Celtic Studies at the University of Cambridge. Cardwell attributes his success at U of T to the support of his supervisor, his parents, and the family cats.
What does winning this award mean to you?
I'm absolutely delighted to have my work recognised in this way – it's a pretty overwhelming honour to receive! But perhaps even more than the award itself, I was incredibly touched that people in the Centre for Medieval Studies went to the trouble of nominating me; to know that the people who really know me and my work thought highly enough of me to put me in for such an honour.
What inspired you to pursue your dissertation research? What impact do you hope it will have?
I've been interested in early medieval history since I was nine or ten, when I first got into the works of J. R. R. Tolkien. Everyone who loves those books takes something slightly different from them; I was inspired to start tracking down the medieval sources that Tolkien himself loved and did research on. Obviously, it's a bit of a convoluted journey from reading Beowulf as a kid to writing my dissertation on the theology of evangelisation, but that's where the seeds were sown. (And I still love Beowulf!)
What I wanted to do in this dissertation was to make a significant contribution to our knowledge of the period and to how we understand central questions of Christian theology and practice. I think my strength is in tracing ideas over long-ish periods of time and teasing out lines of influence between authors to pinpoint what is an "original" thought (if any thought can be said to be original). I hope that my research will have an impact not only within the relatively narrow field of early medieval intellectual history, but also for historians and theologians of mission as well as lay Christians.
To whom or what do you attribute your success at U of T?
I have to give a huge amount of credit to my supervisor, Dr. Shami Ghosh. He is someone who doesn't just think about the intellectual side of research supervision, but also works really hard on supporting students through every aspect of the PhD program. I'm also especially thankful to Elisa Brilli (the PhD coordinator at CMS during the most crucial period of my time here, and now the Centre's director). When COVID came along, I ended up going back to live with my parents in Australia for nearly two years – Elisa and Shami were incredibly supportive of me during this tricky time (as, of course, were my mum and dad – and the cats!).
What's next for you?
I'm heading over to the UK in September to take up a one-year teaching position in early medieval English history. I'm very excited to be teaching what I love best, though of course it's bittersweet to be leaving dear friends behind in Toronto. I'm also working on turning the dissertation into a monograph.
---
Dr. James Santangelo (Department of Ecology & Evolutionary Biology)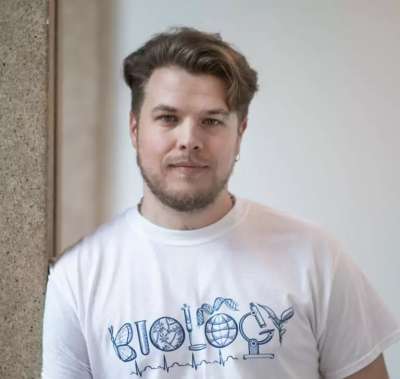 James Santangelo graduated in Fall 2022 with a PhD in Ecology and Evolutionary Biology. His dissertation research focused on how plants in different urban environments around the world adapt to anthropogenic environmental changes. Over the course of his PhD, Santangelo published 12 peer-reviewed publications (eight of them first-authored) and won the Doctoral Excellence Award from the Canadian Society for Ecology and Evolution, in addition to many other honours at U of T. He advises his fellow graduate students to make time to pursue their hobbies.
What does winning this award mean to you?
By the time I had defended my PhD, I had been at U of T for 11 years, having done both my undergraduate and graduate work at the University. Winning the GG Gold Medal is the perfect way to cap off that over decades-long experience. In graduate school, it's easy to become siloed and lose touch with the bigger picture and the reasons you got into science in the first place, since most of your time is spent tackling very niche and specific problems. Winning an award like this is a nice reminder that the work is valuable and interesting to others, even those beyond my field.
What inspired you to pursue your dissertation research? What impact do you hope it will have?
Admittedly, I chose the lab first, and then selected my dissertation topic from among a few possible choices, primarily because I knew it would involve travelling to a lot of cool places. However, I quickly realized that the topic aligned with many of my existing interests in identifying the reasons that independent populations evolve (or don't) in the same way under similar environments. My PhD ended up being incredibly collaborative, involving contributions from hundreds of scientists around the world. I'm hoping my dissertation will inspire others to engage in similarly large-scale collaborative projects, especially in evolutionary biology, where such collaborations are rarer (when compared to physics, for example).
To whom or what do you attribute your success at U of T?
There are far too many people to name who contributed to my success at U of T. Of course, my advisors, Marc Johnson and Rob Ness, were instrumental in helping me to stay on track while still giving me the freedom to explore my own ideas and curiosity. Most important are the close friends I made throughout my time at U of T, since those relationships extend far beyond my degree and time at the University. Also, hobbies! It's easy to get overwhelmed since there's always more work to do. But the work will ultimately be better if you take some time to relax. Go play some disc golf!
What's next for you?
I've currently got a Miller Postdoctoral Fellowship for three years at UC Berkeley, where I'll be continuing some of my dissertation work and pursuing new skills in statistics and software development. My hope is to one day return to Canada as a faculty member and help train the country's next generation of scientists.
---
Dr. Meaghan Williams (Department of Political Science)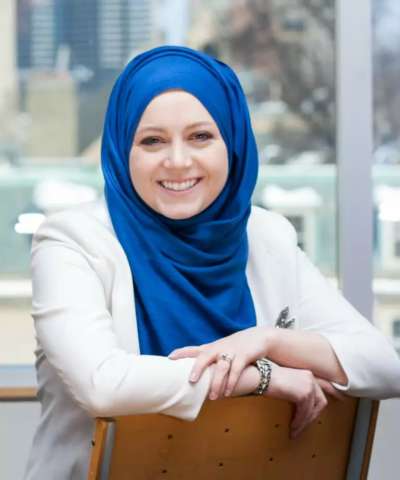 Meaghan Williams earned her PhD in Political Science in June 2023, with a dissertation that put forth a novel institutional framework for actualizing shared rule in the territory now known as Canada, drawing on the concepts of treaty federalism and Indigenous sovereignty. Williams's research is informed by several years of experience in the non-profit and governmental sectors, including time spent at the Assembly of First Nations and the Ontario Ministry of Natural Resource's Aboriginal Policy Branch. She holds a Bachelor of Social Science (Hons.) in International Development and Globalization from the University of Ottawa and an MA in Political Studies from Queen's University.
What does winning this award mean to you?
When I started my doctoral journey eight years ago, I began with the intention of making a meaningful contribution to my field. Consequently, I am grateful to be a recipient of one of this year's gold medals. Winning this award acknowledges that I succeeded in not only providing "a contribution" to the study of federalism, Indigenous-settler relations or treaty politics, but that I succeeded in doing so by crafting a sincere contribution with significant impact beyond my field alone. To have both the sincerity and the significance of my research acknowledged at the highest level is not only a professional but also a personal achievement I will carry forward in all I do. 
What inspired you to pursue your dissertation research? What impact do you hope it will have?
My work on this project was guided by the ethos first espoused by Indigenous peoples that we are all treaty people. Consequently, I sought to consider treaty-grounded pathways to truth and reconciliation, structural justice and systemic change. My dissertation contains within it an actionable vision for a reconciliatory future in which the treaties are respected and Indigenous peoples' aspirations for a holistic self-determination grounded in self- and shared rule are enacted. My primary hope for this work is that it prompts settlers to see ourselves as direct inheritors of the treaty legacy, and therefore hold our state to account for its obligations to Indigenous peoples. 
To whom or what do you attribute your success at U of T?
I am most grateful to my family, who have been my cheerleaders both academically and personally before, during and after my doctoral studies. I was also supported by a committee and department at U of T that never asked me to compromise on "the big picture." From my mental and physical health, to the joy and freedom of pursuing a topic with such immense potential, my committee composed of professors Rauna Kuokkanen (University of Finland), Robert Schertzer and Melissa Williams have sustained me through the trials and triumphs of this work. I am immensely grateful to them, as well as to the Department of Political Science at large. 
What's next for you?
I am currently considering a range of options and opportunities, both within the academy as well as outside of it. My immediate next steps are to reclaim time with my two young children and pursue publication of my dissertation as a monograph.