September 20, 2019 | Volunteer & Awards
An extraordinary honour for U of T alumna and hockey great Vicky Sunohara
By Elaine Evans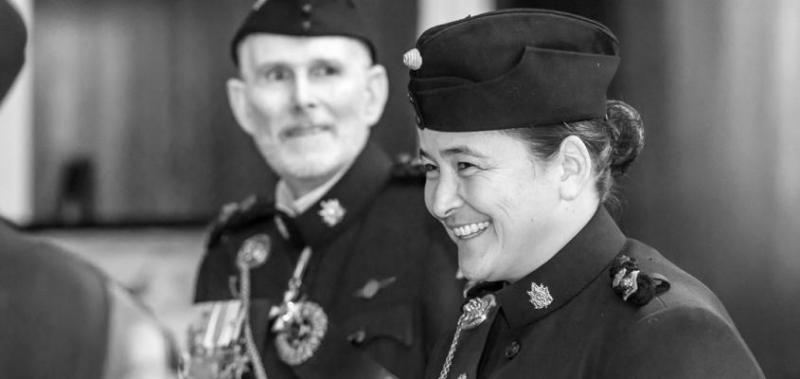 Three-time Olympian and Varsity Blues hockey coach Vicky Sunohara (BPHE 2010) has added the title of Honorary Lieutenant Colonel of the Queen's Own Rifles to her name. (Courtesy Vicky Sunohara)
---
She's already an Olympic medalist and a beloved Blues hockey coach. Now Vicky Sunohara (BPHE 2010) can add another exciting title to her name: Honorary Lieutenant Colonel of the Queen's Own Rifles. 
Sunohara is never one to say no to a new challenge, so when this once-in-a-lifetime opportunity presented itself, she was quick to accept. 
"I was shocked and humbled," said Sunohara. "What came to my mind was 'not worthy.' But obviously I have a tremendous amount of respect and gratitude for those who serve our country. To be able to contribute in some small way is quite rewarding."
The Queen's Own Rifles of Canada (QOR of C) is a primary army reserve infantry regiment based in Toronto. It was founded in1860 and is the oldest continuously serving infantry regiment in Canada. The QOR of C has been part of every Canadian military campaign, as well as both World War I and World War II. They have provided disaster relief in Ontario, Quebec and Manitoba and served in Afghanistan, Bosnia Herzegovina, Croatia, Cyprus, Egypt, Iraq, Namibia, Somalia and Sudan. 
"Vicky is a leader, a role model who serves her community" 
An important function of the Honorary Lieutenant Colonel role is to help create and maintain connections between the community and the regiment. This made Sunohara a natural choice, according to Regimental Sergeant Major Donovan O'Halloran. 
"Vicky is a leader in our community on several levels," he said. "She is a role model for the pursuit of excellence, she has achieved the highest measure of success in her sport and she continues to serve her community through coaching, mentoring and volunteering. It is a great privilege to have a women of such distinction accept this important role." 
As an honorary member, Sunohara will act as a guardian of their traditions and history. She will also help to promote the regiment's identity and to support and advise commanding officers on non-operations related issues. It's an honour reserved only for individuals who are trusted to best promote the interests of the unit. 
"It's just so exciting," said Sunohara. "I'm always one for being involved with the community and this is something so different than anything I've done before." 
Sunohara's plate will be fuller than ever with this new role, but she is no stranger to having a busy schedule. The two-time Olympic gold medalist served as assistant captain for Team Canada for seven years and won 15 gold and 3 silver medals on Canada's national team. She joined the Varsity Blues as Head Coach for Women's Hockey in 2011 and manages to run her summer hockey camp in Whitby (for the last 19 years) as well as the Varsity Blues summer hockey academy at the University of Toronto.
Sunohara's new role with the (QOR of C) kicked off with a formal ceremony at Casa Loma in Toronto. Throughout the year she will be attending various regimental meetings, training sessions and even a formal ball. "I'm excited to learn and grow in this position," said Vicky. "And I'm looking forward to contributing in any way that I can."