March 8, 2019 | Volunteer & Awards
Entrepreneur and U of T alumna Huda Idrees named a YWCA Toronto Young Woman of Distinction for 2019
By Carolyn Farrell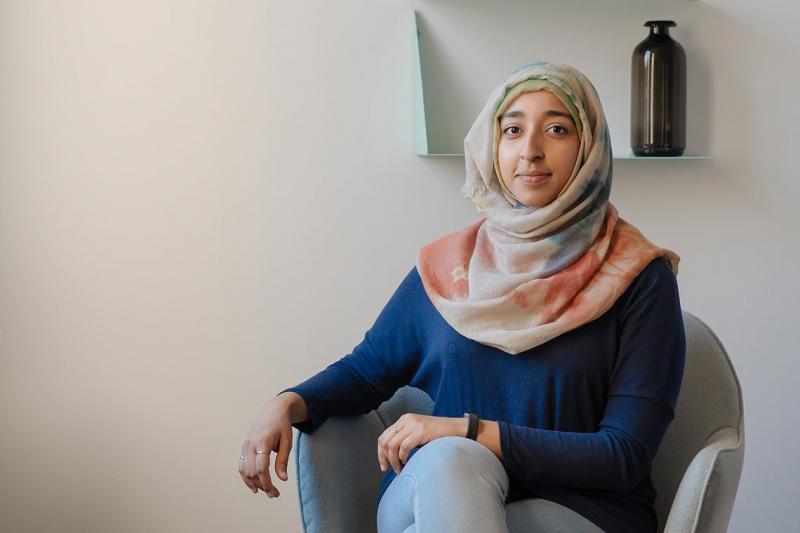 Huda Idrees (BASc 2013) is an accomplished entrepreneur and a passionate advocate for diversity in the tech industry (photo by Pam Lau)
---
Huda Idrees (BASc 2013), an entrepreneur and alumna of the University of Toronto's Faculty of Applied Science & Engineering, has been named a YWCA Toronto Young Woman of Distinction for 2019. This recognition honours the outstanding achievements of young women who work to improve the lives of women and girls in their community.
In the six years since graduating, Idrees has a long list of accomplishments. Immediately after graduating, she was the first design hire at Wattpad, founded by fellow U of T Engineering alumnus Allen Lau (BASc 1991, MASc 1992), where she was instrumental in developing the design team, raising financing and increasing active users.
She then joined Wave Accounting as the design lead for accounting products, recruiting a team of five and doubling business in one year. Idrees was also chief product officer at Wealthsimple, where she helped grow the fintech firm to 50 employees.
In 2016, she took on her biggest challenge yet as founder and CEO of Dot Health. Dot Health uses bank-level security to encrypt, store and transfer a patient's medical information. Users can then search their health history and share their health information with care providers.
"an exceptional role model for young women"
Idrees is also a passionate advocate for diversity in the tech industry. She has spoken extensively in the media and at conferences and symposiums about the challenges she faces as a Muslim female entrepreneur, and has called on the tech industry to take responsibility for its lack of diversity and gender equity.
She also leads by example. At Dot Health, 50 per cent of the board of directors and 100 per cent of the leadership team are women. Idrees recently served on the Canadian Federal Economic Strategy Table for Health and Biosciences. She is a mentor to young entrepreneurs and gives freely of her time to organizations such as Kids Learning Code.
"Huda Idrees embodies the entrepreneurial spirit, leadership ability, and commitment to diversity and inclusion that we strive to foster in all our graduates," said Cristina Amon, the dean of the Faculty of Applied Science & Engineering who was named the YWCA's Toronto Woman of Distinction in 2011.
"She is an exceptional role model for young women in engineering, business and technology, and is most deserving of this prestigious recognition."