March 24, 2016 | Volunteer & Awards
Emerging Leader Kristina Minnella honoured with a 2016 Chancellor's Award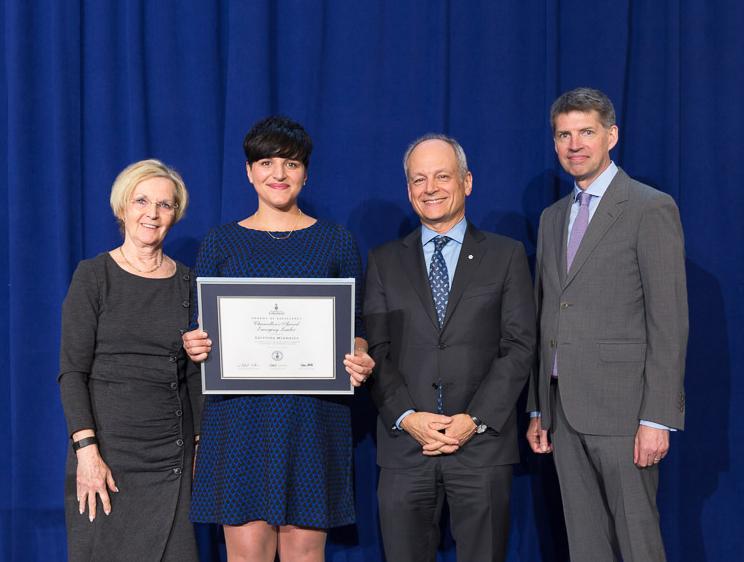 In just over two years as Coordinator, Co-Curricular Learning at U of T's Centre for Community Partnership, Kristina Minnella (BA 2007 UC) has organized dozens of quality learning opportunities for students that also foster an excellent relationship between University and city. She has been named this year's U of T Emerging Leader, one of the two 2016 Chancellor's Awards.
Inside the old stone walls of Hart House, some very young students are enjoying lunch. The more than 30 kids, aged 12 to 13, are in the middle of a campus visit with their U of T mentors, chatting about their workshop with a Creative Writing prof that morning, their visit to the Art Centre that afternoon, and pretty much everything else under the sun.
And while the kids may not be saying out loud that they can now see themselves going to university one day, that message has sunk in on a deeper level.
The youngsters and their student guides are part of the Youth Mentorship Program organized by Minnella at the Centre for Community Partnership in collaboration with a teacher at Portage Trail Public School in York South-Weston. In addition to the campus visit, the U of T student mentors visit their middle-school friends twice a week for eight weeks, organizing activities and serving as role models.
It's a perfect example of the work of the Centre: an emphasis on collaboration, with the community, the U of T students and the University itself all benefiting from the arrangement.
Minnella has been working in various capacities for U of T Student Life initiatives since she was a residence don at University College. "I picked my college for a nerdy reason," she confesses. "Two things I knew was that they had the Sexual and Gender Diversity Study program, and they had the oldest student government in Canada. And I thought that sounds like a cool place to be!"
Her interest in student government has served her well. The Centre's goal is to facilitate community engaged learning – a volunteer collaboration where both the student and the community group receive some benefit. To make sure students have a good learning experience, Minnella ensures they get training before they start on a project and take time afterwards to think about what they have learned.
In addition to the Youth Mentorship Program, Minnella has launched or expanded many other programs at the Centre. For example, the Community Engaged Learning Seminar for Graduate Students introduces doctoral students to the concept of community-engaged learning and how they can make use of it as teachers, now or in their future jobs. They attend seminars, but they also put in 40 hours on a community volunteer project. One group is doing research for the Regent Park Book Bank to help them figure out how to expand their program. Another team is evaluating the programming at the community centre St. Stephen's House.
She has also formed a Campus-wide Elections committee, founded a Student and Alumni Advisory Council for the Centre, created two-day leadership retreat, introduced blog posts by student leaders and revived the Centre's social media accounts, doubling newsletter subscribers. An active volunteer herself, she's also practices what she teaches in serving with the student-led Toronto anti-bullying initiative Peace by PEACE, her church, the Student Life Professionals network and various university committees.
The retention rate of volunteer leaders at the Centre has never been higher, say colleagues, thanks to Minnella's inclusive approach and generous mentoring of the students she works with. Nurturing diversity is one of the most important parts of her job, she says, and her U of T degree in Equity Studies is still influential. "I make sure that at every level we're really asking the community to be co-partners," she says. "The amazing colleagues that I work with make sure that any student who's working on our projects gets lots of training about identities and community, and we make sure that we're carving out a space where students can safely explore who they are."
Not surprisingly, Minnella is enthusiastic about the University's foregrounding of city-building as a key strategic priority. "I love that!" she says. "U of T is part of the Toronto community, and so it really makes sense that we take an active role contributing to the city. I love what I do!"
The Chancellor's Awards recognize administrative staff members for exceptional leadership in their role in advancing the University's mission. Two awards are presented each year, one for an Influential Leader and one for an Emerging Leader. They are awarded under the banner of the Awards of Excellence, a program recognizing the outstanding members of the University of Toronto community who have made rich and meaningful contributions to the University, their communities and to the world.
Alumni Relations within the Division of University Advancement is the steward of the Awards of Excellence program on behalf of the University of Toronto Alumni Association, and co-ordinates the vital contributions of other University stakeholder groups toward this prestigious award program.
Kristina Minella and the other 2016 Awards of Excellence recipients will be honoured at a recognition event on May 4.