October 26, 2021 | Volunteer & Awards
"Curiosity and courage": Pearson scholars eager to make their mark at U of T
By Mariam Matti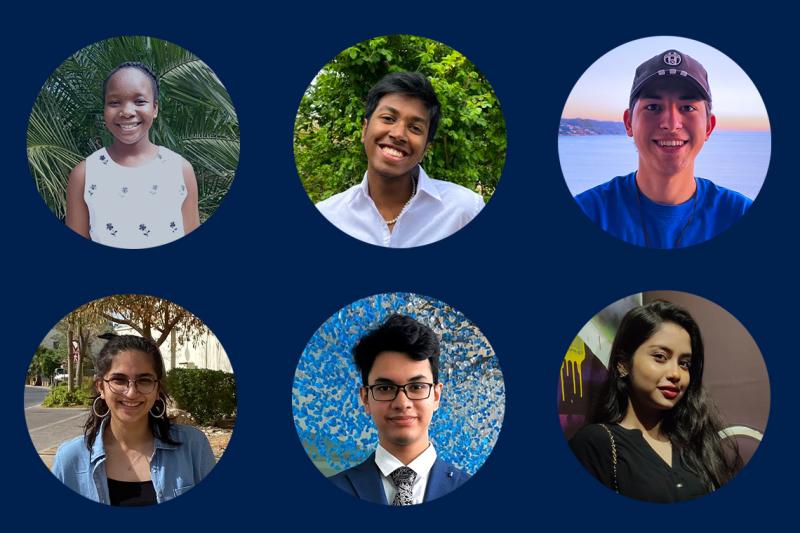 Clockwise from top left: Vimbainashe Chimhande, Benjamin Koshy Jacob, Diego Arreola Fernández, Mathira Kawser, Ahnaf Rahman and Saniya Karwa.
---
Ahnaf Rahman likens receiving the University of Toronto's Lester B. Pearson International Scholarship to receiving a "lifeline" during a difficult time.
"After navigating the quirks of online high school during a deadly pandemic, the news of this scholarship felt like a lifeline to me," said the first-year student who moved to Malaysia from Bangladesh with his family when he was nine.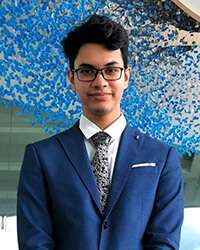 Calling the scholarship an "exceptional opportunity," Rahman said he was happy to tell his parents – whose business suffered losses due to COVID-19 – that they wouldn't need to worry about his university finances.
Rahman made the remarks during a recent virtual reception that welcomed the 36 scholarship recipients to the University.
U of T President Meric Gertler said the event has become a highlight since the "Pearson scholars embody so clearly the distinctive strengths and values" of the University.
"Your academic excellence, your international orientation, your commitment to leadership and the world around us – these ideals unite the U of T community across an incredibly wide array of backgrounds, perspectives and disciplines," President Gertler said.
The scholarships are considered U of T's most prestigious and competitive scholarship for international students – awarded to those who demonstrate exceptional academic achievement and who are recognized as leaders within their high school. This year's recipients were chosen from a total of 1,761 applicants.
This is the second year the welcome reception was held virtually due to the pandemic. While most of the scholarship recipients are now on campus, some haven't been able to travel to Toronto yet due to the pandemic.
Sandy Welsh, U of T's vice-provost, students, said the University is attempting to provide as many in-person experiences as possible, but some activities will remain virtual so that everyone can attend.
"All of us at U of T, including the deans of your academic divisions, the principals of the colleges you are a part of and the many faculty and staff you interact with constantly, are working hard to make your virtual learning experience as enriching and seamless as possible," she said.
Katherine Beaumont, senior director, global learning opportunities and international student success, said that while the hybrid start to the school year may be challenging at times, it will prepare the group for real world challenges.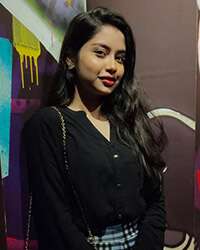 The 2021 cohort of scholars represents 21 countries from around the world – and is serving as an informal support network for several of the new students who started meeting virtually this past summer.
"I have already made some friends," said Mathira Kawser, who is studying social sciences at U of T Mississauga. "Having the Pearson scholars has been a very good thing for me because they have been a good support system after I moved in."
Joseph Wong, U of T's vice-president, international, said the Pearson scholarship recipients embody two important qualities that go beyond their accomplishments: curiosity and courage.
"The fact of the matter is all of you will be successful," he said. "The real opportunity for all of you is to start crafting the story of your life, and I would encourage you to not rest solely on telling your story by recounting your accomplishments and achievements.
"You will have those and those will dot and animate your narrative, but rather let curiosity and courage drive your story."
---
Meet four of this year's cohort of Pearson scholars:
Vimbainashe Chimhande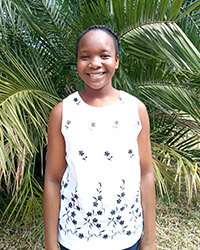 From Zimbabwe
U of T Scarborough, studying co-op life sciences
Chimhande said she loves to read, debate and learn about music. Her desire to learn and grow helped her obtain top awards in business and global perspectives and research.
She said that while most people view growing up in Africa as a disadvantage, she sees it as an opportunity to step up and be a problem solver. "The greatest inventions and discoveries known to humanity were a result of someone trying to solve a problem."
The pandemic reaffirmed her belief that health care should be a priority. She hopes to improve the quality of health care in her home country.
"My dream is to one day live in an Africa where excellent health care is not a luxury product," she said. "I'm tremendously grateful and excited that I get to be part of the UTSC community!"
Diego Arreola Fernández
From Mexico
U of T St. George, studying social sciences at the Faculty of Arts & Science, St. Michael's College
Fernández describes himself as an educator, climate activist, and international speaker.
He has hosted virtual workshops with kids from New Delhi, organized an Ocean Conservation Summit for East African youth and spoken alongside Bill Gates at GreenBiz 21, an annual event for sustainable business leaders.
He has taken on many leadership roles – from helping 400 young people at Ocean Heroes Network create local campaigns to tackle plastic pollution in their communities to starting an organization called Green Speaking to educating the next generation on intersectional environmentalism.
"I'm truly excited to expand my horizon and opportunities at the U of T, to develop a broader and more comprehensive approach on my mission to assure climate, social, and economic justice for all," he said.
Maansi Suri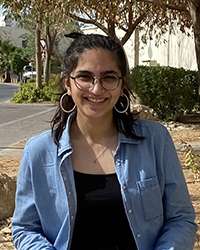 From Dubai, holds citizenship in India
U of T St. George, studying mechanical engineering in the Faculty of Applied Science & Engineering
As a budding mechanical engineer, Suri aspires to transform the field of prosthetics.
Her mantra is making the world a better place through science – and she has taken small steps towards that. Before joining U of T, she hosted a webinar to encourage women to take up engineering, led the student body at her school and served lunch at a seniors home.
"I'm excited to see how our diverse backgrounds mesh wonderfully to create a wholesome college experience at the University of Toronto," she said.
Benjamin Koshy Jacob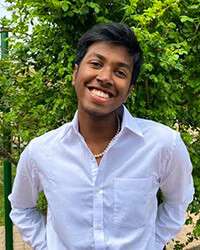 From India, born in Morocco, grew up in Nigeria and Azerbaijan
U of T Mississauga, studying psychology
Jacob loves the arts and has always believed in fostering an inclusive community.
This is evident in his work with the United Nations High Commission for Refugees and art therapy sessions at the Rehabilitation Center for Children with Down Syndrome.
"My myriad of interests funnels to understanding and helping others, and that's why I intend to study psychology," he said.
He's eager to make the most out of this opportunity at U of T and give back to his community.