Cody Caetano's award-winning debut novel explores turbulent childhood
By Kristy Strauss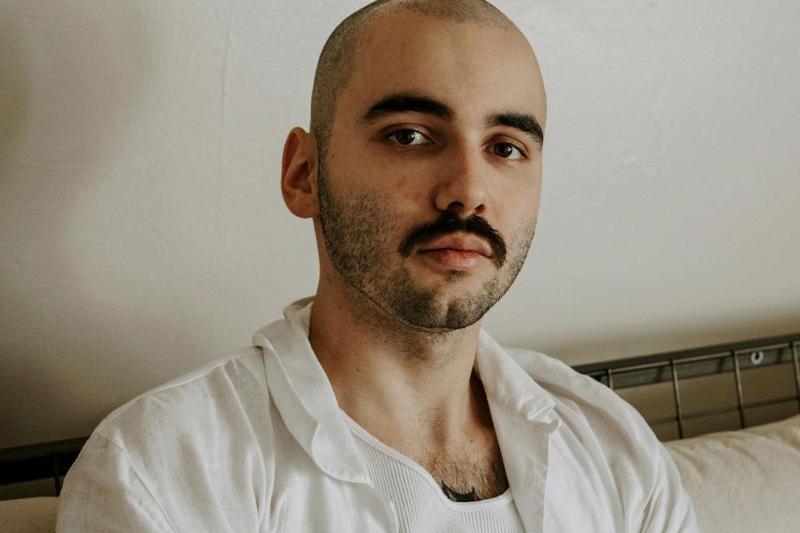 Cody Caetano's debut novel, Half-Bads in White Regalia, which he wrote as part of his master's in creative writing at U of T, has received the the 2023 Indigenous Voices Award for Best Published Prose. Photo courtesy Cody Caetano
---
When Cody Caetano (HBA 2017 UTM, MA 2019) was younger, he read several books – including memoirs and non-fiction novels – that sparked something in him.
"It really excited and stimulated a part of my mind," recalls Caetano.
 As he grew older, he attended U of T Mississauga as an undergraduate student in English and professional writing and communication. He then went on to earn a master's in creative writing at U of T.
His time at UTM, combined with his love of reading, compelled him to pen his own memoir, Half-Bads in White Regalia – which he wrote as part of his master's in creative writing. The debut novel recently received the 2023 Indigenous Voices Award for Best Published Prose.
Why Caetano began writing with a memoir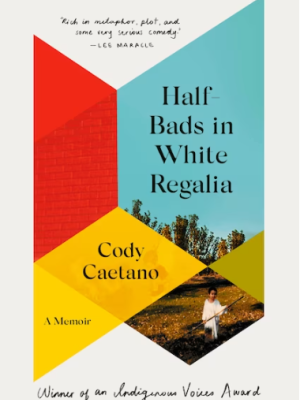 "It made a lot of sense as a first book to write, because the idea was very clear in my mind," explains Caetano, who is of Anishinaabe and Portuguese descent and an off-reserve member of Pinaymootang First Nation.
 
The memoir is set in the early 2000s, and is about a family that moves to Happyland, a little highway town in Severn, Ontario. Told through the perspective of the young boy, it details Caetano's turbulent childhood, including his life after his parents' divorce. He and his siblings are left behind by his mother, who discovers her Anishinaabe roots after finding out her Sixties Scoop origin story, and his father, a Portuguese immigrant.
"It leads up until about age 18, before I go to UTM," Caetano says.
He says it was important for him to share his story as a memoir, rather than a fictional book, even though there may be stigma or shame with sharing parts of a family story with other people.
"I really liked memoirs as a genre and a mode, and it was never a question to make it into a novel," he says.
[Readers say] they feel a relation to the narrator, and that voice, more than anything else
Caetano calls the writing process, which took about eight or nine years, "an exciting experience."
"I had a lot of motivation behind me and within me to really pursue this wholeheartedly," he says.
Many readers from across the United States and Canada have shared with Caetano that they go through their own journey while reading his book.
"I've had readers write to me about what the book meant to them, how it impacted them, and how it reflected their own life," he says. "They feel a relation to the narrator, and that voice, more than anything else. It gets them to think about their own memories or world view."
He adds that he feels "very lucky" to have received two awards for the memoir. In 2020, it also won the Indigenous Voices Award for best unpublished prose in English.
"It was nice to get recognized by my peers, and I felt grateful and lucky for that," Caetano says.
U of T Mississauga's program changed my life in so many ways
He credits much of his success with writing this book to UTM's professional writing and communication program, which he says had a profound impact on him and fellow students.
"The professional writing and communication program taught me, and so many of my cohort, skill sets that are invaluable," he says. "The ability to write and communicate are huge, no matter what field you're in. The program changed my life in so many ways, and can continue to change students' lives for future generations."
Originally published by U of T Mississauga