May 26, 2022 | Volunteer & Awards
Climate at centre of Sandra Odendahl's Engineers Canada award for community service
By Carolyn Farrell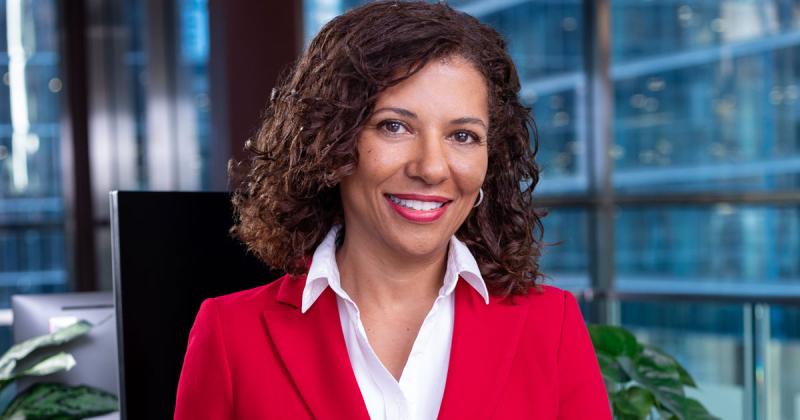 Sandra Odendahl is currently senior vice-president and head of sustainability and diversity at BDC, a bank that supports small and medium-sized businesses (Photo: Contributed)
---
U of T Engineering alumna Sandra Odendahl (MASc 1990) has received the Engineers Canada Meritorious Service Award for Community Service, presented to an engineer who makes exemplary volunteer contributions to the community.
Since obtaining her MASc in Chemical Engineering, Odendahl has championed sustainability and innovation in industry and finance, leveraging her knowledge of environmental engineering to enable sustainable and socially responsible innovation in the financial sector.
Currently, as senior vice-president and head of sustainability and diversity at BDC, a bank that supports small and medium-sized businesses, Odendahl creates strategies for addressing climate change and economic resilience, as well as diversity and inclusion. She was previously the vice-president of social impact and sustainability for Scotiabank, and CEO of CMC Research Institutes, where she helped secure partnerships to scale up carbon-reducing technology.
Earlier in her career, she held senior roles at Royal Bank of Canada, where she led and developed sustainability programs and social innovation initiatives.
Sandra's exemplary career in environmental engineering, risk management and sustainable finance has showcased her ability to apply engineering fundamentals in ways that have amazing and broad social impact.
Odendahl's volunteer contributions are wide-ranging: she currently serves as a board director for the Ontario Clean Water Agency, the Canadian Institute for Climate Choices and NEXT Canada. She previously served as a board director and chair of the Toronto Atmospheric Fund, and still serves on their grants committee.
Odendahl also volunteers regularly on committees and advisory panels related to the environment and sustainable finance. She has also been an active volunteer and advocate for both her alma maters, the University of Ottawa and U of T, mentoring students, speaking at student conferences and joining advisory roundtables.
Odendahl's contributions have been recognized with inclusion in the Canada's Clean50 list for her efforts to promote sustainability, and she has received awards for volunteerism from Toronto Metropolitan University and U of T. In 2021, she received the Ontario Professional Engineers Citizenship Award.
"Sandra's exemplary career in environmental engineering, risk management and sustainable finance has showcased her ability to apply engineering fundamentals in ways that have amazing and broad social impact," says Christopher Yip, Dean of U of T Engineering. "On behalf of the U of T Engineering family, I want to say thank you for being an outstanding ambassador for our community and congratulations for this well-deserved honour."