'I love my Pearson family!': U of T celebrates Pearson Scholar graduates
The event honoured graduating recipients of the prestigious Lester B. Pearson Scholarship, who come to U of T from around the world.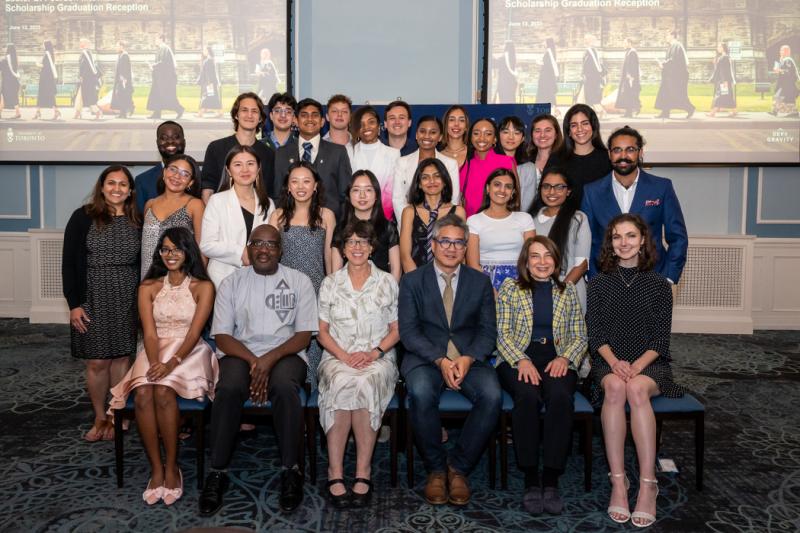 ---
In 2019, 36 exceptional students from Bhutan, Brazil, Kenya, India, Malaysia, Pakistan, Turkey, the United States and several other countries entered the University of Toronto together as Lester B. Pearson Scholars. That esteemed group has now graduated, and the university held a special celebration on June 13 at the Faculty Club to honour their achievements and affirm their special status in the U of T family.
"As our third cohort of Pearson Scholars, you have exemplified the U of T student experience by making the most of your time here," said Sandy Welsh, U of T's vice-provost of students, who acknowledged the challenges of the pandemic. "You have learned in so many ways — overcome more hurdles than you might even realize — from virtual to in-person learning to studying and connecting through uncertain times. And you're here — you did it!"
Boosted by generous philanthropic support, the Pearson Scholarships are the university's most prestigious and competitive international scholarships. The awards cover tuition, books, incidental fees, and full residence support for four years for some three-dozen incoming undergraduate students selected from approximately 2,000 applicants each year.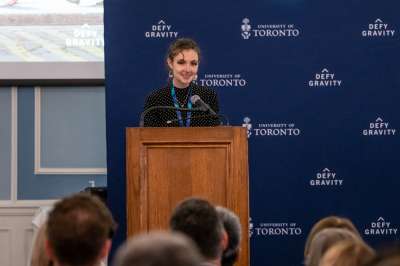 "I need to express how much I love my Pearson family!" said scholar Lucy Stark, a history and economics student from Delaware who addressed the gathering. "These past four years have been memory after memory. It went too quickly. But as I look at all the familiar faces before me, I see unforgettable, remarkable human beings whom I get to call family."
Stark's sentiments were echoed by Emilia Deborah Solomon, originally from India, who came to U of T to study materials engineering. "I am flooded with memories such as our Pearson socials, our canoeing day out at Toronto Island, the Pearson dinners and escape room, or even the recent Pearson prom," said Solomon. "Our time at U of T was filled with beautiful firsts, novel adventures, and warm friendships."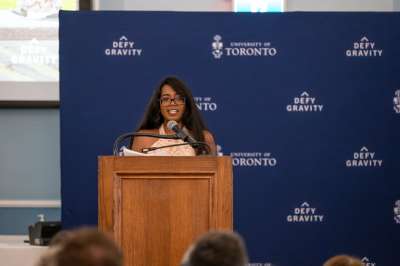 Joseph Wong, U of T's vice-president, international, delivered the keynote speech. He told the scholars that they possess a unique blend of ability, knowledge and experience and that the world looks to them to lead change. "You have been gifted the tools to make a difference. I hope you leave this University with the confidence and the audacity to do well, to do good, and to do what's right," he said.
Event emcee Shraddha Prasad, U of T's international scholarships advisor and manager, and Alexie Tcheuyap, U of T's associate vice-president and vice-provost, international student experience, offered additional thoughts and well-wishes. "You are the crème de la crème and should be proud of yourselves," said Tcheuyap. "Congratulations on all that you have accomplished."
Prasad reflected on her many hours working closely with all the scholars. "It has been such a pleasure listening to every one of you speak passionately about your interests and watching your growth through your time at the university!"
Several of this year's graduating Pearson Scholars will remain at U of T to pursue graduate studies, while others are moving on to other schools worldwide, pursuing employment or returning home.
"The prestige of your scholarship does not end with graduation," said Barbara Dick, U of T's assistant vice-president, alumni relations. "It's a special relationship, and we hope it lasts a lifetime. Please know that you will remain part of our family at U of T and that you are always welcome here — consider this your forever home in Toronto."