June 3, 2019 | Volunteer & Awards
'Be agents of change': anti-nuclear activist Setsuko Thurlow receives U of T honorary degree. Watch her Convocation address
By Romi Levine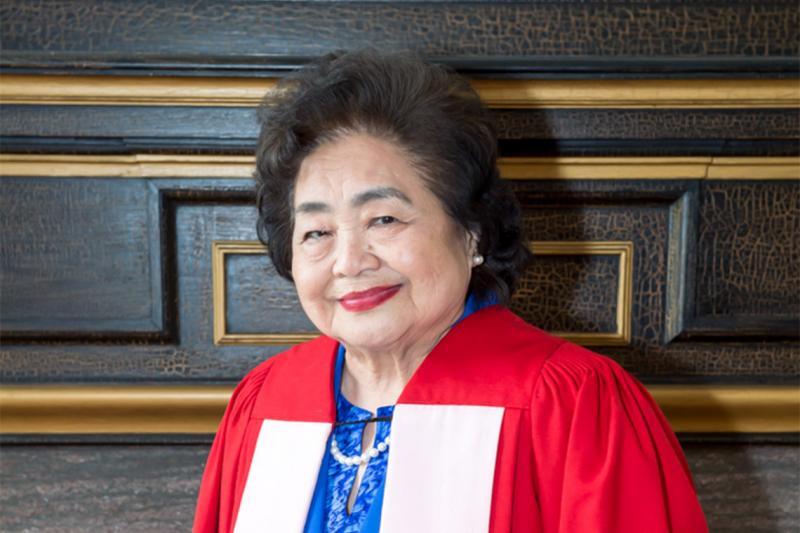 Setsuko Thurlow has dedicated her life to abolishing nuclear weapons (photo by Steve Frost)
---
When the United States dropped an atomic bomb on Hiroshima on Aug. 6, 1945, Setsuko Thurlow (BSW 1956, MSW 1960, Hon LLD 2019) was less than two kilometres from ground zero.
She was 13 at the time of the blast, which killed more than 140,000 people including a number of Thurlow's family members and schoolmates.
"It's not easy to carry these memories," Thurlow told the National Post in 2017. "We learned how to step over the dead bodies."
Knowing first-hand the devastation of nuclear attacks, Thurlow has dedicated her life to educating people around the world about the threat of nuclear weapons.
"By sharing my personal testimony, I have attempted to put a human face to the often abstract discussion of nuclear weapons with a hope that such an approach would help people to gain a deeper understanding, with empathy and sensitivity for the catastrophic human impact that nuclear weapons can inflict," she said at an event hosted by the University of Toronto last year.
Thurlow accepted the Nobel Peace Prize two years ago on behalf of the International Campaign to Abolish Nuclear Weapons (ICAN). The global coalition of non-governmental organizations played an important role in the creation of the United Nations' Treaty on the Prohibition of Nuclear Weapons, a historic measure that prohibits all nuclear weapons.
After completing her undergraduate degree at Hiroshima Jogakuin University, Thurlow moved to the U.S. to attend college, where she met and eventually married Canadian historian Jim Thurlow (MA 1957). The couple moved to Toronto where Setsuko earned a master's degree in social work from U of T.
On Tuesday, she returns to her alma mater to receive an honorary degree. Thurlow will be recognized with a Doctor of Laws, honoris causa, for "her outstanding service for the public good, as an advocate and champion for peace, and as a volunteer leader for the global nuclear disarmament community."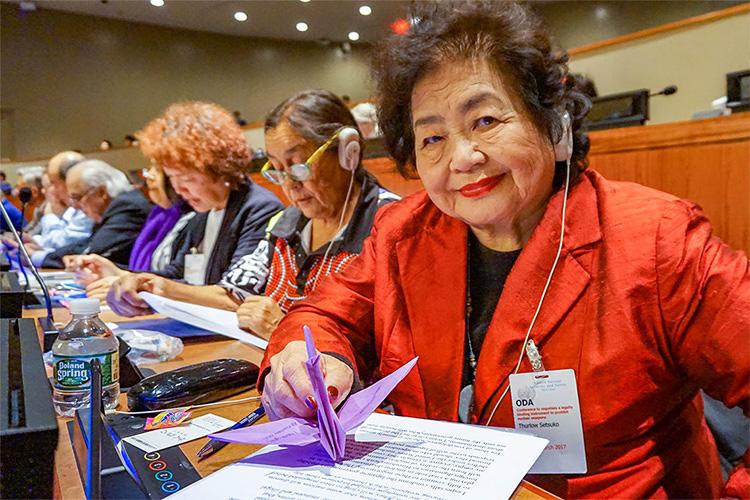 Thurlow will be addressing graduates from the Factor-Inwentash Faculty of Social Work and the Dalla Lana School of Public Health at their convocation ceremony. Later that day, a reception will be held in her honour where University Professor of chemistry and Nobel Laureate John Polanyi will be speaking about the magnitude of her accomplishments.
"Setsuko at 13 had the instincts of a scientist," said Polanyi in remarks prepared for the event. "Finding herself propelled into a nightmare world, she held back her tears. Instead she chose to observe and draw conclusions. She determined to devote herself to ending the danger."
Polanyi likened the importance of ICAN's advocacy to the movement to abolish slavery in the 18th and 19th centuries. "They serve as an inspiration to us all," he said of Thurlow and her colleagues.
Thurlow's dedication to nuclear disarmament has earned her numerous accolades, including the Queen Elizabeth II Diamond Jubilee Award, membership in the Order of Canada and the designation of "peace ambassador" by the city of Hiroshima.
---
Setsuko Thurlow's message to the Class of 2019:
1. Think beyond yourselves. Life has much more meaning when you do things for the collective good; things that you don't really have to do, but which ultimately give your existence a sense of purpose.
2. Get involved, take action, be agents of change, make things happen.
3. Persist.
4. Unshakeable, visionary love is the only power that can overcome the problems besetting our world.