Atom Egoyan and Innis College launch 50th anniversary celebrations
Renowned filmmaker played host to a packed Innis Town Hall at the University of Toronto
By Ennis Blentic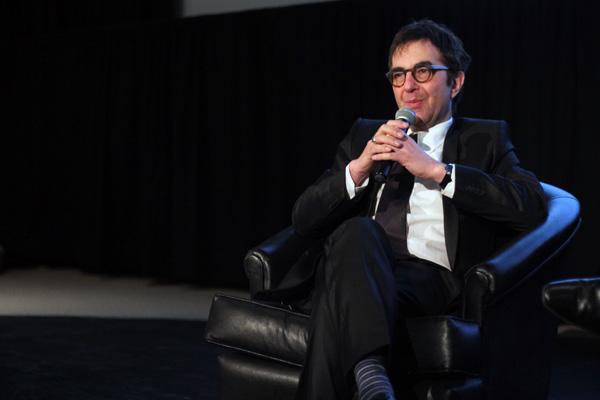 Renowned filmmaker Atom Egoyan played host to a packed Innis Town Hall at the University of Toronto recently for an advance screening of his most recent film, Devil's Knot. 
The three-time U of T alumnus reminded the audience before the screening that his very first film as an undergraduate student at UofT was shot in and around Town Hall. 
"I dreamed of making movies as a student here at UofT, and to think that now I have come back to share this picture with you as a filmmaker is truly special."
The 53-year-old auteur chose Innis College and its Town Hall to preview his latest work. The occasion? The 50th anniversary of the founding of the College, home of U of T's Cinema Studies Institute. 
More than 300 alumni, students, staff, faculty and friends of the College gathered for the celebrations held January 23, 50 years to the day after U of T's Board of Governors (now known as Governing Council) approved the creation of a new college to be named after the distinguished Canadian scholar Harold Adams Innis. 
The event launched a year-long anniversary celebration that will focus on the College's various programs, student groups and its residence. It offered some of Innis' first graduates an opportunity to share stories of the early days of the College and reconnect with their fellow "Innisians".
For alumni and longtime supporters of the College such as Mark Weisdorf and Larry Wasser (pictured right with wife Marla and sons Taylor and Justin), it was also a chance to meet current students and reflect on some of their shared experiences. 
"Innis College was my home when I was student, my town," said Weisdorf. "It  had a major impact on my value system." 
Robert Patrick, the first vice-president of the Innis College Student Society, said he loved catching up with his fellow 1967 grads, but also relished meeting members of the ICSS's current executive. 
"I left Innis in good spirits and with the feeling that it is in good hands and that the future is bright for all those associated with the College."
Principal Janet Paterson said she was pleased so many of alumni, faculty members, staff and friends turned out to launch the anniversary year.
"It was a wonderful celebration with musical performances and delightful stories by our alumni which reflected the dynamic, progressive and warm atmosphere of the College," said Paterson.
"We are always gratified when Atom brings his new work to Town Hall to share with our community," said Professor Charlie Keil. A courtroom drama about the notorious case known as the West Memphis Three, Devil's Knot  stars actors Colin Firth and Reese Witherspoon and received its international premiere at the Toronto Film Festival. The film, which deals with themes that recur throughout Egoyan's work - memory, our notions of true and false, assumptions and prejudices – is now in widespread release.
"What makes Atom so special is the way he connects directly with audience members and gives them insight into the filmmaking process," said Keil. "He has proven to be a true friend to Innis College, especially on an occasion as important as our anniversary." 
To read more  about upcoming events celebrating the 50th anniversary of Innis College, visit alumni.innis.utoronto.ca.
Originally published in January 2014 by Ennis Blentic, a writer with Innis College at the University of Toronto.