June 14, 2022 | Volunteer & Awards
Athletic Centre field house on St. George campus named after Bruce Kidd
By Jelena Damjanovic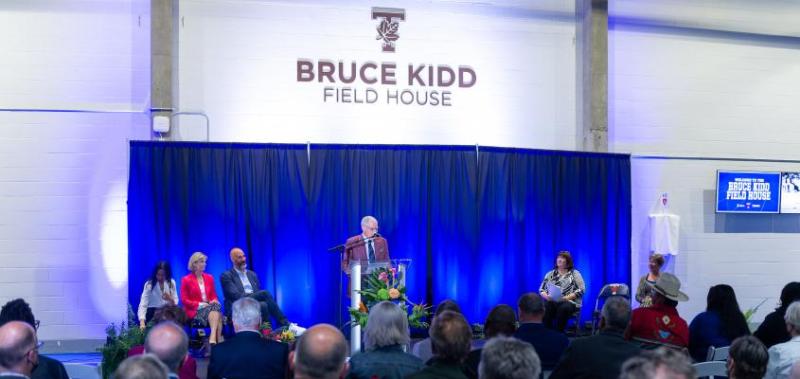 The Athletic Centre field house on the University of Toronto St. George campus was officially named after Bruce Kidd, seen here addressing guests at the unveiling ceremony (photo by Seyran Mammadov)
---
Bruce Kidd (BA 1965 UC), a former Olympian and professor emeritus at the University of Toronto Faculty of Kinesiology and Physical Education (KPE), has worn many hats over his long and illustrious career in sports and academics. Now, the Athletic Centre field house on the U of T St. George campus will wear his name.
Kidd and his wife Phyllis unveiled the plaque recently in front of family and friends, Kidd's U of T pilates group and basketball collective, track teammates and academic colleagues, all of whom came out to celebrate the occasion.
Wendy Phillips, Indigenous elder at U of T Scarborough (UTSC), where Kidd served as the 10th principal, performed a smudging ceremony and song with her husband Mark. They gifted Kidd a traditional lacrosse stick in recognition of his contributions to strengthen and rehabilitate the University's relationship with Indigenous peoples.
Professor Gretchen Kerr, dean of KPE, called Kidd a champion of human rights - in sport and academics.
"In all of his roles, as athlete, builder, activist and academic, Bruce's capacity to teach and inspire others is boundless and I am a very grateful recipient of this," said Kerr. "So, I would add two more words to describe Bruce – mentor and friend."
Michael Smith, who studied commerce at U of T while training as a decathlete, added the word "learner" to describe Kidd.
"He was able to transfer all that he learned from track and field and a lifetime of activism into becoming the educator that he is today," said Smith, who won gold at the 1990 Commonwealth Games and in 1991 become the first North American to win the prestigious Gotzis International Decathlon.
A space that sees no limits and honours all people
Alicia Brown, a U of T and Varsity Blues alumna and Olympian, said Kidd's legacy encapsulates the essence of the field house – "a space that sees no limits and honours all people."
"It's an extraordinary recognition and I am extremely grateful," said Kidd, who acknowledged Professor Ira Jacobs, former dean of KPE, for initiating the recommendation to name the field house after him, and thanked U of T President Meric Gertler and the university for giving their approval. He then shared the story of how the field house came to be and what it has meant to him, personally, and the university at large.
Kidd said that when he first came to U of T to run with Fred Foot and the track team in 1958, the north wing of Hart House was the best indoor facility in Canada. However, when he began to compete in the United States, he realized that the Hart House model, exceptional for an earlier time, had been surpassed by the 'field house' model of indoor facilities.

"A field house enabled much greater participation, better performances and spectatorship, and fewer injuries," he said.
In the mid-1950s, U of T started to plan for new facilities on the St. George campus. The athletic alumni banded together to fundraise, but, while the women succeeded in creating the Benson Building for themselves, the new men's facilities were put on the back burner.
"When I was an undergraduate, a field house became our 'holy grail'—fervently hoped-for but elusive as the horizon," he said.
Whenever I come up that staircase and enter the open athletic space, my heart soars
In the early 1970s, the University renewed efforts to revitalize the athletic facilities on the St. George campus led by then president and vice president of U of T, John Evans and Jill Ker Conway. Kidd was appointed to the School of Physical and Health Education to teach courses on public policy and sport, the first courses of that kind in North America.
Juri Daniel, the director of the school, assigned Kidd to work with Professor Conway on plans for the new facilities. For the next few years, Kidd helped steer the planning, approvals, financing and eventual construction of what became the Stevens Building, home of the Athletic Centre today.
"It wasn't easy—we struggled with conservative architects, a municipal 80-foot height limit, intense opposition from the adjacent neighbourhood and academic colleagues who thought that sport had no place in a research university, and the hated 'value engineering'," said Kidd. "But we succeeded."

The construction of the Stevens Building accomplished two things: It brought the men's and women's athletic departments into a single Department of Athletics and Recreation, and it brought the School of Physical and Health Education and the athletic programs together in ways that anticipated the merger that is now the Faculty of Kinesiology and Physical Education.
Kidd said that while some might view the 50-metre Varsity pool as the jewel of the facility, for him it's always been the field house, with its 200-metre track, four courts and generous margins for fitness activities.
"Whenever I come up that dark, tunnel-like, concrete staircase and enter the open athletic space, my heart soars," he said. "When I had a frustrating day as dean (of the Faculty of Physical Education and Health), I would come here before I went home and just take in the energy.
"I'm deeply moved that my name will now be formally associated with this track and field house, in the centre of this dynamic Faculty, and the joys and benefits they bring to so many."
Originally published by the Faculty of Kinesiology & Physical Education