September 16, 2022 | Alumni
'Lifting as we rise': Kenneth Montague's extraordinary Black art collection begins tour at U of T
By Marsha Malcolm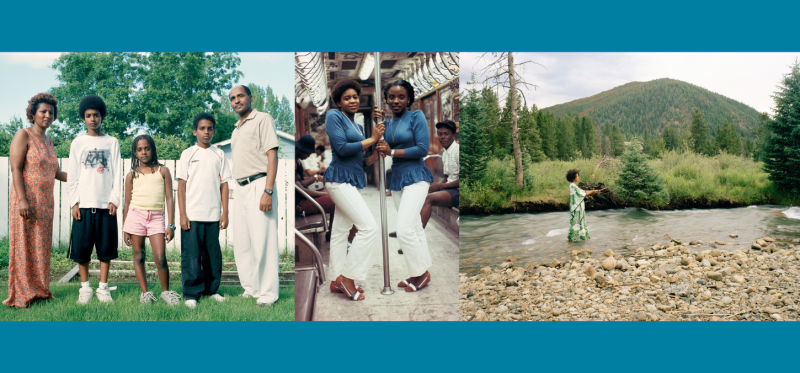 Images from As We Rise: Photography from the Black Atlantic, a touring exhibition of the Wedge Collection.
---
Kenneth Montague (DDS 1987) is many things: husband, father, alumnus, dentist, volunteer, gallerist, and collector. Since 1997, he has grown the Wedge Collection—one of Canada's largest private art collections exploring African diasporic culture and contemporary Black life.
The Wedge Collection will be featured in the new touring exhibit, As We Rise: Photography from the Black Atlantic. The Art Museum at the University of Toronto will be the first venue to host the exhibition, from September 7 through November 19, 2022.
We caught up with Montague to learn more about the exhibition, how he became an art-loving dentist, and what it means to "lift as we rise."
---
How does it feel to have the As We Rise Exhibition debut at your alma mater? 
I'm super proud of the fact that the first stop of this exhibition will be in my hometown, at the university I attended. It's actually going to be at University College, which is right by Hart House where I studied a lot as a student. I was first-year class president for my class of 8T7 in dental school and I remember spending a lot of time in Hart House and University College.
Working as a dentist and my education from U of T have given me a good life and the ability to become a collector. It's a real homecoming for me and on a personal level, as the exhibit marks where I started.
On a broader level, it's exciting to share this collection that I've acquired over the years with students and faculty, people who I think will really appreciate seeing one of their own coming home to share and showcase this hobby that's become a career for me.
How do you hope this exhibit will inspire other institutions and galleries to become more proactive around promoting art by and for Black people?
It's a matter of leading by example and it goes right back to the phrase "lifting as we rise," which essentially became our family motto, something that my late father Spurgeon Montague (OISE 1955), would always say.
My dad actually attended the University of Toronto after emigrating from Jamaica. He graduated from OISE, which was then called the Ontario College of Education, in 1955 so he was a U of T graduate himself. He was always instilling in the three of us, (myself, my older brother and sister), this idea that when we do well, we have to give back and pull up other people in our own community.
 
The images are very much about empowerment and agency for the subject and the photographer
The folks at the Aperture Foundation who published the book celebrating work in my art collection, As We Rise: Photography from the Black Atlantic, they were very excited to use that phrase in the title. Now that the touring exhibition for As We Rise is here, the phrase is very aspirational and it's supposed give you this sense of uplift. As We Rise is a celebration.
The images in my art collection and As We Rise are very much about empowerment and agency for the subject and the photographer. They're not about oppression or about showing poverty — I think there are too many of those particular images of the Black community that are out there, but it's not really about correction either. It's about trying to balance the story by focusing on images that are celebrate achievement and promote self-care and care for others.
What do you hope attendees (including non-Black people) can learn from the As We Rise exhibition?
I think that there will be a lot of images that will speak to people about these three major themes explored in the exhibit which are community, identity and power.
I think so many of the images in the collection also have to do with the idea of migration and movement, for instance, a photograph of a family of Eritrean refugees like the image "Hadenbes" by Dawit L. Petros. Dawit himself is an artist who came from East Africa to Canada and the viewer can look at his work and it doesn't matter where they're from. They'll be able to say," oh, that reminds me of my family when we came from Vietnam", or "when we emigrated from Europe", or "when we came over from India".
There's this idea of sameness and difference, which I think is a major trope of my Wedge Collection. I think everyone can relate to certain things and then learn from the things that seem different.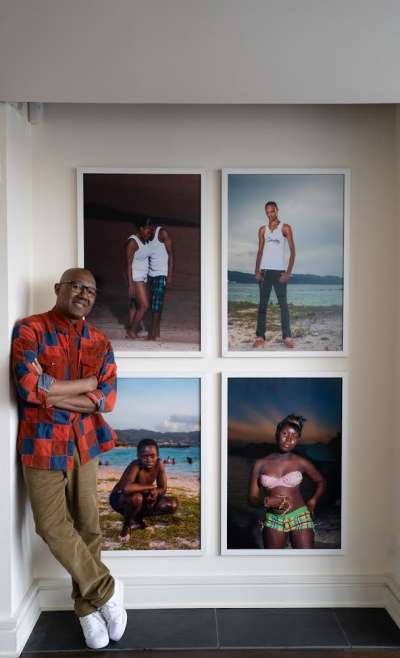 It can be very easy to emphasize stereotypical Black suffering in art and minimize the multi-faceted Black experience. How has being intentional about collecting and sharing Black art through this Exhibition helped to challenge this negative representation?
The idea of countering this narrative goes back to my family motto, lifting as we rise. Those prevalent or predominant images of oppression and acts of violence against Black people can be balanced by showcasing the fact that there's also been this notion of loving oneself, loving each other, taking care of ourselves and taking care of our community.
Those images of oppression against Black people can be balanced by showcasing that there's also been this notion of taking care of ourselves and taking care of our community
In this show, all of the photographers are Black so the idea is that this is for us by us. We're doing this work within the Black community to elevate our representation and offer a different take that's more nuanced and knowing and when the artists themselves come from the community, that's how we achieve that.
The whole idea of the book project, and the voices that the audience will see in the exhibition, are those of Black scholars and Black curators. The idea was to make sure the perspective was coming from the community that's being depicted, which I think is a lot different than earlier art shows.
Read more questions and answers from Kenneth Montague at the Faculty of Dentistry, including how the exhibit was created, his favourite images, and his thoughts on inclusivity in the fields of art and dentistry.