October 26, 2023 | Alumni | Volunteer & Awards
Meet the alum who's inspiring the next generation of sustainability trailblazers
By Sabrina Sy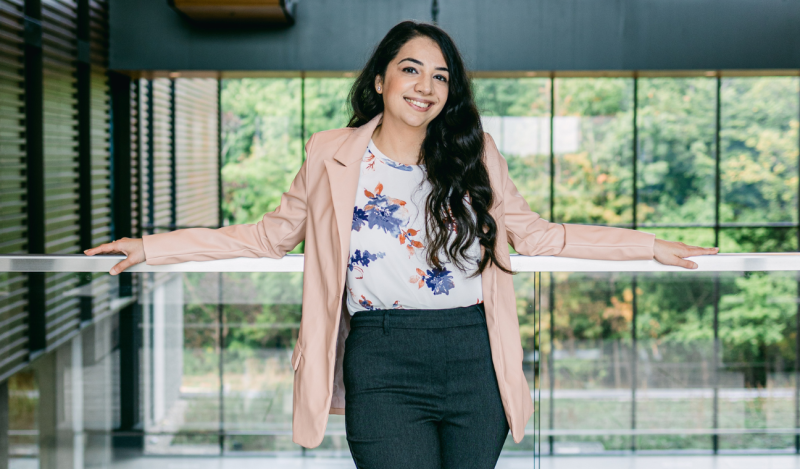 U of T Mississauga alum Anureet Kaur. Photo by Kenda Al Yakobi.
---
It only took one undergrad case competition to convince Anureet Kaur (BBA 2013 UTM, MScSM 2016) to explore a career in corporate sustainability. Today, she is a passionate advocate for Canada's equitable, low-carbon economy, a champion of including Indigenous voices in climate and energy strategy, and the recipient of the 2023 Institute for Management and Innovation (IMI) Alumni Award.  
"I am deeply grateful to receive an award at the institution, which was my first home in Canada," says Kaur, "I found my belonging and community at UTM, and receiving this award felt like a full-circle moment." The award recognizes and celebrates IMI alumni who have made significant contributions to their field and have become prominent voices within their discipline.   
A window of opportunity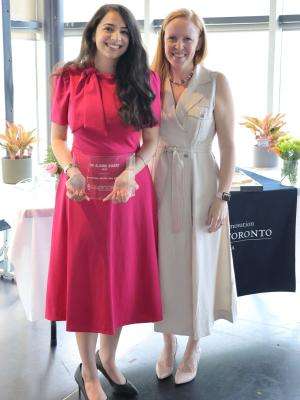 Dubai native Kaur arrived at UTM for her undergraduate degree in Bachelor of Business Administration. During her final year of undergrad, she participated in Show Me the Green, UTM's student-run case competition that challenges delegates to present sustainable solutions for everyday business operations. The opportunity sparked her search for 'purpose with a paycheque' and led her to the Master of Science in Sustainability Management (MScSM).  
"I always say to my peers that my two best and life-changing decisions were coming to Canada to pursue post-secondary education at the University of Toronto and joining the MScSM program.  The program has surrounded me with the most inspiring, uplifting, and expansive community members that continue to break barriers, advance equity, and shift the paradigm in sustainability," she says. 
Two MScSM experiences that Kaur especially credits for her success today are her co-op term at Purolator, where she developed the company's first Corporate Sustainability Report, and her deep dive research into Canada's carbon policy pricing that bolstered her knowledge about Greenhouse Gas emissions reporting. Since then, Kaur has been appointed as the first sustainability manager for technology company Softchoice and is a recognized public speaker on topics related to corporate sustainability.
Bridging Sustainability and Social Issues 
The pandemic has highlighted many systematic issues in Canada, including racial injustice, economic inequality, and the climate crisis. These issues have only propelled Kaur's passion for climate justice and amplifying the voice of communities most affected by climate change.   
In 2021, Seneca College's Sustainable Business Management Program tapped Kaur to design and teach a social impact and climate justice course. She is also currently their youngest woman of colour college professor. "My vision to design the course started with a simple question: How can corporations embrace the social side of environmental, social, and corporate governance (ESG)?"   
An ESG framework assesses a corporation's business practice on sustainability and ethical issues. This framework guides a company's growth while minimizing its impact on greater society, such as reducing its carbon footprint.   
While corporations tend to treat ESG as separate categories, Kaur challenges her students to identify the intersections, address the opportunities, and bridge the gaps between corporation growth and social responsibility. She champions a community-led approach to solving these issues, especially the inclusion of Indigenous Peoples leading climate action as part of truth and reconciliation.     
Kaur has also brought her expertise to UTM as a lecturer for the Certificate of Completion in Global Sustainability — a certification program open to UTM undergrads to learn more about global sustainability and its ties to the planet and human wellbeing.   
"Teaching is how I channel my creativity, diversity, and, to a certain extent, a medium for mindfulness because I am fully present in the classroom."  
Giving back to the community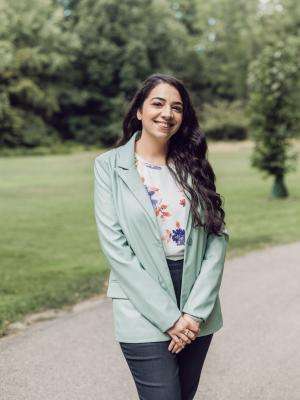 Working corporate and teaching have not deterred Kaur from volunteering for the causes she is most passionate about. At UTM, the sustainability professional has returned to UTM every year since graduating as an alumni panelist.   
Beyond UTM, Kaur has recently accepted a board member position for TakingItGlobal, a non-profit organization empowering youth to act on social issues. She's most excited about TakingItGlobal's Connected North program, which delivers live, immersive, and interactive experiences to remote Indigenous communities, such as museum tours. "The overarching goal of Connected North is to build personal resilience and success in school life for students who may not have access to the resources those living in cities would have."  
As a sustainability professional, educator, and enthusiastic volunteer, Anureet ignites a passion for climate justice with everyone she meets. Regardless of what industry people are in, Kaur encourages everyone to connect with sustainability professionals, learn from available resources, or join their workplace sustainability groups.    
"Every job will be a climate job in the future; we need climate allies everywhere to solve the biggest existential threat of the century. Every individual holds tremendous power to be a catalyst for change in workplaces."