September 21, 2020 | Alumni
Anatomy on the half shell: alumnus Patrick McMurray draws on education to become champion oyster shucker
By Jelena Damjanovic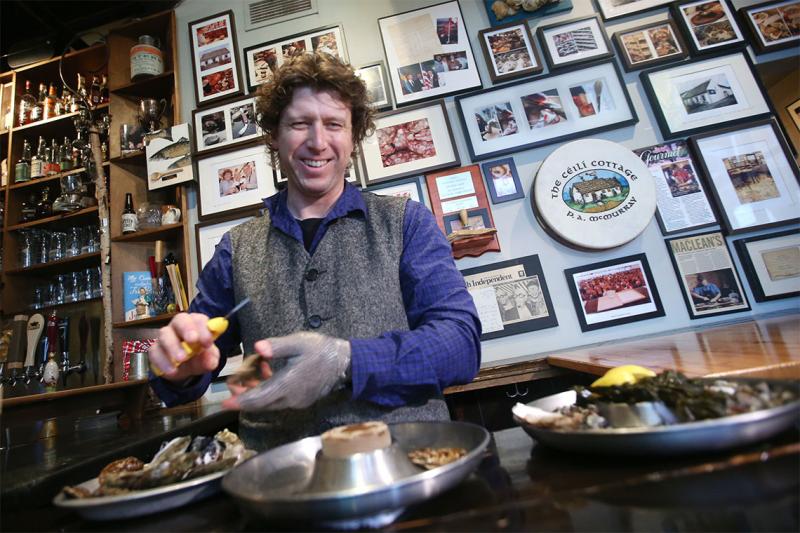 Patrick McMurray (BPHE 1993), who studied at U of T's Faculty of Kinesiology & Physical Education, shucking oysters at Ceili Cottage in Toronto, a bar he owned from 2008 to 2014 (photo by Vince Talotta/Toronto Star via Getty Images)
---
Most kinesiology graduates go on to have careers in exercise, health or education. Patrick McMurray (BPHE 1993) went on to open acclaimed sea food restaurants and break Guinness World Records for oyster shucking – and credits his University of Toronto education, no less.
Born into a family of teachers, McMurray planned to become a teacher after completing his bachelor's degree in physical health and education at U of T in 1993.
Yet, McMurray says his undergraduate education was quietly preparing him for a career in the food industry all along.

"During my time at the university, I was the social director, organizing monthly pubs and social gatherings, and helping out with frosh weeks," he says. "I was also working in restaurants as a server during that time to help pay for school."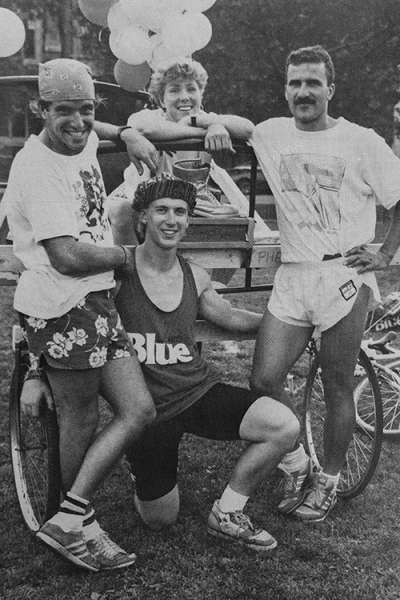 After graduating in 1992, he applied for teacher's college and, when he didn't get in, started working at Rodney's Oyster House in Toronto shucking oysters. He was so good at it that he was sent to an oyster shucking competition just two weeks into his new job. After beating the competition in Ontario, he went on to the Canadian championships in Prince Edward Island and won the title. 
McMurray started his own restaurant called Starfish in 2001 and six months later won the Canadian shucking championship a third time. Next, he was off to Ireland to compete in the world championship, taking his new blade and training regimen with him. 

"Going from a Canadian championship to a world championship is like switching from a sprint to a long distance race." says McMurray. "You have to use a different approach."
The Canadian championship requires contestants to shuck 18 oysters. At the world championships, contestants have to shuck 30 Irish native oysters, which are a different species and are technically more difficult to open. McMurray used his university education to help him train. Leaning on the lessons he learned in his biomechanics and ergonomics classes, he designed an ergo-dynamic knife, which gave him a better grip and more leverage. He also developed a technique that would help him open the oysters more efficiently.

"The difficulty of shucking an oyster comes from it being hard on the outside and soft on the inside," he explains. "You have to sever the muscle that holds the two shells together and serve the oyster without cutting the meat, so the competitions are a combination of speed and dexterity.
"You can save a lot of time by training your hands to do different things"
"You can save a lot of time by training your hands to do different things."

Murray came up with the idea of serving his customers plates of 30 oysters for $35 while they timed him shucking oysters on a table the same height as the competition table. He went on to win the Galway World Championships that year, the first Canadian to accomplish the feat. When he returned home to Canada, he was invited on Christine Cushing's show on Food TV. 

"I thought I'd make an attempt at the Guinness world record, set at 27 oysters in one minute, a perfect time frame for TV," McMurray says. "I brought 40 Oysters, opened 33 in 60 seconds, and after sending in the video and letters, was awarded my first Guinness world record."
Ever since, McMurray has received calls from around the world asking him to attempt to break his own record – which he did in 2007 in Beijing, where he shucked 38 oysters per minute. Then, in 2017, he went head to head with Gordon Ramsay on The F-Word Live show, setting the new record of 39 oysters per minute. His Guinness world record now stands at 1,114 oysters in one hour.
Oysters have taken McMurray around the world, across Canada and throughout the U.S., Europe and Asia. 

"Travelling around the globe has shown me that oyster culture is found wherever ocean touches land," McMurray says.
"An oyster captures sea water with the flavour of the region it's been plucked from, so I can open an oyster  in Toronto and smell the sea breeze in Ireland"
In 2007, he published his first book on oysters, called Consider the Oyster: a Shucker's Field Guide, in which he wrote about the global nature of oysters and created the oyster tasting wheel. In 2018, he published a second edition called The Oyster Companion, which includes recipes and more stories.

"Oysters are a rare food that can take you back to an exact location and memory," he says. "That's because when the muscle closes, it captures sea water that it uses as its lifeblood. That little drop of ocean water has the flavour of the region it's been plucked from, so I can open up an oyster from Ireland here in Toronto and smell the sea breeze in western Ireland.
"That's why I always tell people to first smell the oyster, then chew it."
McMurray is often invited to speak at special events, judge shucking contests and make TV appearances, most memorably on Martha Stewart's TV show, where he showed her, Snoop Dogg and Wanda Sykes how to shuck oysters and spoke about oyster etiquette, such as choosing the right sauce.

"If you look at Tabasco sauce, that's great for someone from Louisiana, but if you're in Paris, why are you using a Louisiana sauce on a Parisian order of French oysters? Regional sauces would be more appropriate," he says. "On the other hand, the Olympia oyster should be eaten without sauce. It's the size of a loonie and it takes five years to grow it and it virtually melts on the palette. It's so small, but it's the most complex of all oysters." 
"You never know where you will end up, but you'll always be able to use what you're learning – perhaps in different ways than originally intended"
When he's not teaching celebrities about oysters, McMurray teaches a culinary and hospitality class at Centennial College, having finally come full circle from his days at U of T when he planned to become a teacher.

"When I teach my class about oysters, I talk about the different species, the anatomy of the oyster and how to open it. I learned all about muscles in my anatomy class at U of T," he says.

He says there is no better food source for protein than oysters. They're low on fat, contain Omega 3 and Omega 6, zinc, selenium and vitamin D. And, he says, they are among the most sustainable foods to grow, with the ocean doing most of the work.
"Eat an oyster, save an ocean. They're good for you and the environment" 
"Eat an oyster, save an ocean," says McMurray. "They're good for you and the environment." 

His words of advice for new students starting their education in the most unusual of times? Enjoy it.

"You never know where you will end up, but know that you'll always be able to use what you're learning and apply it – perhaps in different ways than originally intended," says McMurray. "And, follow your passion. My passion turned out to be food, but I used so much of what I learned in school about nutrition, anatomy and biomechanics in my career."