February 11, 2020 | Campus
Alumni take the lead in a U of T Libraries exhibit exploring the enduring strength of the CanLit community
By Megan Campbell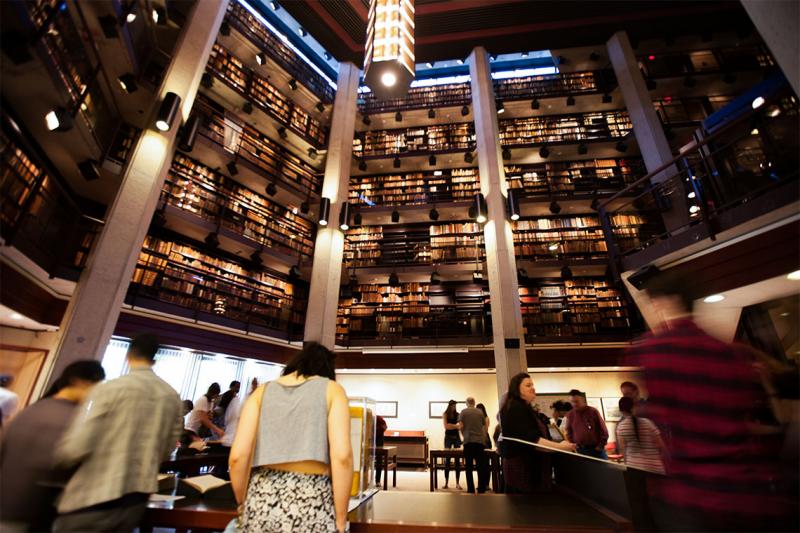 A new exhibition at U of T's Thomas Fisher Rare Book Library explores a cross-section of the CanLit scene, drawing from the library's archival collections from pre-Confederation up to today (photo by Dominic Ali)
---
Think Canadian literature and chances are Booker Prize-winning author Margaret Atwood (BA 1961 VIC, Hon D Litt 1983, Hon D Sac Litt 1987) comes to mind. The University of Toronto alumna and towering Canadian literary figure gained worldwide recognition in 1985 with the publication of The Handmaid's Tale.
Yet, a new exhibition at U of T's Thomas Fisher Rare Book Library – Strength in Numbers: The CanLit Community – reveals that CanLit is more than just its most famous writers. Curated by two alumni, archivist Natalya Rattan (MI 2011) and librarian John Shoesmith (MIS 2005), the exhibit is on until May 1 and explores a cross-section of the CanLit scene, drawing from the library's archival collections from pre-Confederation up to today.
The exhibition presents the life cycle of a work – from progress to publication – and highlights the community that has given shape to CanLit, a rich network of authors, editors, publishers, illustrators, publicists, agents, booksellers and donors. Rather than exhibiting a deep dive of the Fisher's considerable CanLit archives, Rattan and Shoesmith chose to display a few strengths while seeking to uncover new insights within the journals, letters and notebooks of the community.
The story behind a unique combination of poem and image
In the process, several gems emerged. 
"We discovered so many unique items and knowledge within the collections themselves," Rattan says.
One example is the collaboration between artist Alan Stein and poet P.K. Page (Hon DLitt 1998) for her "How to Write a Poem"in the book The Golden Lilies: Eight New Glosas, which was produced in an edition of only 50 copies. The sketches, charcoal drawing and wood engraving for the ultimate image which accompanies the poem are part of the exhibit.
A surprising letter. A plea for a kitten. Warm words from one giant to another.
The exhibition also features personal items from CanLit icons, including a surprising letter by Lucy Maud Montgomery, the author of the Anne of Green Gables novels, claiming she has grown tired of Anne. In another letter, Book of Negroes author Lawrence Hill writes to his father, making a plea to get a kitten.
As well, there is correspondence between the popular fiction author Arthur Hailey and renowned novelist Robertson Davies (Hon LLD 1981), in which Davies reassures Hailey of his legitimacy as a writer with an enormous international readership. Materials on CanLit luminaries like Susanna Moodie and Leonard Cohen are also on display.
View the first draft of The Handmaid's Tale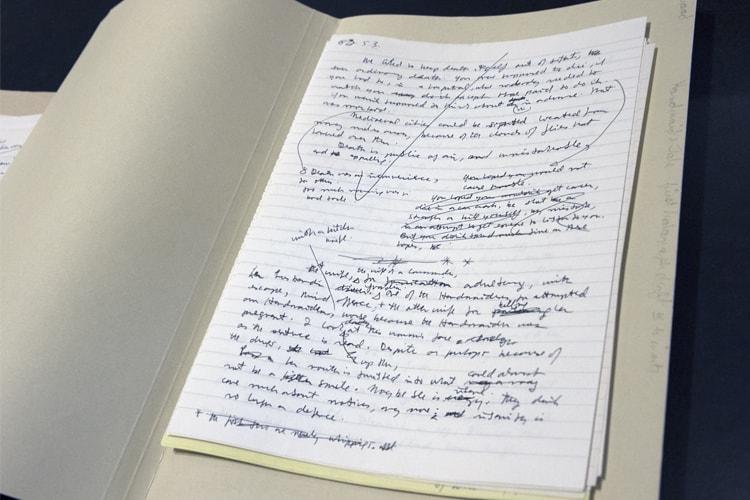 Still, what would an exhibit on CanLit be without Atwood? Fans of The Handmaid's Tale and the television series based upon it have a rare chance to see for themselves in person the first handwritten draft of the dystopian novel, as well as other materials that reveal the creative and commercial processes of Atwood's work, including early test shots of actor Elisabeth Moss in costume for the television production.