September 11, 2018 | Alumni
Alumna Nicole Latulippe brings passion for Indigenous environmental governance and advocacy to U of T
By Tina Adamopoulos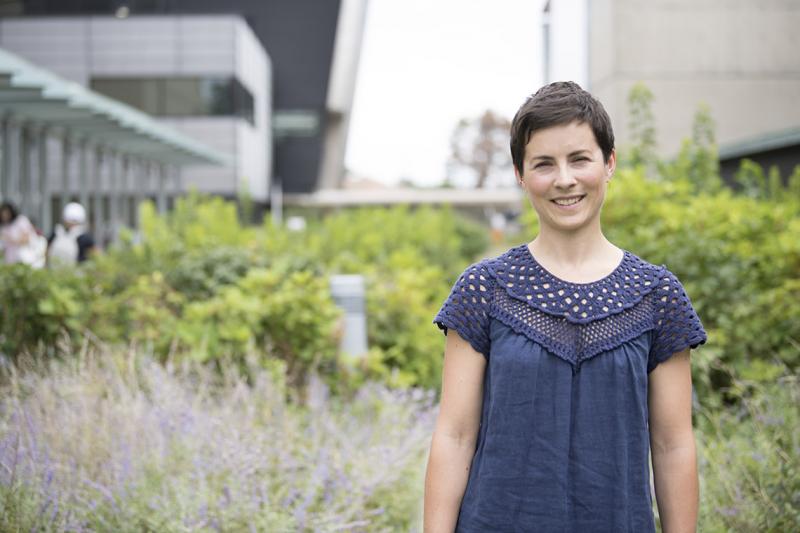 Nicole Latulippe (PhD 2017) has joined the departments of human geography and physical and environmental sciences at U of T Scarborough as an assistant professor. Photo by Alexa Battler
---
Nicole Latulippe (PhD 2017) is excited to bring her expertise in Indigenous knowledge, governance and laws to the University of Toronto – along with her experience with community-based research and advocacy.
Latulippe is joining the departments of human geography and physical and environmental sciences at U of T Scarborough as an assistant professor. Last winter, she taught Indigenous Environmental Knowledges, a geography course.
"It felt good to know that the department and students were excited and welcoming of the course," she says.
Latulippe, who has a PhD in geography from U of T, grew up in Nipissing Territory and is from Robinson Huron Treaty Territory in North Bay. She is of French-Canadian and Algonquin ancestry — something that she stresses, as Indigenous identity claims can be complex.
After completing her master's degree at Nipissing University, Latulippe worked for the Union of Ontario Indians, a political advocacy organization of the Anishinabek Nation. The organization represents 40 Anishinabek communities around the Great Lakes in Ontario.
"That's what spurred my desire to go back to school for a PhD," Latulippe says. "I wanted to spend more time reading, understanding and doing research around the historic treaties and the state's failure to implement the relationship."
After working with Anishinabek communities for the last 10 years, Latulippe says her work is driven by the people she has spoken with and learned from over the years.
"I see what communities are doing, what they try to do in pursuit of their land-based interests and claims. They're really innovative in advancing their rights and responsibilities," she says. "I want to communicate that, and the successes, because it's not what we necessarily see in the media."
Latulippe is a collaborator with the York University-based Indigenous Environmental Justice Project — a platform for Indigenous activists, scholars, and elders to share information and to network.
The project stresses the importance of understanding environmental justice framework through Indigenous knowledge systems.
"U of T Scarborough feels like a very engaged place and a community-oriented place."
Latulippe says there are several reasons that U of T Scarborough is the best place to continue her research.
"I did my undergraduate in Nipissing University and U of T Scarborough has that same smaller feel, like a very engaged and community-oriented place," she says. "I also hope to get involved with the university's partnerships and work on Indigenous place-making initiatives, for instance in the Rouge Valley, to restore the visibility of Indigenous geographies."
U of T's Calls to Action, in response to the Truth and Reconciliation Commission of Canada, highlight the university's dedication to building relationships with the Indigenous community. This includes content in classrooms.
"Whatever territory that people find themselves on has a pre-existing and continuing Indigenous geography or set of laws that all people have the responsibility and obligation to live up to," Latulippe says.
Looking ahead, she's continuing her research on Indigenous environments in Canada. Latulippe is also turning her PhD dissertation about the Nipissing First Nation fishery, and the community-derived law that governs it, into a book. She will also continue her community involvement and bring those experiences back into her research, and ultimately, the classroom.