All-round excellence wins Theodora Bruun the John H. Moss Scholarship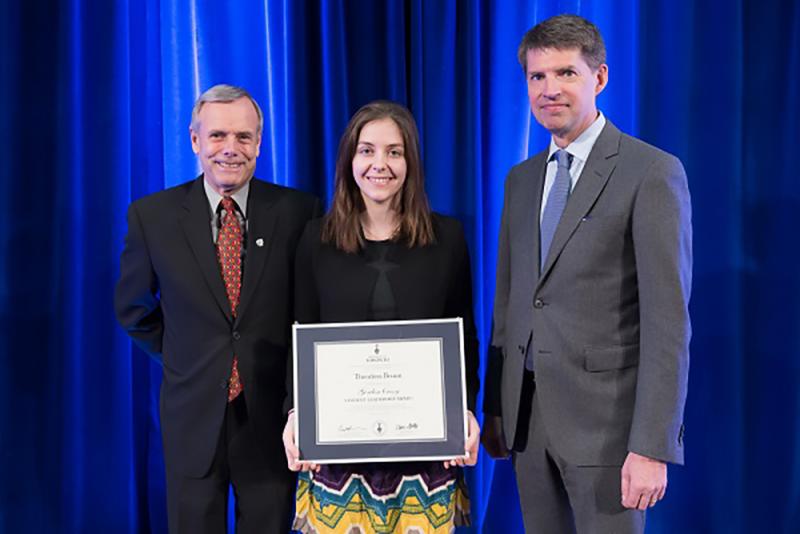 Theodora Bruun, a final-year Victoria University student, is the winner of the prestigious John H. Moss Scholarship for 2016. Her creative, multiple research projects in biochemistry, ethics and genetics are impressive enough, but Bruun is also an athlete, student journalist, committed volunteer and linguist fluent in Bulgarian and Swedish – to mention only a few of her broad interests.
Exploring both the arts and the sciences is important to Bruun, who is passionate about breaking down barriers between walled gardens of thought. "The interdisciplinary aspects of education are really important to me," she says. "We like to think of different subjects as separate, but in fact, they're interrelated."
For example, through a community-engaged learning course at New College, Bruun met Equity Studies students and volunteered for a Regent's Park program that offers subsidized music lessons. Those experiences added a human and urgent dimension when she researched organ donation statistics for the Toronto General Hospital's multi-organ transplant unit.
It became clear, she says, not only that certain populations are underrepresented both for receiving and for donating organs, but also that the personal biases of health-care workers affect how they educate different populations about the risks and benefits of organ donation. Seeing social justice issues through the lens of both the New College program and the research "helped me realize that it's very important for anyone in science or health care to have a background in ethics and social justice issues," she says.
Bruun's wide array of extracurricular activities has contributed to her multi-dimensional thinking. She has volunteered at a physiotherapy clinic, served as program coordinator for a health literacy charity, Health Out Loud, and mentored first-year students through the Victoria College Capstone Mentorship Colloquium. She is currently vice-president of the Victoria College International Student's Association, and has been editor or co-editor of two new student journals: U of T International Health Program and the neuroscience magazine, The Interneuron. Bruun was a Varsity rugby athlete in her first year and in addition, has also competed provincially in artistic gymnastics.
"I've been so fortunate to have really great mentors, like my parents, who have encouraged me to not be narrow in my interests, and to explore anything that piques my interest," she says. "I'll never stop learning, my whole life."
Bruun's professors say her love of learning has turned her into a curious and creative researcher who is able to drill down and ask important questions in a way that will bring out useful data. In addition to completing research projects in ethics (on environmental issues), organic chemistry (on dual metal catalyzed reactions) and genetics (on sequencing the exomes of newborn babies to identify brain diseases), she has also co-authored two chemistry and one medical science papers (in press) and won multiple awards for conference presentations. All while maintaining an impressive GPA.
Bruun has just been accepted to an MSc program at Oxford University in the United Kingdom, where she will study biochemistry. "That's really my top choice, so winning this scholarship is amazing and a huge help," she says. "I just feel so honoured and grateful."
She expects to follow her MSc with a PhD or a joint MD/PhD program, either in biochemistry, genetics or some other aspect of biological research. She realizes that what she learns will likely send her in new and interesting directions.
"I'm still figuring out the exact type of research I might want to do," she says. "But research that has translational potential is really exciting for me. Studying biochemistry and molecular biology gives us a chance to understand fundamental processes that govern life. Not only is this type of investigation interesting but it has the potential to advance our understanding of many different diseases and thus impact the future of medicine and health care."
The John H. Moss Scholarship, first awarded in 1921, is presented each year under the banner of the Awards of Excellence along with several other faculty, staff and student awards. The Awards of Excellence program annually recognizes the outstanding members of the University of Toronto community who have made rich and meaningful contributions to the University, to their communities and to the world.
Alumni Relations within the Division of University Advancement is the steward of the Awards of Excellence program on behalf of the University of Toronto Alumni Association, and co-ordinates the vital contributions of other University stakeholder groups toward this prestigious award program.
Theodora Bruun and the other 2016 Awards of Excellence recipients will be honoured at a recognition event on May 4.