November 27, 2020 | Alumni
After being diagnosed with breast cancer, U of T alumna Margaret Loniewska pushes for patient focus in research
By Eileen Hoftyzer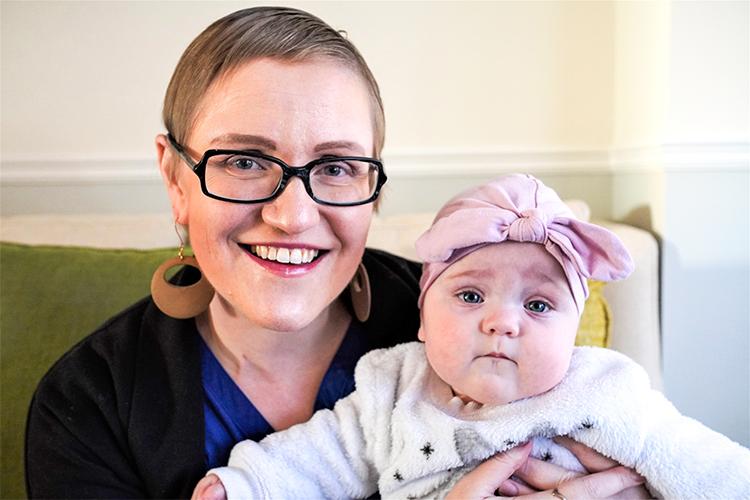 Margaret Loniewska (PhD 2013), who completed her PhD at the Leslie Dan Faculty of Pharmacy in 2013, says her breast cancer diagnosis caused her to think more deeply about the importance of patient perspectives in research (photo courtesy of Margaret Loniewaka)
---
As a former researcher, University of Toronto alumna Margaret Loniewska (PhD 2013) knows the thrill of discovering something new in the lab.
But her recent experience of being diagnosed with, and treated for, metastatic breast cancer gave her a new perspective on the importance of moving such discoveries forward so they are accessible to patients.
"When I was doing bench research, I would be so happy to get a good result," says Loniewska. "But a result in a lab is often disconnected from the patient. How do we translate that research into something that actually helps patients?"
In a bid to help address the issue, Loniewska recently started volunteering as a patient advocate with ReThink Breast Cancer, a charity focused on breast cancer in young women. As a member of the Metastatic Breast Cancer Advisory Board, she provides a patient voice in meetings with industry organizations and government officials on issues that include metastatic breast cancer research and patient access.
Loniewska earned her PhD in pharmaceutical sciences from U of T's Leslie Dan Faculty of Pharmacy in 2013, working with Professor Peter Wells.
"Margaret was a hardworking student and one of the first in my lab to examine the biological similarities between degeneration in the adult brain and brain development in the fetus," says Wells, who studies the effects of drug exposure on both fetal brain development and degeneration in the adult brain.
Within just a few days, she found out she was pregnant – and that she had breast cancer
After completing her degree, Loniewska worked in project management and later studied pharmaceutical regulatory affairs. But in October 2019, she received news that would change her life: Within just a few days, she found out she was pregnant – and that she had breast cancer.
Loniewska's tumour was small and thought to be early stage, so she had surgery to remove it. But a month later she was admitted to hospital with severe back pain. She was then diagnosed with metastatic breast cancer; it had spread to her bones and caused her ribs and spine to break and compress.
With such a serious diagnosis, her oncologists recommended starting chemotherapy right away. But Loniewska was still in the first trimester of her pregnancy. Given her experience in the Wells lab, she was acutely aware of how drugs – including chemotherapy and anti-nausea and pain medication – could affect her baby's physical and neurological development. She dove into the scientific literature to find out what she could about the safety of taking such drugs during pregnancy.
She ultimately received a chemo regimen that is considered the safest for pregnancy and she and her baby were closely monitored with weekly ultrasounds. Unrelated to the cancer or her treatment, Loniewska gave birth prematurely in January. Her new daughter, Marianna, spent three months in the neonatal intensive care unit and came home in March.
"I hear about research into all of these new  treatments, but, as a patient, how do I get access to them?"
Survival rates for breast cancer are climbing. But metastatic breast cancer is a different story. It is not curable. Treatments aim to help those with the disease live with good quality of life for as long as possible.
Some of the critical gaps in cancer care – such as more precise and non-invasive diagnostic and monitoring technology, as well as targeted treatments to reduce side effects – are being addressed by researchers at the Leslie Dan Faculty of Pharmacy, including those at the precision medicine initiative PRiME and the Centre for Pharmaceutical Oncology.
"I hear about research into all of these developments and new targets for treatments," she says, "but, as a patient, how do I get access to them?"
Loniewska says her experience has underscored the importance of having researchers in the faculty focused on clinical, social and administrative pharmacy issues working side-by-side with biomedical researchers.
"Basic research is often just focused on molecules and mechanisms, which is important, but it doesn't consider the barriers patients face in accessing new treatments," she says.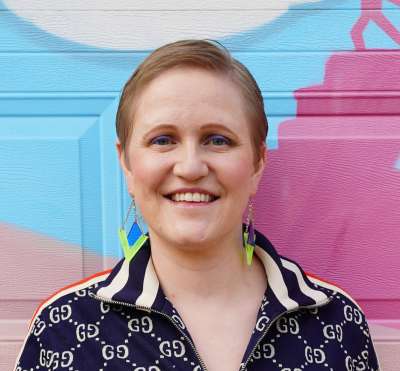 Wells, a longtime U of T researcher, agrees. He says he has seen the faculty grow its research program over the years to include an expanded emphasis on clinical and social research. He adds that the two different streams not only help biomedical researchers to consider the relevance of their work, but can also inspire new research directions.
"Working collaboratively, we see problems from different perspectives," he says. "This wouldn't be possible without that cross-fertilization of basic and clinical sciences."
Loniewska's treatment now consists of regular targeted and hormone therapies. With her cancer currently under control and her baby healthy, she is once again thinking about returning to post-graduate studies.
"A year ago, I was in a hospital bed thinking that I was never going to get better. I thought I would spend the rest of my short life in a lot of pain and worried about my baby," she says. "At this moment, I feel very fortunate that my treatment is helping me and allowing me to do a lot in my life."