A celebration of excellence: the 2022 graduating Pearson Scholars
U of T honours the second cohort of Lester B. Pearson International Scholars to complete their studies.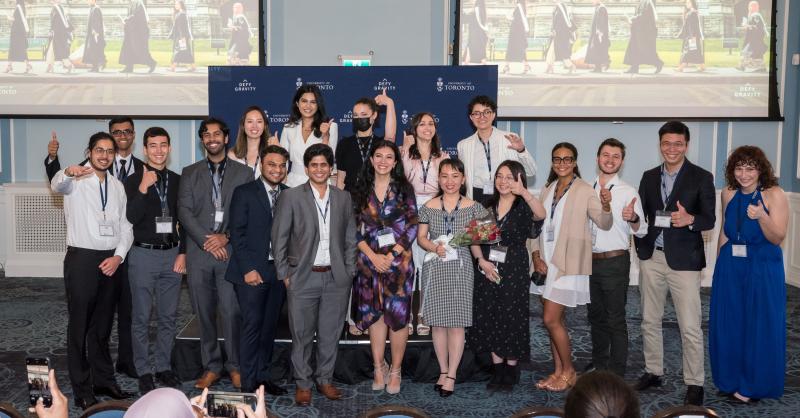 Front row (left to right): Angad Singh Arneja, Antoine Taeyong Finot, Subham Rai, Akshit Goyal, Muhammad Wadee Shahid, Raquel Alegría Serrano, Aruzhan Satynbekova, Katie Kwang, Ami Morgan Alexis, Nicolae Stroncea, Matthieu Fabien Wen Leung Chan Chee, Lillian Anderson Lampros.
Back row (left to right): Vamanadev Upendra Hiralall, Emily Ran Wen, Aishwarya Arun Nair, Julia Christine Rapai, Sara Mostafa, Sonia Daniela Zaldana Calles. Photo by Lisa Sakulensky
---
 The second cohort of Lester B. Pearson International Scholars to graduate from the University of Toronto was celebrated at a June 14 reception at the Faculty Club. Pearson Scholars hold the University's most prestigious and competitive international scholarships, awarded each year to outstanding students from around the world. Recipients receive tuition, books, incidental fees, and full residence support for four years.
Akshit Goyal, a Pearson Scholar from India, was one of the event speakers. "Four years ago, 40 of us came from 25 different countries across the world with big hopes and dreams," said Goyal, who is graduating with a computer science degree. "We all came together and started this beautiful journey. Wherever life takes us, I know each one of us will do great work and keep making a positive impact in our communities."
This year's reception was held in person, following the 2021 event for the inaugural cohort that was online due to public health restrictions. Vice-Provost, Students Sandy Welsh noted that much of the Scholars' U of T experience had come during the COVID-19 pandemic.
"You have learned in so many different ways—overcome more hurdles than you might even realize—from virtual, to in-person, studying and connecting through so much uncertainty," said Welsh. "So often we look ahead to what is next, but here today, let's celebrate how much you have already achieved. You're here! You did it!"
It's perhaps understandable for the Scholars to look ahead, as they move forward with plans as exciting, diverse, and impressive as they are. Some are moving directly into the workforce, such as Goyal, who has accepted a position with Microsoft. Another Scholar, Priscilla Layarda, will be returning home to Indonesia to work for McKinsey Consulting. Others are pursuing advanced degrees, including Wenting Hu from China, who is off to Cambridge University for a master's degree in finance and economics. Lara Wulandari, meanwhile, who came to U of T from Indonesia, will remain at U of T for the direct-entry PhD program in economics.
Whatever the future holds, their shared experience will connect the Pearson Scholars to one another and to U of T throughout their lives. This was a theme touched upon by Assistant Vice-President Barbara Dick as she welcomed the Scholars to U of T's worldwide community of nearly 650,000 alumni. "The prestige of your scholarship does not end with graduation," she said. "You'll always hold that distinction within our alumni network. It's a special relationship and we hope it lasts a lifetime."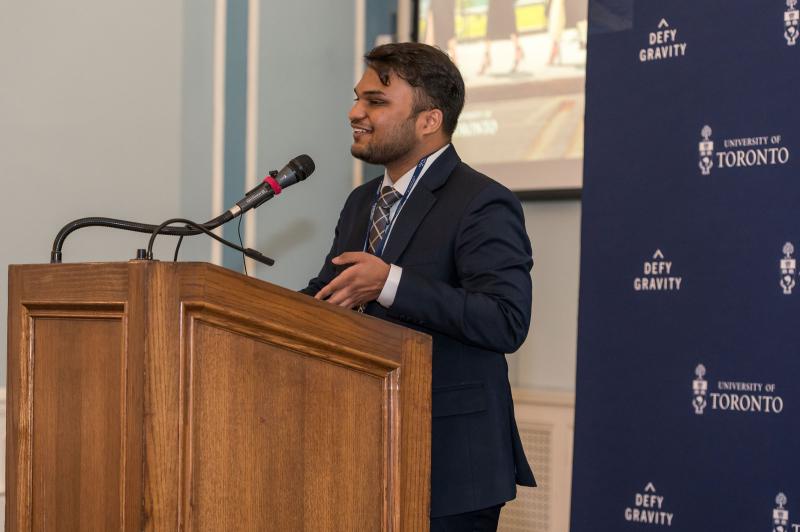 In his keynote address, U of T's Vice-President, International Joseph Wong impressed upon the Scholars that they possess a unique blend of ability, knowledge and experience and the world looks to them to lead change. "You have been gifted the tools to make a difference. I hope you leave this University with the confidence and the audacity to do well, to do good, and to do what's right," said Wong.
Other University officials in attendance included event emcee Tara Etherington, Assistant Director, International Student and Scholar Experience, and Flo Zeng, International Scholarships Advisor, who both discussed their experience working with the Scholars. "I deeply understand that none of your achievements today have come easily," said Zeng, who held regular one-on-one meetings with the Scholars throughout their time at U of T. "But as you all know, those are the necessary experiences that have shaped who you are today."
Etherington offered similar heartfelt sentiments. "Supporting the graduating cohorts has been such a rewarding and incredible experience. Being an international student is not easy, but it provides a unique set of skills that have enriched both your personal growth and global proficiencies," she said.
Revisit the profiles of this year's graduating class of Pearson Scholars.