June 8, 2016 | Volunteer & Awards
2016 Gordon Cressy Student Leadership Awards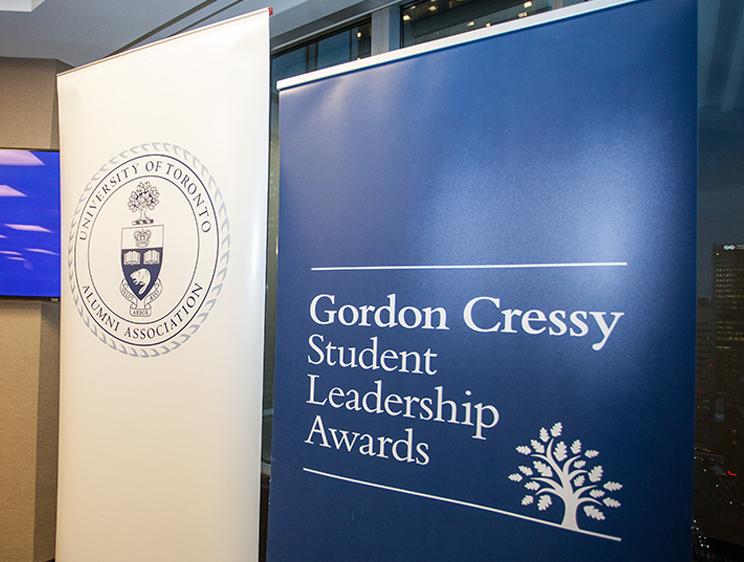 A successful entrepreneur, it is said, is someone who sees a need and figures out how to fill it. This applies in business, and also, it seems, in student life at U of T.
At this year's Convocation, as the members of the class of 2016 celebrate the leap from university to the rest of their lives, 217 students are leaving with a Gordon Cressy Student Leadership Award. They are being recognized for their contributions to student life and education, for their service to the community, for volunteering hundreds of hours of their time while maintaining excellent grades.
Many of the Cressy recipients made a permanent contribution to the university community, and some of them created something entirely new: they saw an opportunity, and built a bridge.
Among them is Faculty of Medicine graduate Meghna Rajaprakash, who was instrumental in creating an extracurricular elective course for med students—a program that brings in guest lecturers to teach knowledge translation.
"I came from a research background," says Rajaprakash, who earned an MSc. before starting medical school. "What inspired me to initiate the course was seeing the large gap between scientific findings and their manifestation in tangible, usable clinical practice and policy."
The course helps students translate the latest medical research into evidence-based clinical practice—a skill that's only briefly covered in the packed med-school curriculum.
"When I see a gap," she says, "I see it as an opportunity for change, rather than something negative. It fuels my passion, and inspires me to find other like-minded individuals to work on making that change."
The course has been running for two years, and student feedback is overwhelmingly positive: more than 80 per cent of the class said they intend to apply the knowledge and skills they picked up in their future work.
Ming-Yi Bian also saw an opportunity. When she was a first-year engineering student, she joined a group that was starting a new student club at her faculty, the You're Next Career Network. Four years later, she is graduating as its president.
The network was the result of efforts by engineering students looking to learn more about career and other opportunities for engineers. In particular, she says, first- and second-year students wanted more internships, which they felt would give them better access to summer jobs in subsequent years.
The career network drew dozens of new companies to campus career fairs, and also organized a Resume Hackathon—300 students working on their resumes at the same time, with more than 50 mentors.
"We present our personal experiences to first-years on how to get help, and what not to be afraid of," she says. "I can see the difference from year to year of how aware students are of how to find opportunities."
For Satoko Nakamoto, newly arrived at Victoria College as an international student, her own experiences showed her the way to make a difference.
"When I came to U of T, my first reaction was, it's overwhelming," she says. "I wasn't used to North American party culture. I did go to some frosh events, but I was really shy, and I didn't know how to interact with people."
Nakamoto joined VISA, the Victoria International Students' Association, got a mentor, and saw her comfort with university life and her confidence flourish.
"VISA really helped me learn to overcome these struggles," she says. "And then, I wanted to help other international students who may be feeling the way I did."
Nakamoto threw herself into the work, ending up as VISA president in her final year. Under her leadership, the organization not only grew in size and profile, attracting many more international students and volunteer mentors, but got financial support from the college, which has given it stability.
And finally, there's the student who saw an opportunity for aspiring entrepreneurs. At U of T Mississauga, business student Daniel Jayasinghe was inspired by a talk he heard as a frosh about "lollipop moments"—actions taken to improve the lives of people around you. He decided then and there that "whatever I did on campus would be something that would try to make people's life better in some way."
Jayasinghe was one of the student co-founders of I-CUBE, an entrepreneurial hub where students can create a business plan, learn to deliver a pitch, and get funding and mentors.
I-CUBE is now a full-scale business accelerator housed at the Institute for Management and Innovation, with partner funding, a range of programming and even an Entrepreneur-in-Residence.
"The thing I like is creating something out of nothing," Jayasinghe says. "In any business, the key is finding a need and addressing it. Entrepreneurship forces you to be creative, to find creative solutions to problems, and to think outside the box."
For their service to their fellow students, these four new graduates were honoured with the Cressy Award, joining a community of more than 3,400 graduates who have received the prize over the past 22 years.
At the award ceremony on April 20, the recipients were celebrated by Gordon Cressy himself, University representatives, the alumni association, their fellow students and family members.
"There were more than 200 of us," says Bian, "and everyone did something different. It made me feel hopeful. I was much happier getting an award with 200 people than with four or five people. It means U of T has a strong community, and everyone is willing to serve."
By Eric Geringas