January 19, 2016 | Research
#FirstSevenJobs: first jobs can teach values, build networks, says U of T's Scott Schieman
By Veronica Zaretski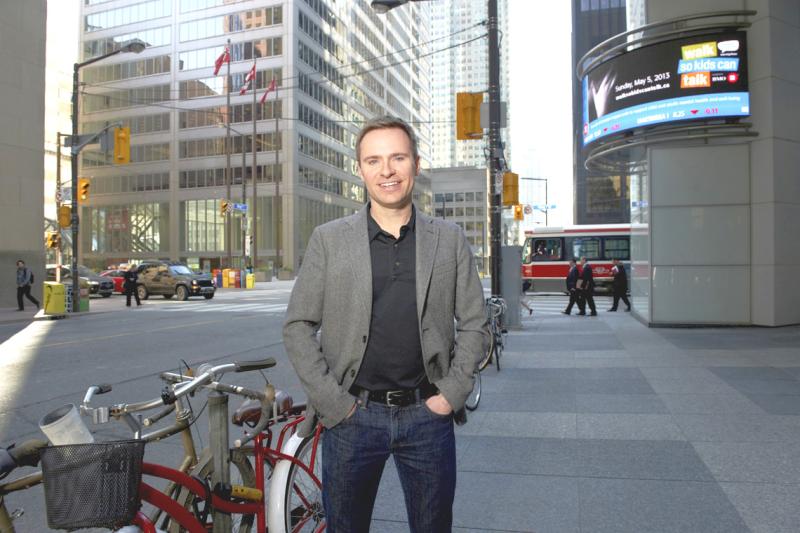 Buzz Aldrin started as a dishwasher and eventually became one of the first two people to land on the moon. Stephen Colbert revealed that he worked as a bus boy, a cafeteria server and futon salesman before becoming one of the most famous comedians in the world.  And Christina Perri shampooed hair before she became an award-winning singer and songwriter. 
These reflections on first jobs and many others are part of a popular social media trend in which the famous and non-famous alike are sharing their first work experiences under the hashtag #FirstSevenJobs.
"Your first jobs can teach you about values: support, trust and respect," says U of T's Scott Schieman, chair of the department of sociology at the University of Toronto, and Canada Research Chair in the Social Contexts of Health. He recently provided insight into how first jobs can shape the rest of your working life in an interview for BNN. 
U of T News gathered responses from members of the U of T community about their first work experiences, and spoke with Schieman about the popularity of the trend and the long-term impact of first work experiences.
Why do you think there is such a wide-reaching appeal of the #FirstSevenJobs trend on social media?
It's a chance to be prompted to think about our lives. You get so caught up in the rat race that these kinds of moments take you back to who you were and how those experiences shaped you. For some people it might even bring some regret.
Being at a job can expose you to adversities. Those early jobs hold up a mirror to your own identity and your own self and at the same time they give you opportunity across a whole range of areas:  social opportunities, opportunities to think differently.
These jobs also teach you about responsibility. You have to be somewhere, you have to be present, you have to perform under pressure and sometimes you have to be somewhere you don't want to be.
Even in those small moments you're building a familiarity with values that I think maybe contributes to a pathway.
Do you have advice for students about the kind of work that they should seek out in current and future jobs?
It comes down to the kind of choices people have and the kind of opportunities that they have in terms of age and experience.  For example, a first job bagging groceries in a grocery store can give you a connection to people and possibly networks that can send you on a new path. The skills you learn in these jobs are all important: social, mental, physical and technical. If you can, identify a job that might be in line of where you want to go. 
How do you think first jobs contribute to how we grow as individuals?
Each time you get exposed to new people, challenges and opportunities you can learn what you're good at what you need to work on. If you're not able to engage with people, your communication skills may not be as developed, your writing skills may not be as developed.
Having to deal with people in complicated situations and problem-solving can help prepare you for future jobs. Your first jobs can also teach you about values: support, trust and respect.
If you're working with your hands or if you're doing physical work, you pick up different kinds of skills.
Life is also about relationships, and in those roles you build relationships and networks that can help you later on in life.
---
These U of T community members shared their first seven jobs with U of T News. Share your first seven jobs with us on Twitter by tweeting to @UofTNews, or send an email to bulletin@utoronto.ca with the subject line: #FirstSevenJobs 
University of Toronto President Meric Gertler
Photo darkroom assistant
Camp counselor (teaching bushcraft)
Steak house kitchen worker 
Parks planning intern, Ontario Ministry of Natural Resources
Regional economic development intern, Government of Canada
Community planner, Ontario Ministry of Municipal Affairs and Housing
Policy analyst, Ontario Ministry of Industry and Tourism
Scott Schieman, chair of the department of sociology at the University of Toronto, and Canada Research Chair in the Social Contexts of Health
Attendant at a hot diggity dog stand
A clerk in a sporting goods store
Pizza delivery guy
A bus boy in a fine-dining Italian restaurant
Mental health counsellor 
Worker at an AIDS hospice
Researcher at a department of public health
Professor Janice Gross Stein, founding director of the Munk School of Global Affairs at the University of Toronto 
Waitress at camp
Counsellor
Switchboard operator and receptionist
Head counsellor
Secretarial assistant
Research Assistant
Lecturer
Associate Professor Suzanne Stewart, special advisor to the OISE dean on Aboriginal education and director, Indigenous Education Initiative 
Dishwasher
Drive-in theatre concession worker
Babysitter
Freelance newspaper writer
Fiction writer
Counsellor
Researcher
Vice-President & Provost Cheryl Regehr
Babysitter
Kitchen help at a camp
Counter staff at a fast food restaurant
Hostess at a steak house
Waitress in a university pub
Social Worker at a psychiatric hospital
Social worker in a general hospital - psychiatry/emergency/ sexual assault centre 
Professor and Vice-President Operations Scott Mabury 
Farm worker 
Field researcher of endangered bats
Book shelving in library
Chemistry TA as undergraduate student
US peace corps volunteer: sustainable development in the rural Philippines
Analytical testing in library
Case selector in food freezer distribution centre
UTSU President Jasmine Wong Denike
Babysitter
Pet-sitter
Teaching assistant/assistant manager at a Kumon Centre
Bilingual tour guide at the Skydome
Sales support at J. Crew 
Freelance transcription at CBC 
Administrative assistant at the Alzheimer's Society of Canada
Vice President and Principal, University of Toronto Scarborough Bruce Kidd 
Newspaper delivery boy
Grocery store delivery boy
Parks maintenance worker
Reporter (radio station)
Reporter (newspaper)
Government researcher
Lecturer