February 6, 2022 | Alumni
Safiya Muharuma links some of Varsity Blues' most successful women's hockey teams
By Klarke Braaten
A common link between some of the most successful Varsity Blues women's hockey teams of recent memory, Safiya Muharuma (BA 2004 UTSC, BEd 2005) has had an incredible career at the University of Toronto. However, her impact goes beyond just winning hockey games.
---
Whether it is as a player or as an assistant coach for the past eight years, Safiya Muharuma (BA 2004 UTSC, BEd 2005) has been a part of the last four Varsity Blues teams to win an OUA championship (2000, 2001, 2003, 2020). 
As a member of the 2000-01 Varsity Blues squad, Muharuma was inducted into the U of T Sports Hall of Fame in 2014, recognizing the team's incredible undefeated season en route to an OUA and CIAU championship.
"We knew we had something special because of our buy-in to the program and our respect of each other," Muharuma said. "We forged ahead because we loved playing and we loved everything that had to do with the program. We had a great group [of coaches and support staff] and the dynamic was amazing."
A 2004 all-Canadian, Muharuma grew up in East York (Toronto) and credits her love of hockey to her older brothers as she was always wanting to take part in everything they did. Once she got her first taste of the game at the age of eight, she was hooked.
"I somehow got to play on the [Scarborough Sharks] select team right away, and it was great," she said. "I loved it so much and I wanted to play all of the time."
Muharuma continued to play hockey throughout high school, then made her way to the University of Toronto where she continued to develop and succeed on the ice, while first completing a bachelor of arts degree in 2004 and then a bachelor of education (OISE) in 2005.
"When I graduated teacher's college, I had always thought I would be a French teacher. I did a specialization in French to teach French as a second language, but I wasn't quite ready to stop playing hockey yet."
That desire to keep playing ultimately took Muharuma to the National Women's Hockey League (NWHL), playing in Oakville before heading overseas to play hockey in Switzerland with EV Zug.
As it turned out, her time in Switzerland also gave her the opportunity to teach. Being billeted with family while overseas, Muharuma took on the task of helping teach the family's children English in between hockey training and games.
"It allowed me a little bit of what I wanted to do," she said. "I can say I got of taste of [teaching], while also still being able to play hockey, travel and be in Switzerland, which was an amazing experience."
Following her time in Europe, Muharuma's desire to travel led to her working for Porter Airlines. Initially joining the company as a flight attendant, she worked her way up to the manager of crew resources, before recently leaving the company after 13 years for a new opportunity that will coincide much better with her desire to coach.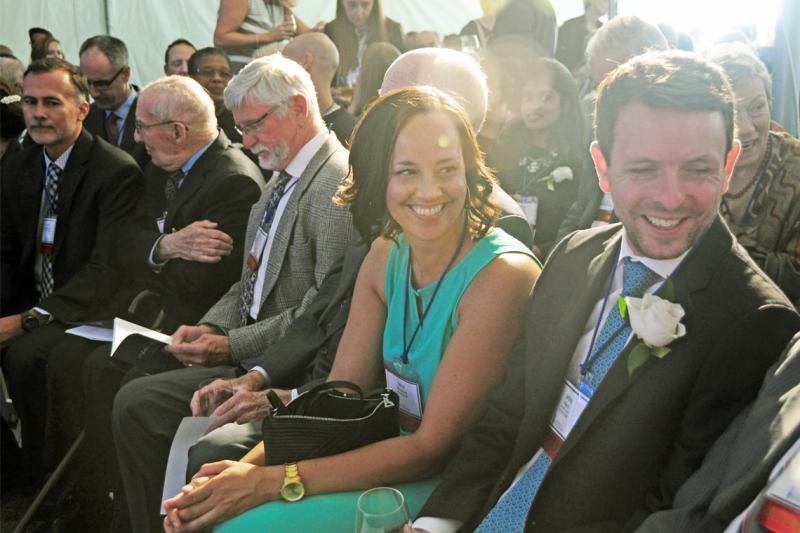 One of Muharuma's main focuses as a coach is to make sure all of her student-athletes feel seen and recognized. Off the ice, she is doing what she can to make sure everyone, not just her athletes, also feel that same sense of inclusion.
Muharuma was a part of the OUA's Black, Biracial and Indigenous Task Force that launched in 2020. Focused on helping get the project off the ground, Muharuma felt it was very important to be a part of this initiative, helping the group establish a name and deciding on the five mandates, amongst other things.
"I think it's a really important [to talk] about race but not in a way that puts anyone down for being open [in their discussion]," she said. "It's about being comfortable to talk about it [as you would] any other race or culture."
Doing what she can to help make the world a more inclusive place, it should come as no surprise that one of Muharuma's main coaching philosophies might also serve well beyond the rink.
"Everyone is so important to the team," she reflected. "Whether you're on the first line or the fourth line, I always want them to feel like they can come to me, or any of our coaches, and know that I am not going to ignore them. In my eyes, they're always a part of the team. No matter who they are, they help us succeed no matter what their position or role."
Originally published by Faculty of Kinesiology & Physical Education