November 29, 2021 | Research
'The people behind the research': Video series focuses on unique collaborations launching across U of T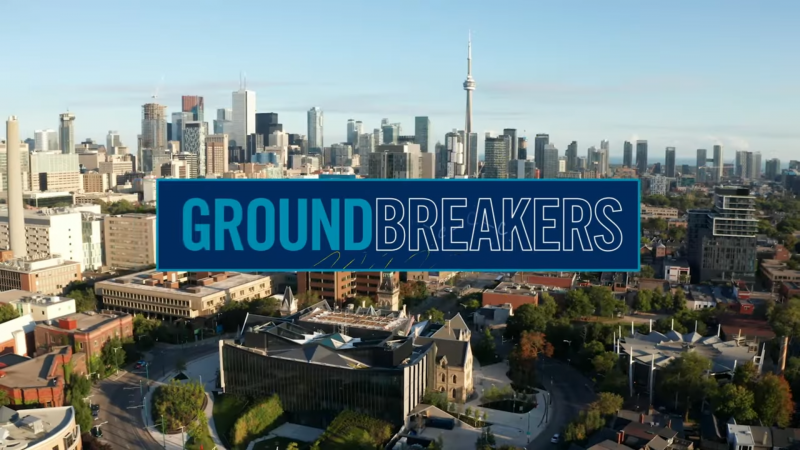 ---
Inequality, climate change, infectious diseases – these are just a few of the global problems that leading researchers at the University of Toronto are working to solve, says Christine Allen, associate vice-president and vice-provost, strategic initiatives.
Allen was speaking at the launch of the Groundbreakers video series, part of a multimedia series that includes articles at U of T News and features some of the research leaders at U of T's Institutional Strategic Initiatives.
"The strategic initiatives portfolio is supporting the development, launch and sustainability of large research networks that bring researchers together from different disciplines to address the grand challenges of our time," Allen said.
Working together we have an opportunity to really hit grand challenges head on
"What makes the University of Toronto's strategic initiatives portfolio unique is that we put collaboration at the forefront. Collaboration across our entire community, which includes faculty, staff and students. And then collaboration with industry partners, government and community organizations.
"Working together we then have an opportunity to really hit grand challenges head on."
The video series premiered Nov. 29 with an episode that focused on the Emerging Pandemics and Infectious Diseases Consortium (EPIC) strategic initiative. It featured researchers from the Temerty Faculty of Medicine: Professor Scott Gray-Owen, director of the Containment Level 3 Lab and Assistant Professor Samira Mubareka, a clinician-scientist at Sunnybrook Health Sciences Centre, as well as PhD candidate Patrick Budylowski (BSc 2015 VIC).
"I am so excited about this series because it celebrates the people behind the research and the ideas that they're working to make come to life," Allen said.