These U of T alumnae developed a game-changing therapy platform with a focus on equity
By David Goldberg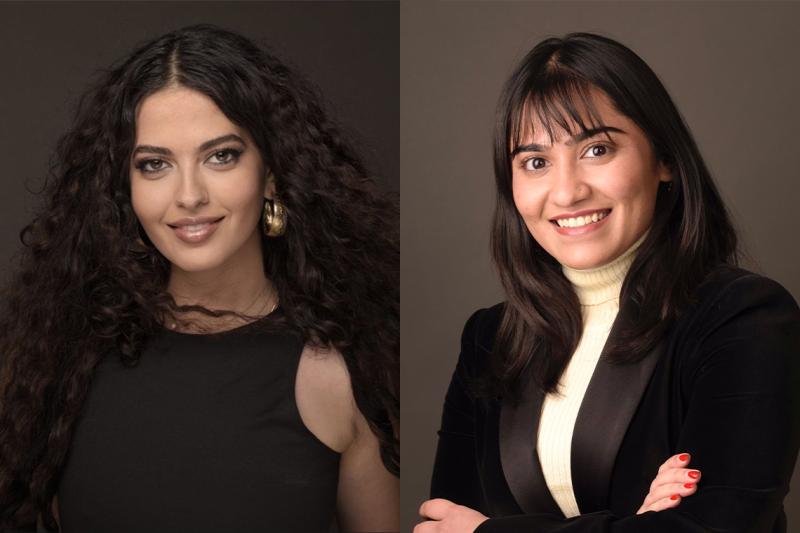 Alexandra Assouad (left) and Akanksha Shelat are the co-creators of Mind-Easy.
---
A new app launched by University of Toronto alumnae aims to make cultural competence a minimum standard in mental health – including innovative ways to deliver identity-centric preventive care.
"Available to anyone around the world, the Mind-Easy app is an adaptive health platform that uses avatars with human-like characteristics that help guide users through their therapeutic journey," explains Mind-Easy co-founder and chief technology officer Akanksha Shelat (BSc 2018 NEW) who graduated in 2018 with an honours bachelor of science from the Faculty of Arts & Science as a member of New College, majoring in computer science and cognitive science.
"This platform is designed to provide personalized care to patients, using a proprietary human taxonomy and artificial intelligence to deliver tailored mental health plans."
Shelat and fellow Faculty of Arts & Science alumna Alexandra Assouad (BComm 2020), along with Ontario Institute for Studies in Education (OISE) PhD candidate Dalia Ahmed (MEd 2021), developed and launched Mind-Easy, drawing from their own experiences as international students.
In consultation with mental health professionals across the country, Mind-Easy provides knowledge and tools in more than 100 languages, dialects and accents. Asynchronous learning makes the resources available on demand. Leveraging the OISE and psychology network at U of T, the team built a database of carefully curated content for Canada's diverse and often marginalized groups.
From the start, the co-founders' goal was to solve two major problems: the shortage of therapists and the lack of cultural competence. Mind-Easy checks both boxes. "Cultural competence is essential when providing proper mental health care," says Assouad, who is Mind-Easy's CEO and graduated with a bachelor of commerce degree from Rotman Commerce in 2020.
"Coming to Toronto from Lebanon sparked internal chaos and filled me with an overwhelming sense of loneliness," she says. "I wanted a therapist who spoke my language – a person who ethnically represents me and allows me to share vulnerable experiences."
The Mind-Easy system learns from a patient's data to determine which interventions will be most effective. The approach not only improves patient outcomes, but reduces costs by avoiding unnecessary therapy treatments, the founders say.
Shelat and Assouad credit U of T's abundance of resources for helping them develop and launch Mind-Easy, including support from the Health Innovation Hub (H2i) accelerator at the Temerty Faculty of Medicine.
They advise aspiring entrepreneurs to "network, network, network" while at school to build important connections they can tap into down the line for professional, financial and even emotional support. "Being surrounded by other entrepreneurs and world-class experts is inspiring," Shelat says. "And amazingly, it all takes place on this campus with its rich legacy of boundary-breaking innovation."